Bengaluru is well-known to be a city of nightlife and flourishing IT companies, however, at times, you just need that quick escape from the hubbub of city life. And taking a quick dip in a chilling swimming pool could just make your fatigue go away, relaxing your body, mind, and soul. Once in a while, taking some time off from your busy life to heal your physical and mental health is very essential to keep going. 
As the summer season is here, there is nothing better than submerging in the chilling water and cooling yourself off. As the temperature keeps rising in India, you naturally feel fatigued even though you sit idly without doing anything. While there are many things we can do during the summer season, one of the best ways to spend your time is to visit a nice swimming pool in Bangalore. 
Fortunately, good news for you, Bengaluru has a wide selection of swimming pools to choose from— whether you simply need a getaway, a day out with your family, a swimming class, or a pool party with your friends. So, get your swimming necessities and outfits ready, as we have found a comprehensive list of the best swimming pools in Bangalore just for you. Make your summer a memorable one with your friends and family with a revitalising adventure in the water. 
Global Swim Centre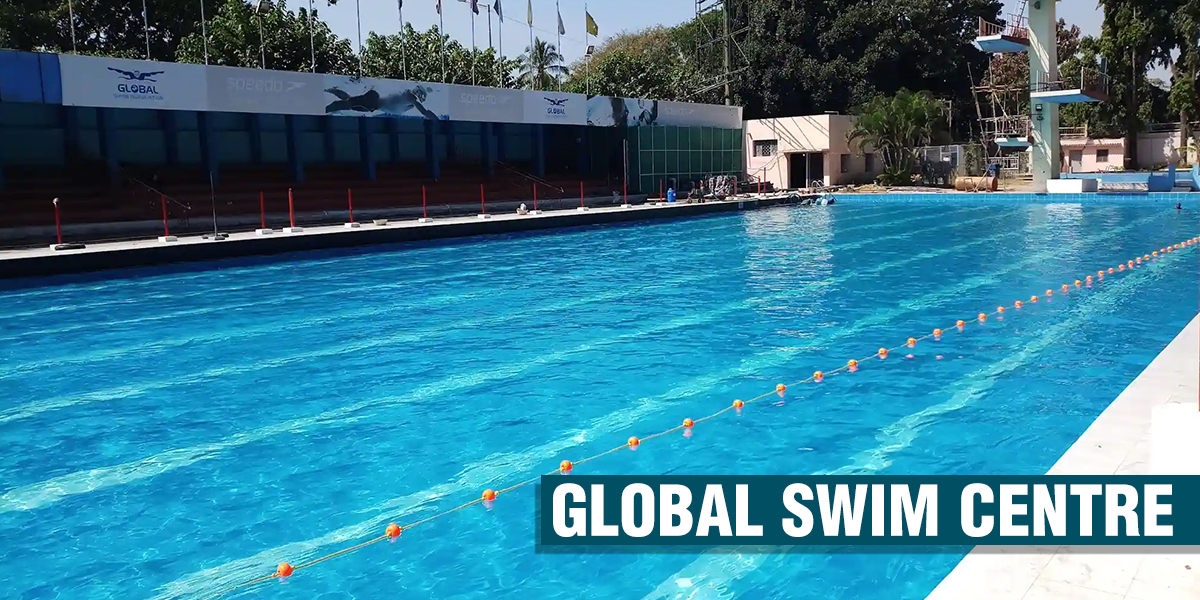 Global Swim Centre, which was previously known as KC Reddy Swimming Pool, is an ideal choice if you are looking for a platform to learn swimming. The area is surrounded by bungalows and greeneries, adding to the aesthetic factors of the place. Even if it is not for swimming classes, you can book your slot for simply leisure swimming or to cannonball into the pool. 
If you wish to tag along your little ones, the centre also has a separate pool for toddlers, offering a safe and secure space for them to enjoy. Additionally, the place also offers professional coaching classes for those who are interested in learning how to swim or advancing their swimming skills. The coaching fee starts from 3000 INR per month for adults and 2500 INR per month for children. 
Operating Days: Monday - Sunday
Operating Time: 05:30 AM to 08:30 AM; 04:30 PM to 07:30 PM (Timing may vary depending on the weekdays)
Registration Fee: 1000 INR
Hourly Charge: 35 INR per head
Address: Sankey Rd, near Bhasyam Circle, Sadashiva Nagar, Malleshwara, Bengaluru, 560080.
Fitso Agon Sports Swimming Pool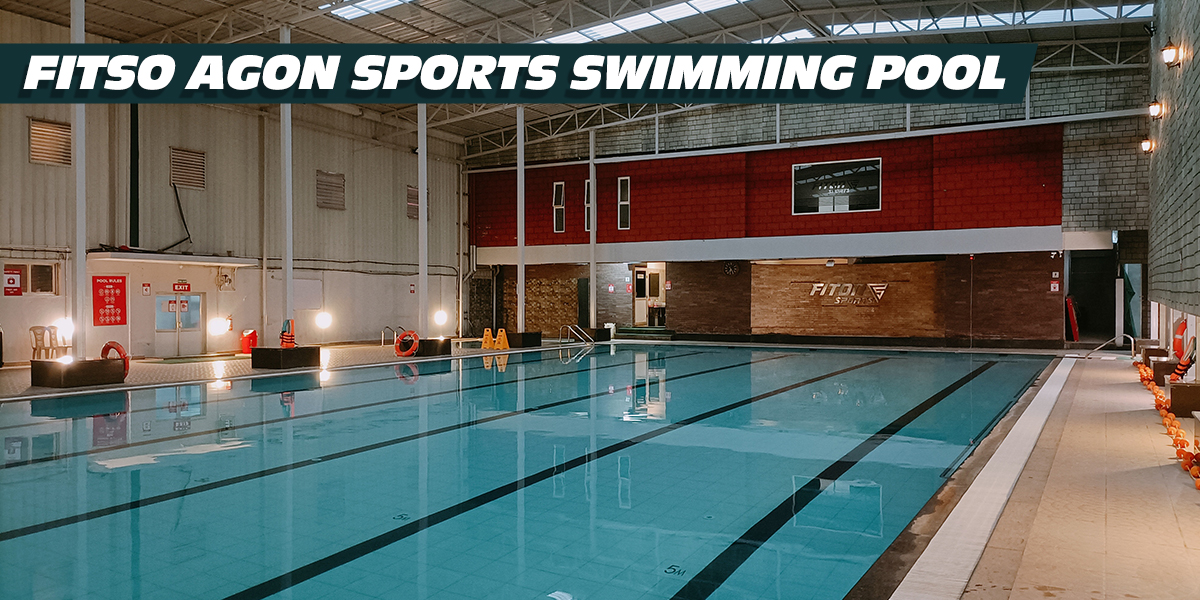 Fitso Hennur Agon Sports is another fantastic choice if you want to cool yourself down in the summer heat. It offers a fully furnished swimming platform and is affiliated with Karnataka Swimming Association. This swimming pool at Agon is popular for resembling the swimming pool used in the Olympics and measures 25 meters. It features 7 separate lanes. 
Agon swimming pool also offers a dedicated platform for the kids to equally have a good time like the adults. Furthermore, there is a special swimming lesson provided to all the lady swimmers who wish to enhance their swimming skills, and they are personally trained by female trainers.
Operating Days: Saturday - Thursday (Friday closed)
Operating Time: 06:00 AM to 10:00 AM; 04:00 PM to 10:00 PM 
Hourly Charge: 200 INR per head
Address: 50/8A, Hennur-Bagalur Main Road, Opposite Biozeen, Next To Subway, Kothanur Post, Bengaluru, 560077.
Basavanagudi Aquatic Centre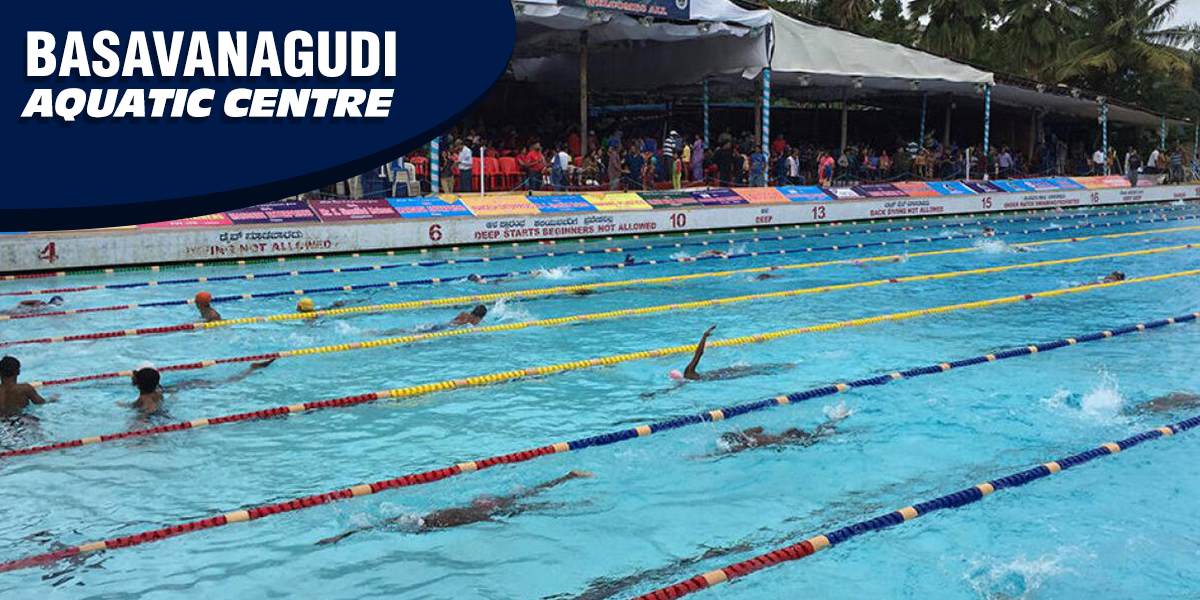 Basavanagudi Aquatic Centre is one of the oldest swimming pools in Bengaluru and is well-known for coaching national swimmers like Aaron D'Souza and Rehan Pocha, and the Olympian, Nisha Millet. Although this swimming platform is not as fancy as you might expect, it is functional and provides you with all the fun and entertainment that you need. 
Two pools within the area measure 25 metres and 50 metres, respectively. Additionally, it also offers a wading pool for juniors or beginners to paddle in. They also provide diving boards to those who want to experience them on a professional level. 
Operating Days: Thursday - Tuesday (Wednesday closed)
Operating Time: 05:30 AM to 09:00 PM
Daily Charge: 30 INR per head for adults; 10 INR per head for juniors.
Address: Plot No.43, Corporation Swimming Pool, Pampa Mahakavi Rd, Basavanagudi, Bengaluru, 560004.
Nisha Millet Academy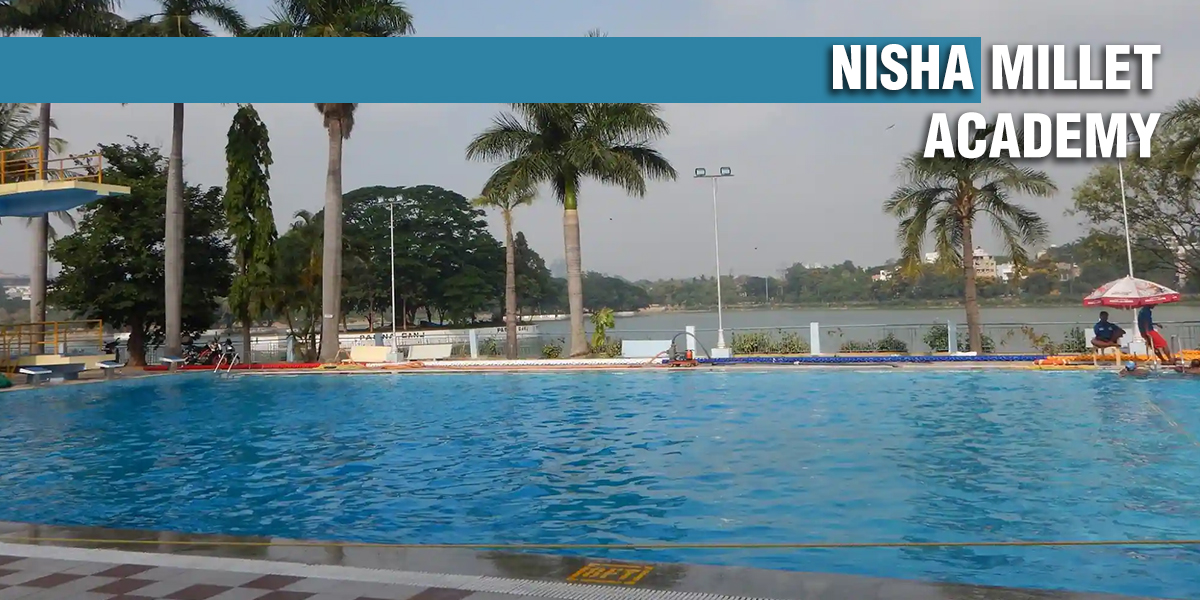 Nisha Millet Academy was founded by the former Olympian, Nisha Millet, and is one of the most popular swimming academies offered in Bangalore. Many swimming enthusiasts opt for this academy for professional training as well as for leisure. The academy is focused on providing swimming lessons to all levels of swimmers depending on their skills. The swimming classes start from Beginner, Intermediate, Advanced, and Pre Competitive. 
Further, the academy also provides a certificate to every participant by the end of the training, and the classes are divided into three categories— personal/family classes, group classes, and lap swimming access. Depending on the type of class you want, the charges will range. If you prefer one-on-one lessons, go for a personal class, if you simply want to swim as a getaway, lap swimming access is recommended.  
Operating Days: Thursday - Saturday (Friday closed)
Operating Time: 06:00 AM to 08:00 PM
Classes Fee: Ranges from 4300 INR to 35,000 INR
Address: Address: 236, 3rd Cross Rd, Jakkasandra Extension, Koramangala, Bengaluru, 560034
Grand Sheraton Swimming Pool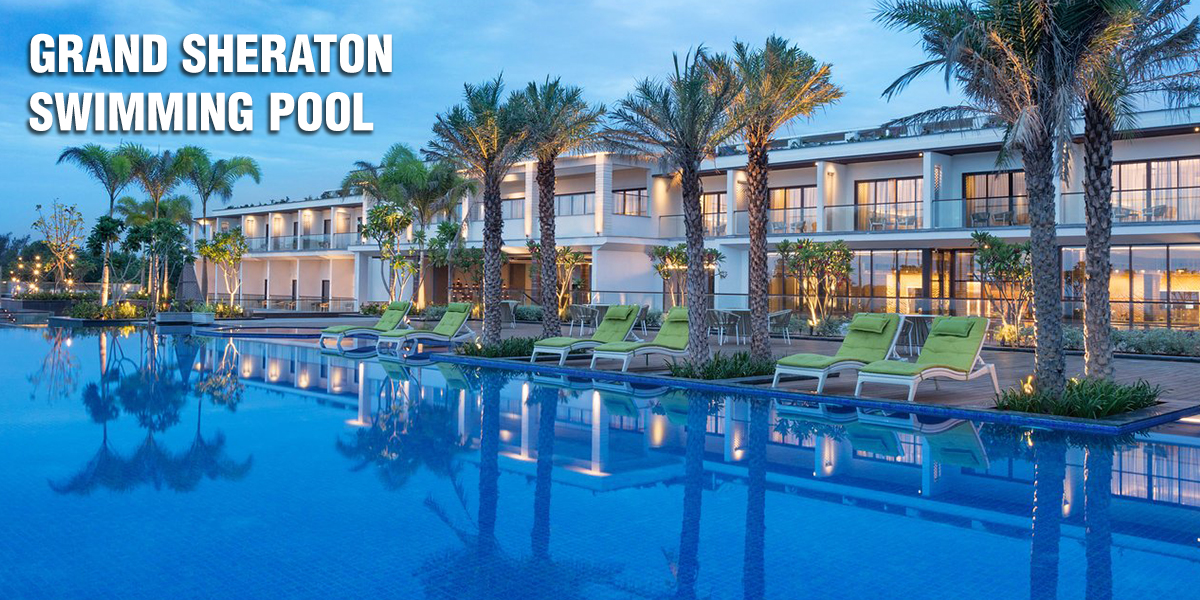 Grand Sheraton is the perfect getaway for you and your partner this summer as you can not only enjoy the luxury of swimming in a fully-furnished swimming pool but also spend an unforgettable time at the Grand Sheraton Hotel with all the delicious foods and drinks. 
This is a fantastic option for those who want to get away from home for a change and have a short vacation with their family. Grand Sheraton offers two swimming pools— Infinity Pool and Children Pool. The overall adventure in this space will be an unforgettable five-star experience. 
Operating Days: Monday - Sunday 
Operating Time: 07:00 AM to 08:00 PM
Address: 26/1 Dr Rajkumar Road Malleswaram, Rajajinagar, Bengaluru, 560055.
The Leela Palace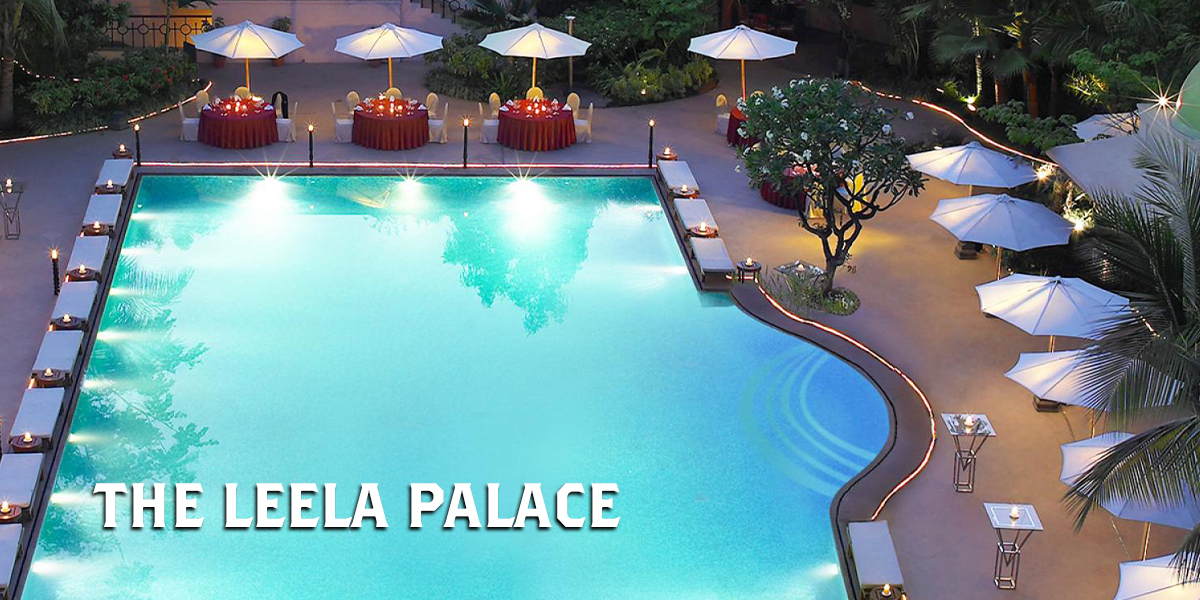 The swimming pool at the Leela Palace is another excellent getaway option for you and your family this summer to escape the blazing heat. The place is far away from the hurly-burly of the city, making it an ideal choice to pick this location if you want to spend quality time alone or with your family. The Leela Palace's swimming pool is one of the most spectacular swimming pools you will come across in Bengaluru, providing a luxurious and relaxing experience and making your time worthwhile. 
Operating Days: Monday- Sunday
Operating Time: 06:30 AM to 09:30 PM 
Address: 23, HAL Old Airport Rd, HAL 2nd Stage, Kodihalli, Bengaluru, 560008
Srujan Aquatic Center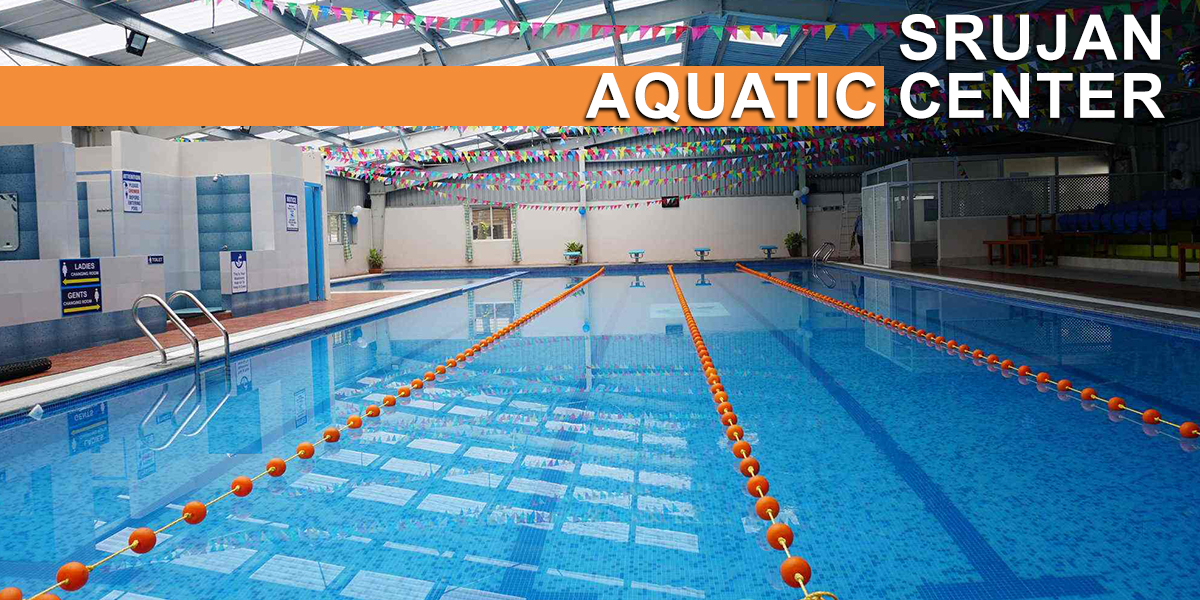 If you are looking to sign up for a swimming class this summer, the Srujan Aquatic Center located in southern Bengaluru is an excellent choice. The academy was founded in 2001 that takes pride in presenting a major focus on sports, fitness, and health. The swimming pools are thoroughly maintained by dedicated staff and everything is kept hygienic. 
The academy is equipped with skilled coaches, trustworthy backend teams and front staff, and lifeguards, ensuring a satisfactory service and holistic experience for all the customers. 
Operating Days: Monday- Sunday
Operating Time: 05:00 AM to 09:00 PM (Varies according to the weekdays)
Address: No. 190, Bannerghatta Main Road, Arekere Bengaluru, 560076
Golden Fins Swimming Pool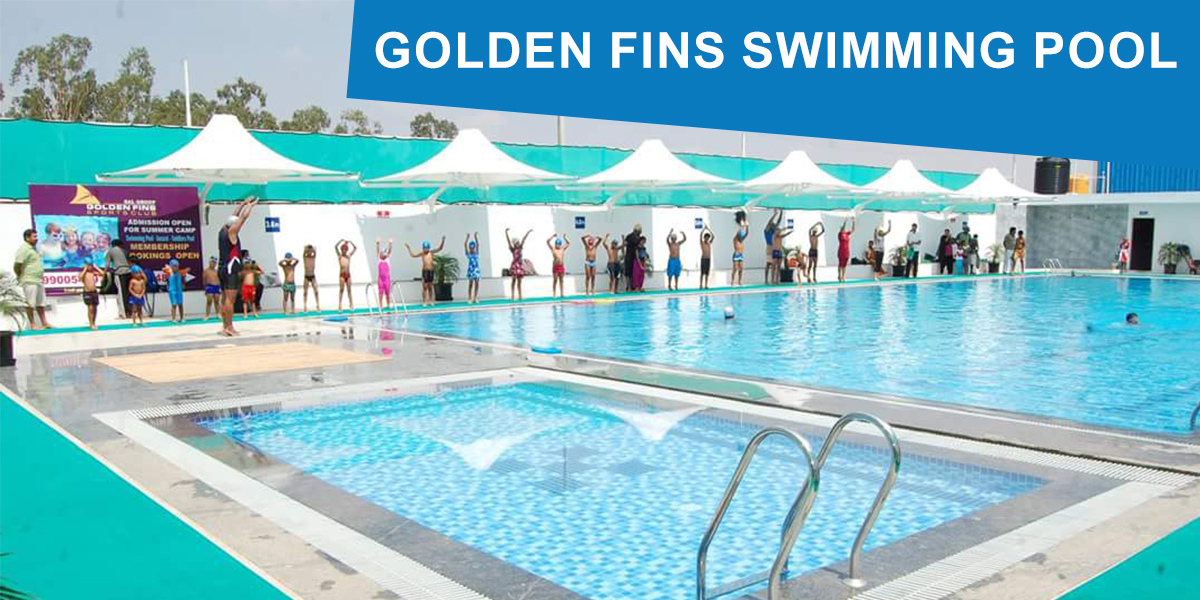 Wish to master your swimming skills and get into a professional career or compete professionally? The team at Golden Fins could help your dream come true as they are experts at moulding a rookie swimmer to a pro swimmer within the shortest timeframe. 
Just like its name, Golden Fins is a swimming academy that highly focuses on training its customers to their best potential by offering advanced-level lessons in swimming. However, it also operates as an accommodation for swimming enthusiasts who wants to swim as a leisure activity. What a perfect place to chill this summer!
Operating Days: Wednesday - Monday (Tuesday closed)
Operating Time: 06:00 AM to 09:00 PM 
Per Session: 150 INR per head
Monthly Membership: 2900 INR (For leisure); 4700 INR (For training)
Address: 2MHH+389, MRB Farms, Nakashe Road, NRI Layout, Ramamurthy Nagar, Bengaluru, 560016
Swim Life Swimming Pool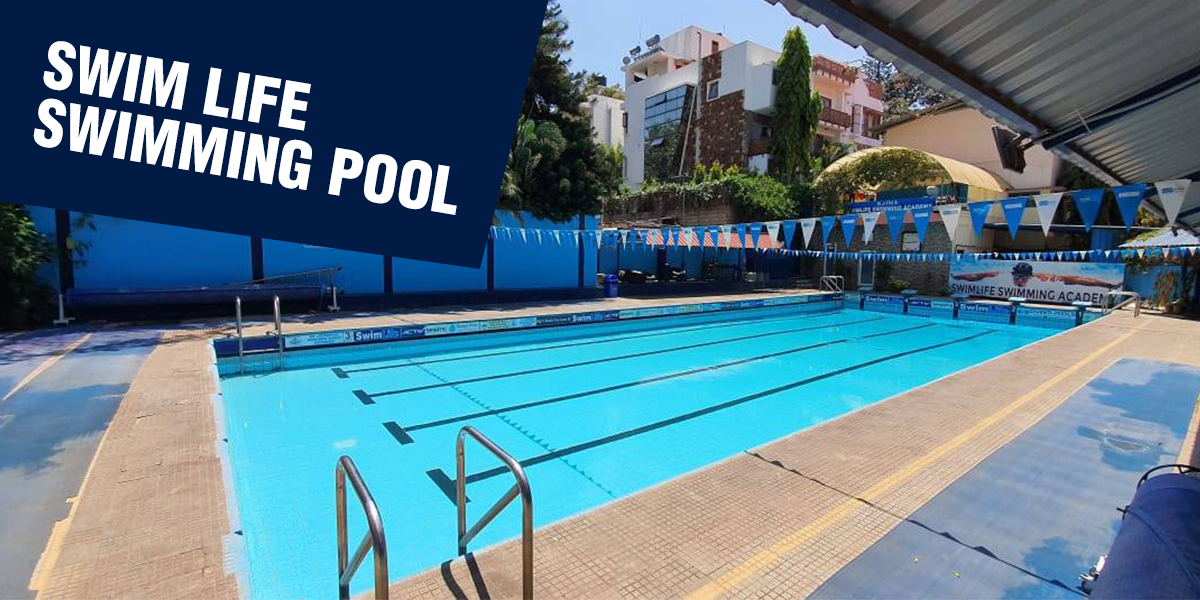 If you are seriously considering taking up swimming lessons or your kids wants to take up, Swim Life in Bengaluru is another fantastic choice for you. This swimming establishment is situated in over 4 locations in Bangalore alone, so you also have more than one choice that is nearest to the place you live in. The facility is exceptionally focused on delivering swimming training to those who want it but also offers a platform for relaxing swimming time. 
Swim Life offers multiple categories of swimming classes according to one's requirements, such as Infant Swimming Classes, Aqua Fit Classes, Summer Swimming Camps, Basic & Advanced Training, Swimming Meets, Open Water Swimming Training, and more. 
Operating Days: Monday - Sunday 
Operating Time: 06:30 AM to 05:30 PM; 04:00 PM - 05:00 PM (Sat); 09:00 AM - 10:00 AM (Sun)
Monthly Membership: Varies depending on the type of swimming classes.
Address: #43, 12th Cross, Ram Mandir Road, S.R. Nagar, Bangalore - 560027
Lakeside Sports Centre Swimming Pool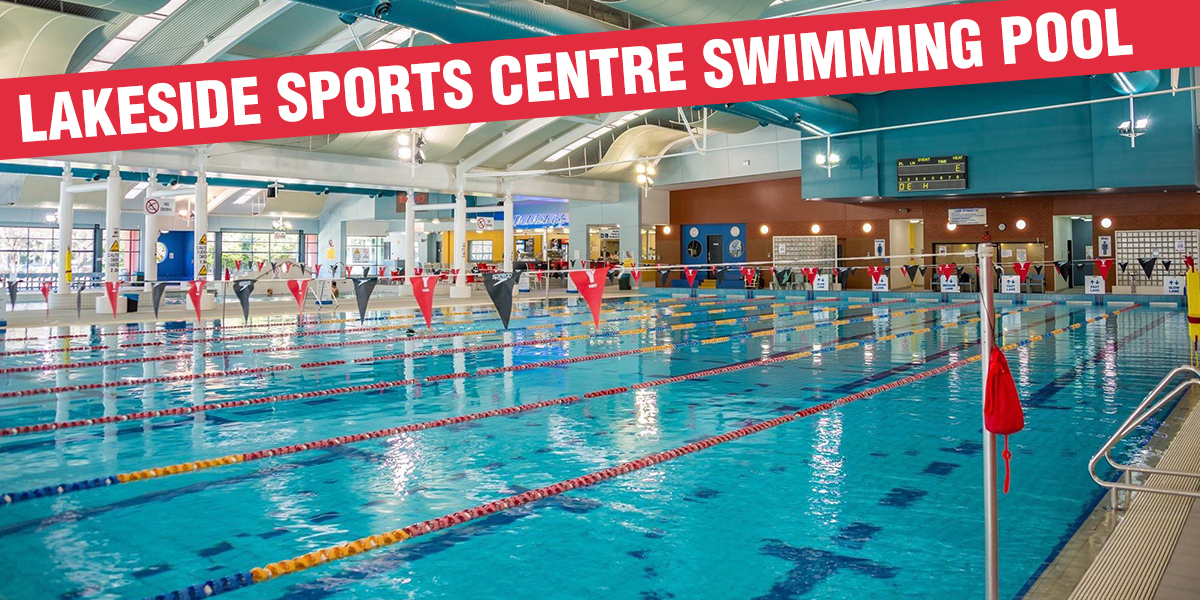 This swimming pool at Lakeside Sports Centre features a semi-concealed and ozone-filtered swimming pool for both adults and kids. It is another terrific option for you if you are considering going for a swim this summer in Bengaluru. They not only allow visitors to swim for leisure but also offer serious swimming training for interested people. 
LSC also strictly abides by the privacy and safety protocol of their customers by providing skilled and trained lifeguards for both ladies and gents, separately. This swimming facility is most suited for athletes, physical education classes, leisure activities, and relaxation.
Operating Days: Monday - Sunday 
Operating Time: 06:00 AM to 10:00 PM
Monthly Membership: Varies depending on the tenure and requirements.
Per Session (60 mins): 75 INR
Address: LAKESIDE SPORTS CENTRE Aralimaga Bus Stop, Begur Road, Begur, Bengaluru - 560114
JW Marriott Swimming Pool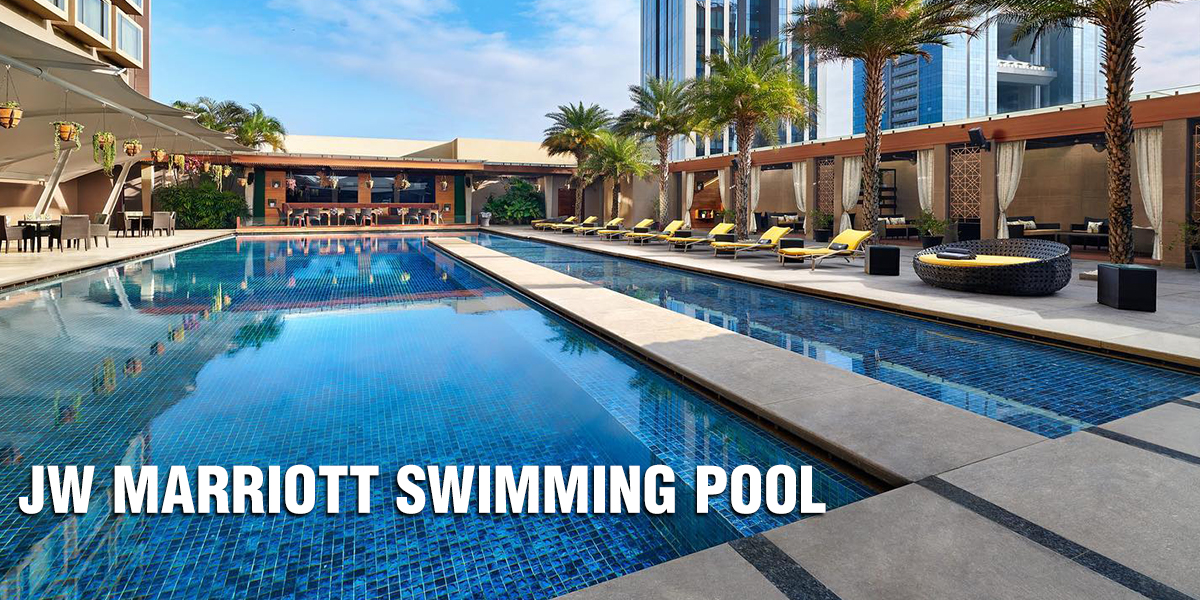 If you want to treat yourself to a luxury getaway this summer, the swimming pool at JW Marriott, Bengaluru, is another excellent choice you can opt for. It is a 5-star hotel located at Ashok Nagar, and you will be able to experience one of the most luxurious getaways here. Their swimming pool is maintained at the top level, while the moonlighting section of the pool is decorated by cabanas and palms, giving a rejuvenating ambience. Moreover, you can stimulate your vacation by relishing all the delicacies offered by the hotel, either inside the extravagant room or by the poolside.
Operating Days: Monday - Sunday 
Operating Time: 03:00 PM to 12:00 PM
Address: 24/1, Vittal Mallya Rd, Ashok Nagar, Bengaluru, 560001.
Indian Gymkhana Club Swimming Pool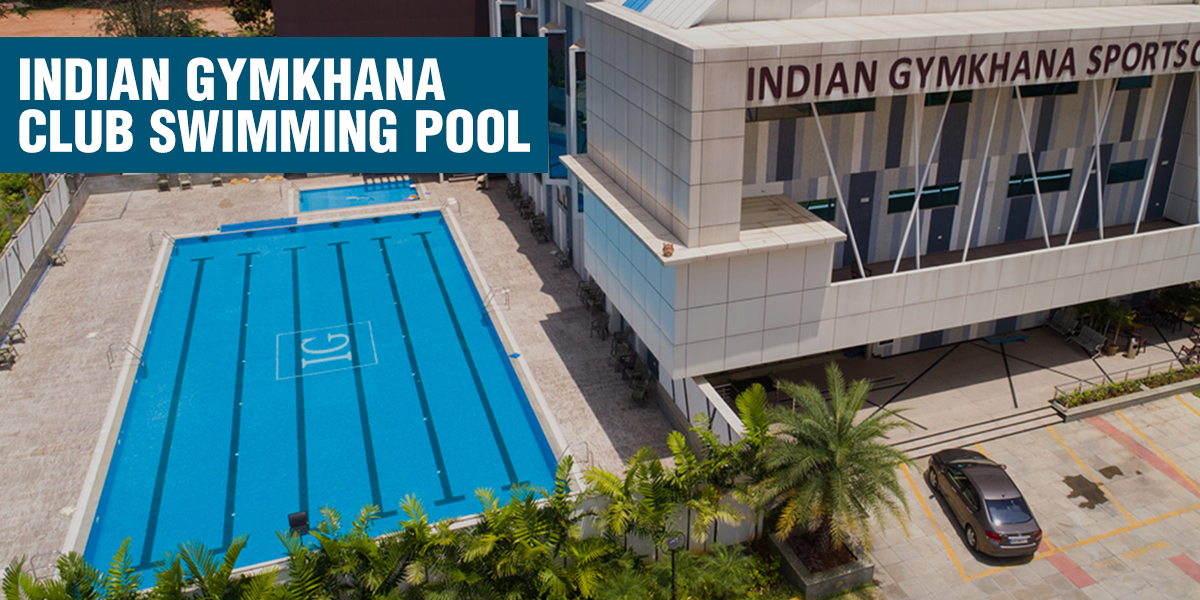 If you prefer subscribing to a swimming membership for more flexibility and regular access, you might consider choosing the swimming pool facility offered at Indian Gymkhana Club. Not only it is well-maintained and taken care of, but the fees are also super reasonable. The complex features a top-grade air-conditioned swimming pool along with various other sports facilities. It is a place where you can keep your body fit as well as enhance your skills. 
Both adults and children alike can sign up for the membership, which starts from as low as 100 INR per month. There are various fee categories depending on the kinds of sports you are looking for, and whether it is for a family or a single. There is also a coaching class offered, however, only registered members have access to this facility. 
Operating Days: Monday - Sunday 
Operating Time: 05:30 AM to 11:00 PM
Monthly Membership: 100 INR (For 18-25 years); 200 INR (25 years & above)
Per Session (60 mins): 50 INR for members, 170 INR for guests.
Address: #5, Wheeler Road, CoxTown, Bangalore, 560005.
Mohite Swimming Academy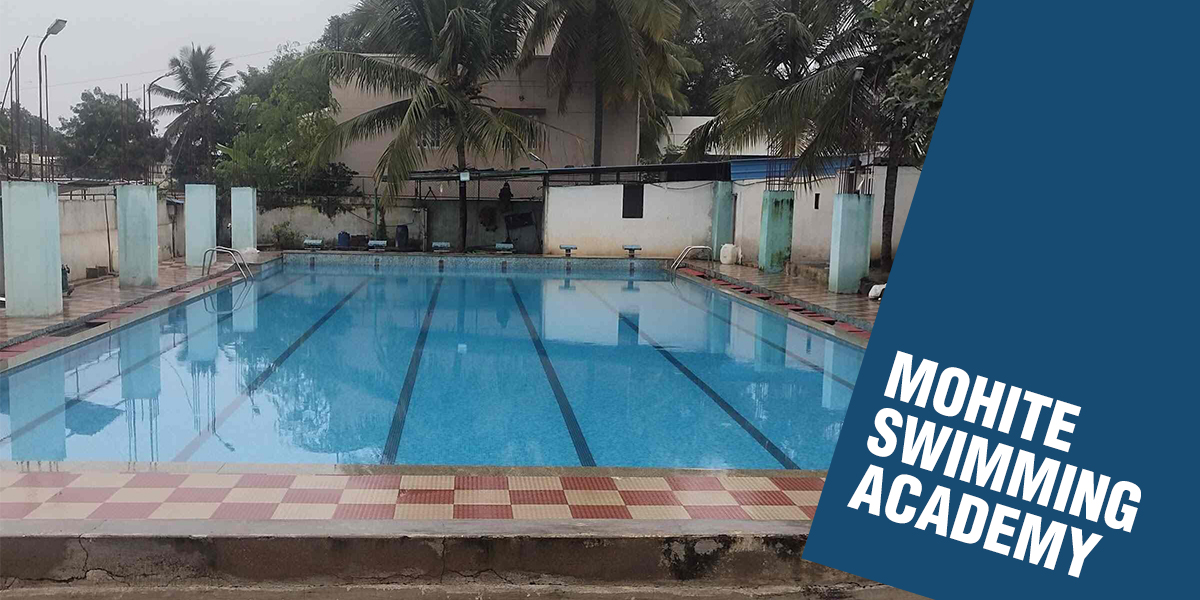 Another best swimming pool for your tranquil escape would be the one at Mohite Swimming Academy. Here, you can not only spend your weekends swimming for leisure but also sign up to learn the skills and techniques of swimming like a pro swimmer. This academy is mainly focused on offering coaching classes on swimming for those who wish to participate in swimming competitions. Nevertheless, they also welcome casual swimmers who simply need a quick dive to cool down the summer heat. 
Operating Days: Monday - Sunday 
Operating Time: 05:00 AM to 08:00 PM
Address: 385, Horamavu Agara Main Rd, Horamavu, Bengaluru, 560043.
Clarks Exotica Swimming Pool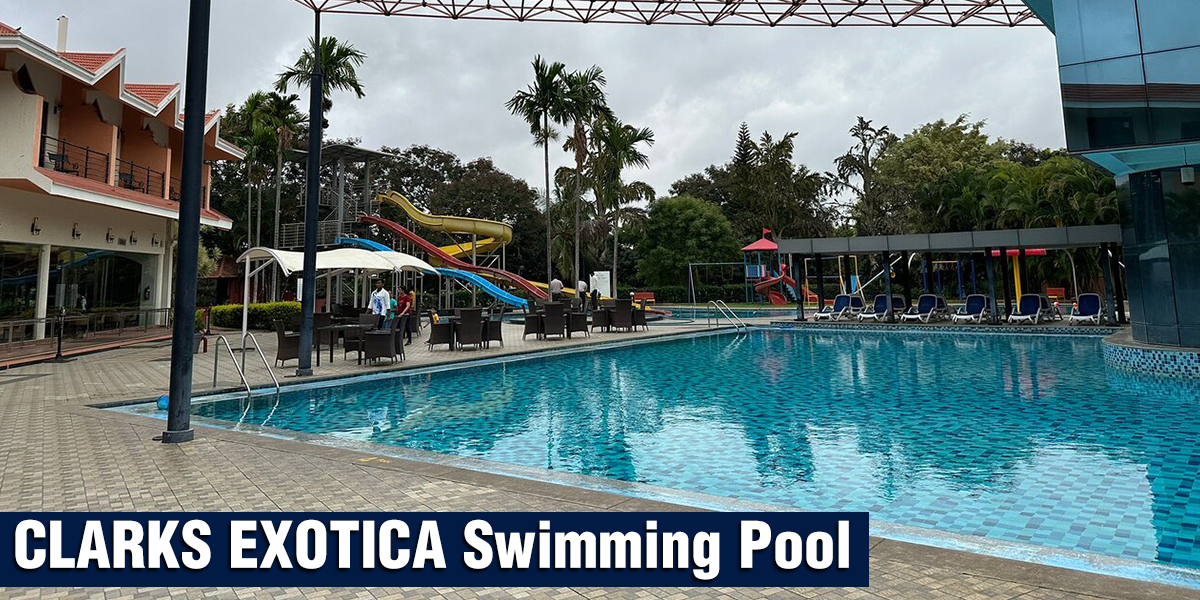 Swimming can be a rejuvenating sports activity in general, but at the same time, it can also be an adventurous workout routine if taken a little more seriously. Nonetheless, Clarks Exotica is another tranquil escape for you this summer as their swimming pool offers outstanding service, creating an unforgettable experience. You can visit this place with your family this summer season and relish the various features offered, including the delightful water slides. 
Operating Days: Monday - Sunday 
Operating Time: 24 x 7
Address: Devanahalli Road, Hollywood Junction, Swiss Town, Bengaluru, 562110.
Citi Nest Swimming Pool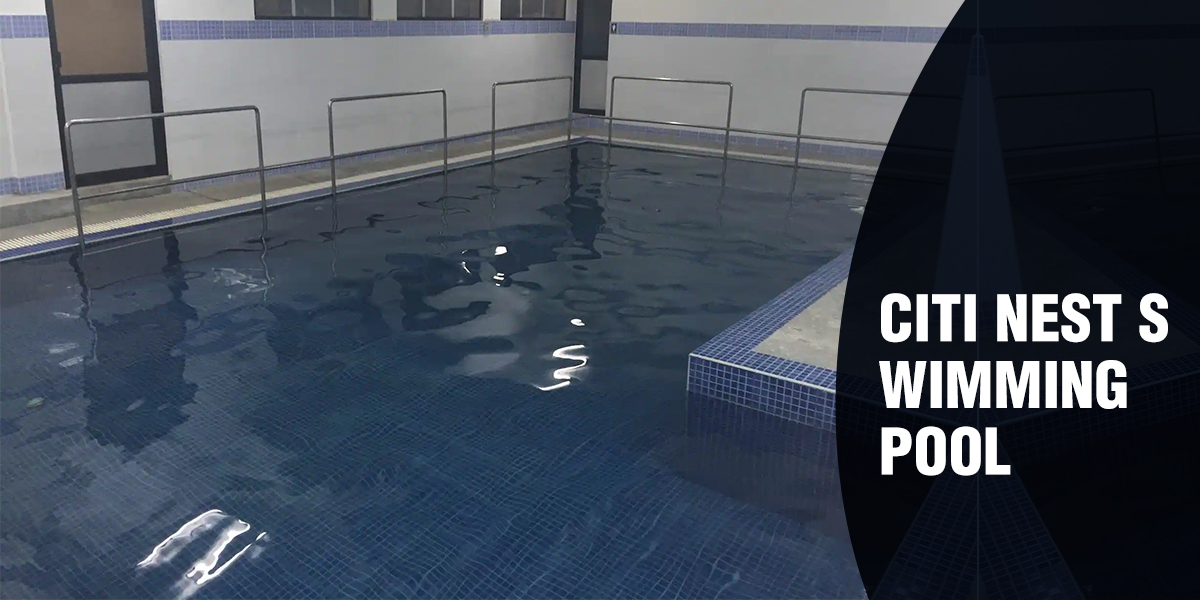 Situated in the bustling neighbourhood of Indiranagar, Citi Nest is a sports complex centre, offering various selections of sports activities like Badminton, Table Tennis, Swimming, Snooker, and Pool. The site is always crowded with regulars engaged in one or the other sports sessions. Their swimming pool is one of the most adequate swimming pools you can find in Bangalore. It is open to the public as well as to the members. You can either sign up every month or book hourly, depending on whether you want to learn swimming or just as your tranquil escape this summer. 
Operating Days: Monday - Sunday 
Operating Time: 06:00 AM to 08:00 AM; 10:00 AM - 04:00 PM; 06:00 PM - 10:00 PM (Mon-Fri); 06:00 AM - 02:00 PM; 06:00 PM - 10:00 PM (Sat-Sun)
Monthly Membership: 200 INR
Per Session (60 mins): 50 INR for members, 170 INR for guests.
Address: 7th Cross Rd, Eshwara Layout, Indiranagar, Bengaluru, 560038. 
Sastha Pools Swimming Academy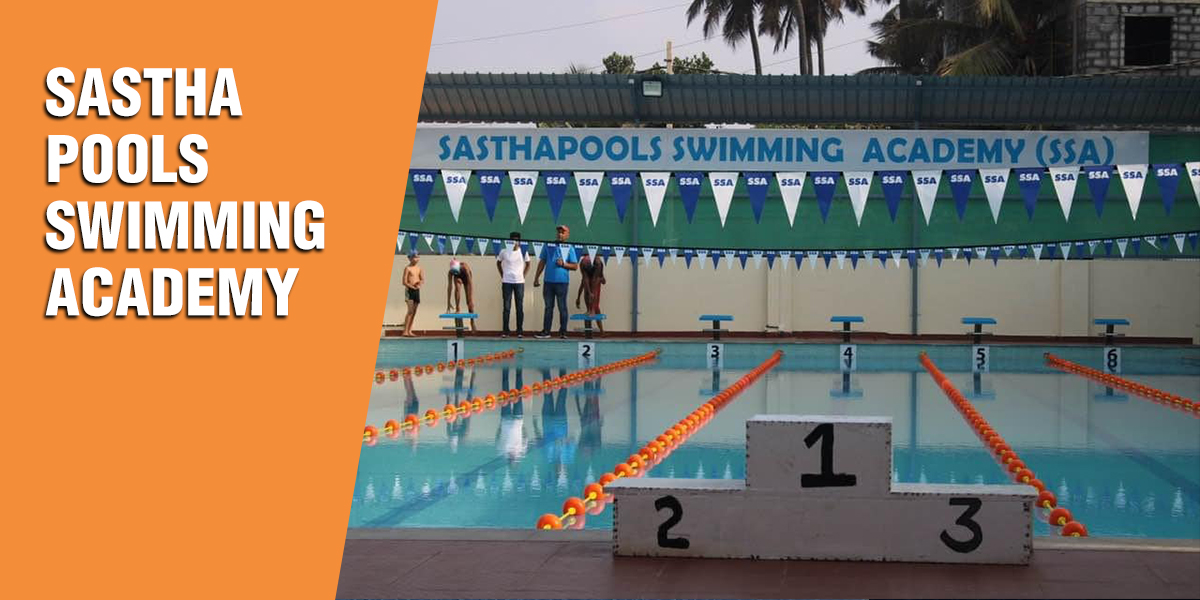 This swimming academy was started by Ratheesh Raveendran, a highly qualified swimming trainer and competitor. So, you know you're in the right hand if you are planning to sign up for a swimming lesson this summer. The academy is located at five different locations around Bengaluru, so you can choose the nearest branch to your house. 
The academy offers various sets of membership programs to suit the requirements and budget of the customers. You can either sign up for the swimming classes monthly, yearly or the family package. If you plan to have swimming sessions often, it is recommended to take the packages instead of a one-time use payment because once you become a member, you also get additional perks. 
Operating Days: Monday - Sunday 
Operating Time: 06:00 AM to 09:00 PM (Mon-Fri); 06:00 AM - 10:00 PM (Sat-Sun)
Monthly Membership: Varies according to the package.
Address: Opp. Bharath Petrol Bunk, Chikkathiruppathi Main Road, Whitefeild, Bangalore, 560067.
Patels Inn Swimming Pool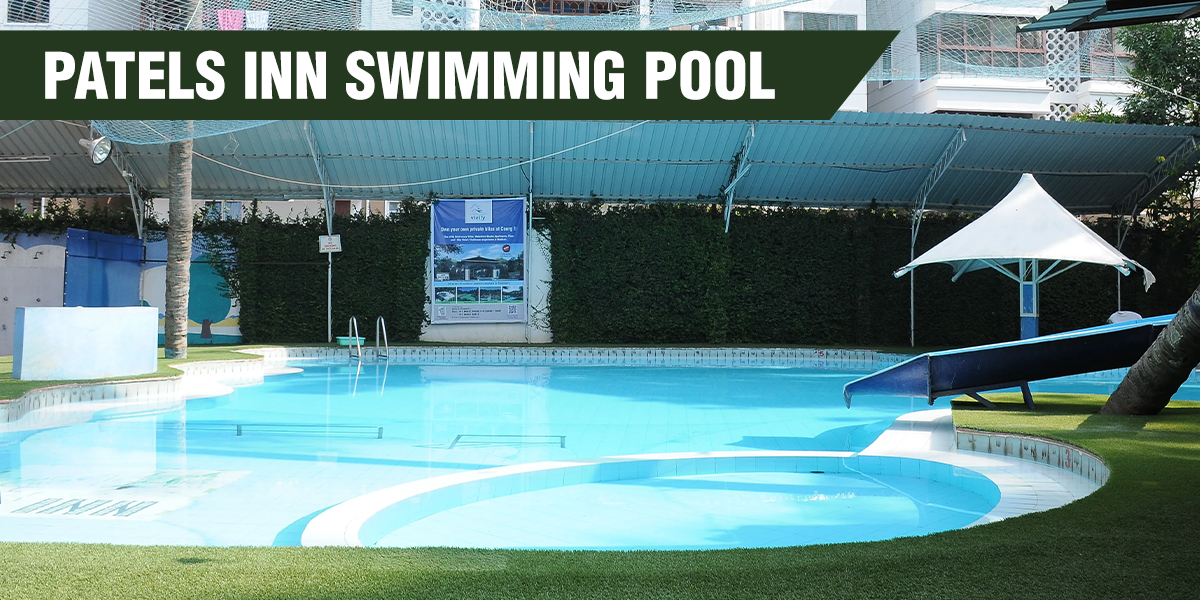 If you have a serious commitment towards swimming, you can buy an annual membership at Patels Inn at RT Nagar. Although it is a club and resort by name, Patels Inn offers professional training on swimming to enthusiastic swimmers of all age groups, helping them to understand and appreciate the essence of swimming. It has 3 categories of membership— Individual, Family, and Senior citizen. 
Patels Inn Swimming Pool is an excellent escape route from the hurly-burly life of the city. Moreover, the overall ambience of the resort makes you feel like you're vacationing in a different country. The swimming pool is maintained thoroughly and regularly by dedicated staff, keeping up with the standard hygienic level and safety benchmarks. 
Operating Days: Sunday - Wednesday
Operating Time: 06:00 AM to 02:00 PM; 03:00 AM to 08:00 PM 
Monthly Membership: Varies according to the package (Starting 10k INR)
Address: 5th Cross Rd, RT Nagar, Bengaluru, 560032.
Kensington Swimming Pool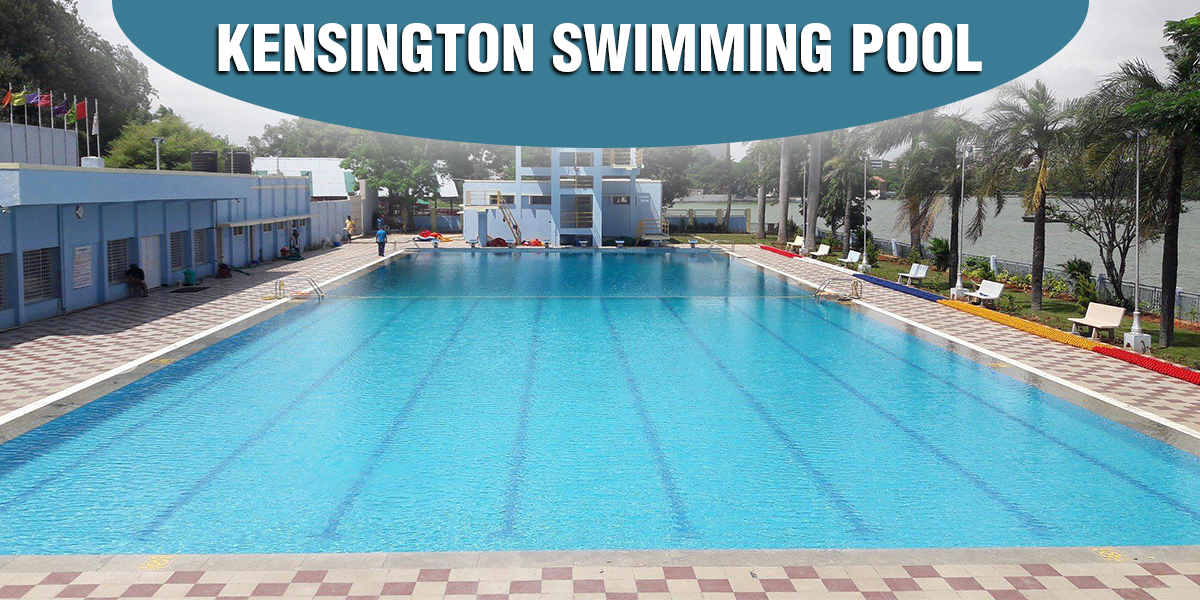 Launched in 1970, the Kensington Swimming Pool is one of the oldest running swimming platforms in Bengaluru today. It is a fantastic venue to opt for, especially if you have kids because they offer a wide selection of swimming lessons, camps, and competitions. It will be a tremendous challenge for your little ones to socialise and boost their confidence while also having fun and making memories with their peers. You can swim laps or take a dip in this enormous outdoor swimming pool, where you can also admire the beauty of Ulsoor Lake.
Operating Days: Saturday- Thursday (Fridays Closed)
Operating Time: 05:00 AM to 10:00 PM (Mon-Thurs); 07:00 AM to 05:00 PM (Sat-Sun)
Per Batch: 100 INR
Address: 13, Kensington Rd, Halasuru, Bengaluru, 560042.
Are The Swimming Pools In Bengaluru Safe?
The swimming pools in Bengaluru are normally safe, however, do make sure to follow the rules and regulations of the venue. It is recommended to opt for swimming areas that offer on-duty lifeguards and well-preserved facilities. Also, do check the water quality of the swimming pool before you start swimming. 
What Is The Cost Of Booking A Slot For Swimming In Bangalore?
The cost of swimming pools can vary according to the venue, the facilities offered, the standard, and the packages. Some offer monthly and annual packages, while some offer hourly fees. 
How Long Do Swimming Pools Operate In Bangalore?
Again, this will depend on the venue and academy you sign up to. Normally, there are different time slots set by the swimming pool venue, where customers can book them according to their preferences and convenience. Ensure to check the details with the team before you pay or sign up for the membership. 
Are Children Allowed To Use The Swimming Pools In Bengaluru?
Yes, children are generally welcome to use the swimming pool spaces, but under adult supervision, of course. However, it is best to check and confirm with the facility to make sure since the conditions of the kids' pool may differ according to different venues. 
Are Swimming Classes Offered At Public Pools In Bangalore?
Yes, there are public pools that offer swimming classes as well to interested people. Swimming coaching is generally offered to both adults and kids alike by professional and skilled trainers.
What Essentials Do I Need To Bring When I Go Swimming In Bangalore?
Before you visit a swimming pool, it is important that you are carrying the right products and wearing the proper outfit. Essentials like sunscreen, swimsuit, towel, goggles, robe, swimming cap, flip flops, extra clothes, etc.