If you are bored of staying in the regular hotels and resorts, we also have cottages in Bangalore where you can resort to spend your staycation. We have compiled the list of best cottages in and close to Bangalore to make it easy for you to choose. Have a look at the list below.
Best Staycations In Bengaluru
A Charming Fruit Farm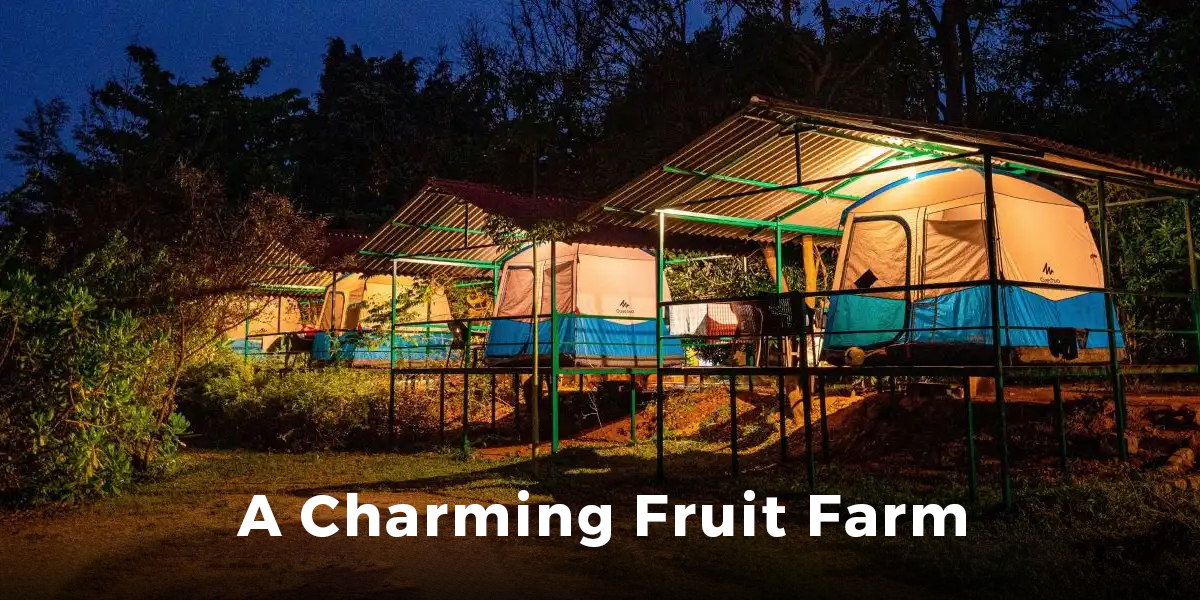 With many meetings and approaching deadlines every day of the week, you're on the verge of giving in to the stress. Avoid letting stress control you! Spend a peaceful and unwinding weekend at this adorable fruit orchard. The property is there away in the woods about 55 kilometres from Hebbal. Sleep in a comfortable cottage that has a bathroom, a dual bed, and a balcony all to yourself. Take in the dreamlike vistas and inhale the fresh air as you stroll about the property, which is flanked by just a lake and high hills.

Play some energetic outdoor sports such as football and frisbee before cooling off in the bio pool. If the weather allows, take a coracle boat out on the lake's tranquil waters. Discover the charming pathways that surround the farm, then climb a hill to see a breathtaking sunset. Here, evenings are filled with bonfires, delicious barbecue, and clever conversation. Try your luck at finding the constellations that are hidden in the infinite expanse of space as the moon shines brilliantly in the night sky. Guests may prepare their own mouthwatering delicacies in the communal kitchen, or food can be ordered for an extra fee.
What to Do?
Wander peacefully around the huge farmlands.
Cook up some delectable food in the kitchen.
Take a dip in the biopool.
Bring your four-legged companions on vacation with you.
Explore some of the farm's beautiful neighbouring paths.
On a coracle boat, paddle through the lake's placid waters.
Pick whichever fresh fruit you like from the trees. (If customers choose more than handful of fruit, there will be an additional fee.

Items to consider bringing:
Warm clothing
Torch
Anti-allergy medicine
Blankets
Anti-mosquito spray
Food for your pet
Comforters for your pet
To check in and be identified, please have a government-issued ID with you.
Exemptions:
Alcoholic drinks
Non-vegetarian dishes (can be made available at an extra charge)
For the BBQ, marinated meat and veggies
Lunch (offered at an extra price) (can be made available at an extra charge)
Transportation options
everything not expressly stated in the included.
Policy on Cancellations:
A cancellation will result in a 50% refund of the advance.
Government restrictions relating to Covid: 100% refund
Shoots and Roots- A Traditional Organic Farm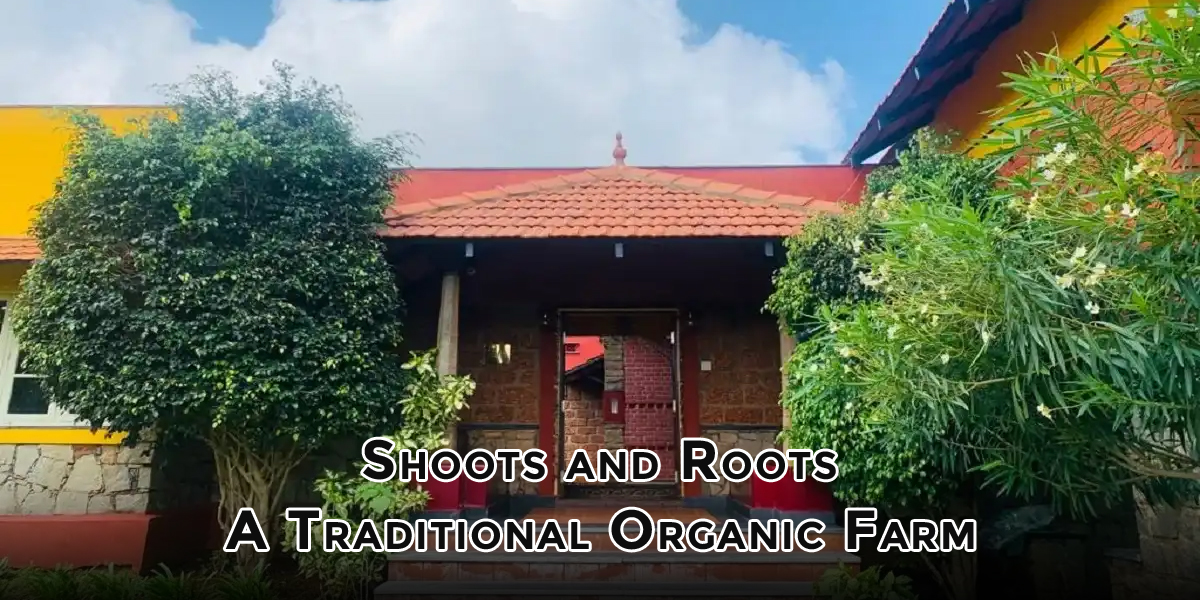 Want to replace another weekend in the urban jungle with a real farm experience that is surrounded by beautiful scenery and clean air? So stop searching because Shoots and Roots- A Traditional Organic Farm is exactly what you need. You may experience traditional farming on the rustic farm, which is located on the outskirts of the Bilikal Forest south of Bannerghatta National Park. Leave your computer and phone at home and discover the pleasures of farming.

Pick bananas, mangoes, and lemons directly off tree branches as you stroll down pathways dotted with silvery oak and teak trees. A bucolic barn-style homestay with basic modern comforts is part of this 15-acre organic farm. You can take a tour of the farm to discover how fruits and vegetables are grown as well as to learn about crop rotation, beekeeping, vermicomposting, rainwater gathering, and other techniques.

The nights are perfect for some enjoyable light sports around the farm followed by a peaceful night of stargazing away from the intense city lights while the daytime is spent exploring the farmlands. Visit this traditional homestay if you're interested in farming and natural settings to deepen your connections with the environment. Come visit this charming farm with your buddies! Additionally, you are welcome to bring your pet.
Activities on-site: 
Practice yoga first thing in the morning.
Travel to the next village to discover local culture.
Grow plants while touring a farm with a guide.
Practice badminton with friends and family.
Get close to the dogs, chicks, and cows.
Play indoor rural games in the evening.
Read a book while lounging on the hammock.
Sing songs over a campfire.
Watch the stars at night.
Travel the Kenneth Anderson Trail by bicycle.
Tour Mango (between April to June):
Harvest fruit right off the trees.
Gain knowledge of organic farming.
Tractor-saddle around the fields.
Delight in a substantial farm-fresh breakfast.
Pay and return home with juicy mangoes.
Beyond the site:
Picnic at Thattekere Lake while you're there.
Cycle to the nearby village of Thally.
Visit the backwaters of Mavathur to observe birds.
Notable:
The farmhouse has two rooms that may accommodate a maximum of two families (4 adults and 2 children).
Exemptions:
Alcoholic beverages
Services for pickup and delivery
Everything not expressly stated in the included.
Cancellation Policy: 
There is no set cancellation policy. Kindly verify the cancellation policy for your room with the host.
Elfin Manor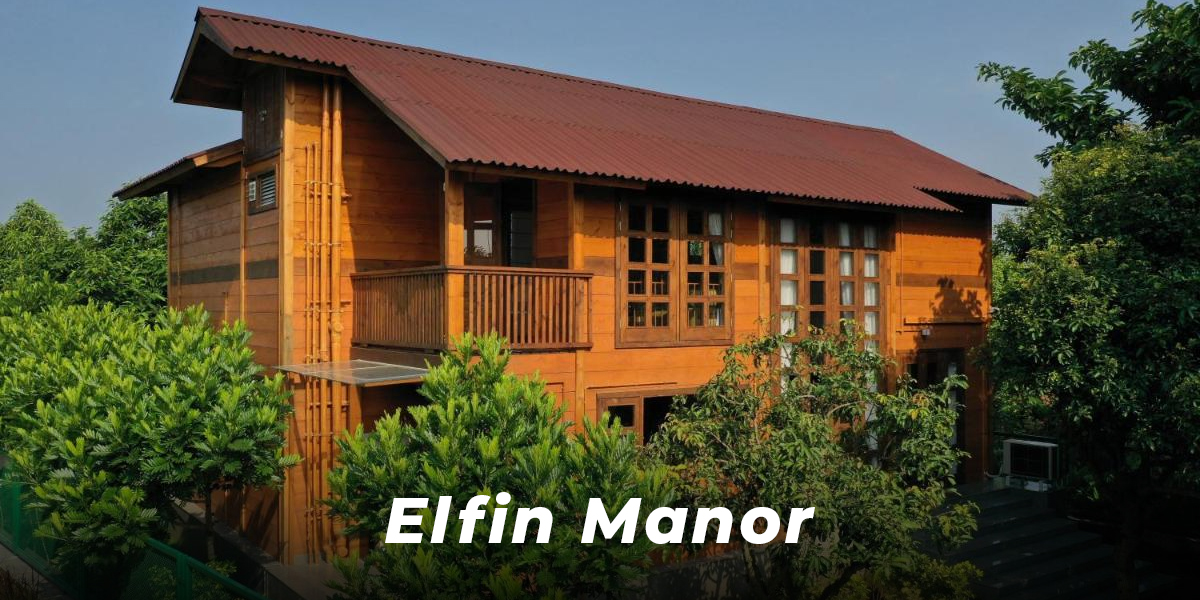 The fast-paced way of life in large cities would frequently leave you feeling worried and worn out. With everything going on, including impending deadlines and exhausting client meetings, it's critical to periodically step back and spend time with those who are most essential. Elfin Manor is the only place you need to search if you're seeking for your next urban retreat. This magnificent rural home may be the ideal retreat you've been looking for, tucked away in the countryside but only a short drive from the concrete jungle.

This constructed wooden house transports you through a single experience that offers a wonderful blend of narratives, entertainment, and leisure activities. It was influenced by the hobbit tunnels established by the famous J.R.R. Tolkien in his classic "The Lord of the Rings." The Elfin Manor has all the amenities you might want while on vacation and is located in a gated neighbourhood away from the bustle of the city. There is never a dull time in sight with the expansive tennis courts, the emerald pool, and the verdant gardens to meander through. The house has two distinct spaces on two levels, giving you the ideal amount of privacy for a peaceful retreat.

What to Do?
Play a match of squash or tennis and work up a sweat.
Take a plunge into the pool to cool off.
Find a quiet area where you can relax and read your favourite book.
Play entertaining board games like billiards or table tennis with your family and friends.
Explore the emerald gardens in the evening.
Consume some delicious foods.
Exemptions:
Alcoholic Drinks
Snacks and meals
Commuting Services
everything not expressly stated in the included.
Policy on Cancellations:
The whole booking cost will be returned for cancellations made more than 5 days prior to the check-in date.
75% of the reservation price will be returned for cancellations made with fewer than 5 days to go before check-in.
Serene Cottage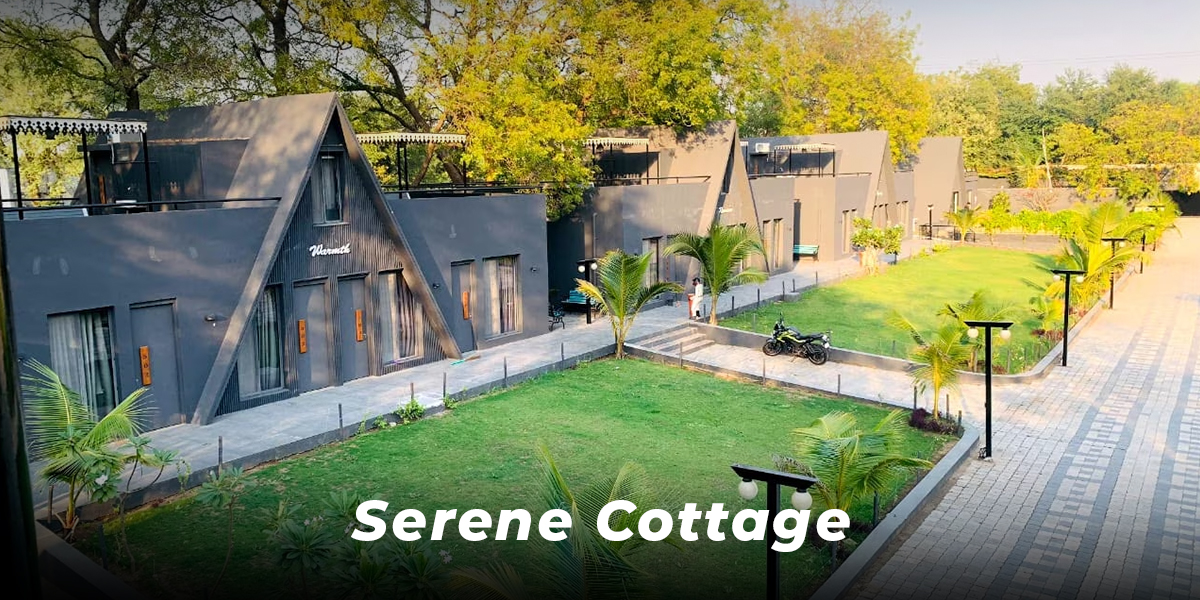 This lovely property, which is about an hour from the city, might fulfil all of your expectations. You can enjoy your time exploring the farmland and playing all kinds of outdoor games like badminton, swimming around in the pool, grooving out in the music room, watching your all time best movie, or lazing under the trees with a good book from the library. Stress simply doesn't exist when you are on vacation here, that much is certain.
Additionally, the property is totally pet-friendly! So, enjoy the most of your holidays at Serene Cottage  close to Bangalore by bringing your furry little companions along.
What to Do?
Take a tour to explore the vast farmlands.
Stir up some excitement in the outdoor pool.
Make some special memories while being surrounded by loved ones.
Watch a movie while lounging in the living room.
In the music room, flaunt your guitar prowess.
Enjoy some clever conversation and a little stargazing by the fireside.
Enjoy some delectable regional cuisines.
Engage in some fun indoor activities with your buddies.
Play some enjoyable football or frisbee while working up a sweat.
Visit the library and check out a book.
Noteworthy:
Pet food can be given for a further fee of Rs. 200 or visitors are welcome to provide their own.
Pet bedding must be provided by the visitors.
There are 2 deluxe rooms, 2 deluxe rooms, 3 rugged cottages, and 1 typical cottage on the property
Exemptions
Barbeque (Available at an additional expense, the host will call out to you 2 days before the check-in date to confirm guest choices) 
Alcoholic drinks
Commuting options
Everything not expressly stated in the included.
Policy on Cancellations:
A complete refund will be given for cancellations submitted 3 days prior to the check-in date.
Less than 3 days prior to the check-in date, cancellations will result in a 75% return of the total booking cost.
Pyramid Cottage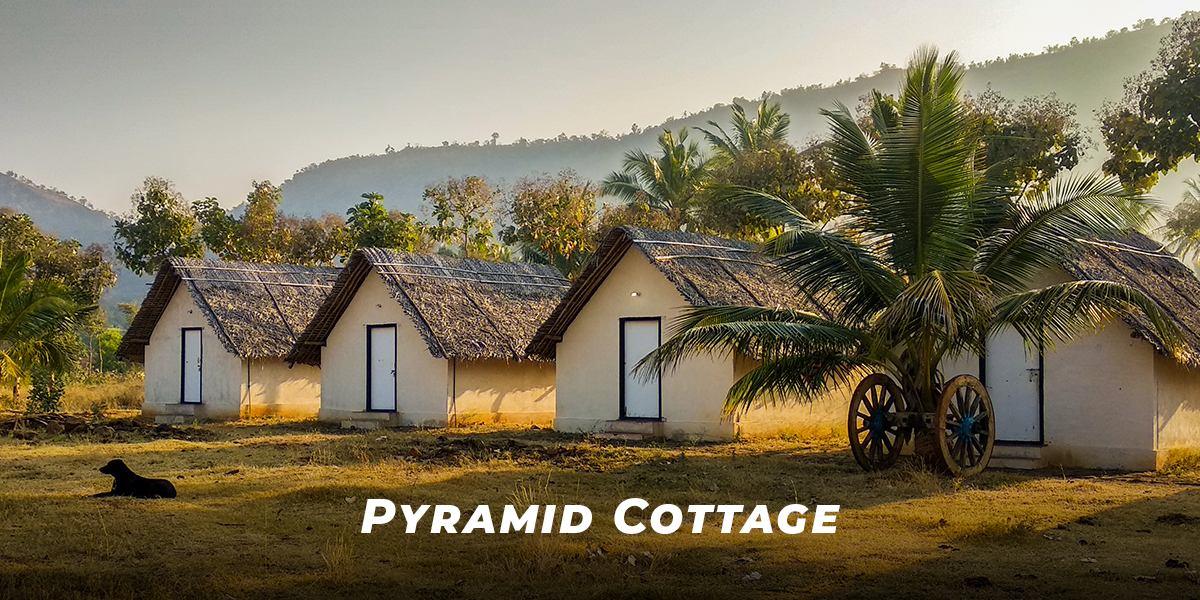 Don't you get sick of being surrounded by massive structures and an ocean of traffic every day? Discover this recognisable pyramid cottage as you wander through the lush countryside near Bangalore. Stunning farm house just outside of Bengaluru. Kumbalgudu / Tathguni is close to the Tulasi mutt.

Relax in this peaceful environment and forget about the rush of city life. Pay attention to the birds' invariably in tune tunes. Discover peace and tranquillity amidst the grandeur of nature, surrounded by acres of lush, green areca nut fields.
It's a farmhouse with self-service. This farmhouse is serviced by Swiggy and Zomato.


What to Do?
Play some enjoyable football or frisbee while working up a sweat.
Make some special memories while being surrounded by loved ones.
Prepare some delicious meals in the kitchen.
Read a good book while relaxing under the shadow of the trees.
Engage in some fun indoor activities with your buddies.
Play some enjoyable football or frisbee while working up a sweat.
Bring your canine companions with you on the journey.
Exceptions:
Alcoholic Drinks
Extra meals and snacks
Commuting services
Anything not expressly stated in the included.
Policy on Cancellations:

A complete refund will be given for cancellations that are made more than one week before the check-in date.
When cancellations are made between three and seven days prior to the check-in date, 50% of the reservation fee will be returned.
No refunds will be given for cancellations made less than three days prior to the check-in date.
Charming Hillside Cottage close to B.R Hills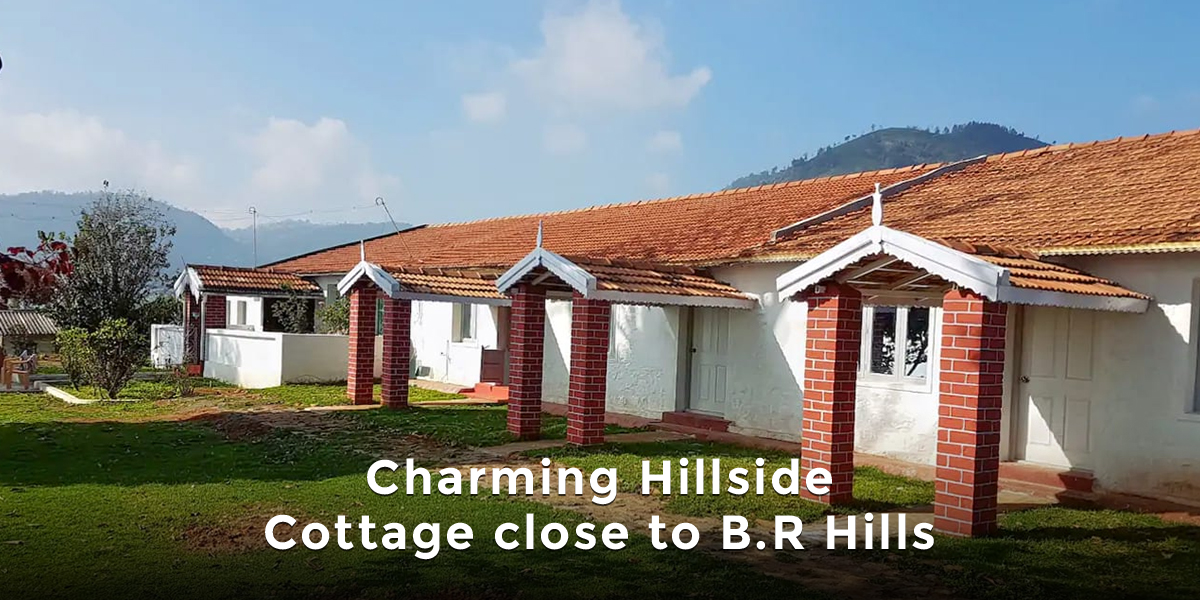 Considering a road trip with your friends but unsure about your destination? Our great retreat from the city is only 175 kilometres from Bangalore. These hills provide a plethora of jungle adventures and sports activities by acting as a perfect confluence for the Eastern and Western Ghats.
This picturesque hillside homestay in the B.R. Hills could provide the setting for some truly unforgettable encounters. Days can be spent here exploring the verdant environs, hiking along scenic paths, or joining the Karnataka State Forest Department's jeep safaris. The homestay itself provides a delightful retreat from city life, and the bedrooms' huge paned windows provide breathtaking views of the forest.
What to Do?

Take a stroll in the cool evening air while taking in the lush green surroundings.
Take pleasure in the distinctive tastes of South Indian food.
Locate a cosy area where you may unwind with a nice coffee and your favourite book.
Experience off-roading on well-traveled trails in our tough open Jeep.
Snuggle up close to a campfire with your loved ones.
Discover hidden wildlife jewels where a wide range of birds can be seen.
With a diversity of flora and creatures nearby, hone your talent for nature photography.
Noteworthy:
Children under the age of five do not incur any fees.
50% of the senior rate applies to children aged 5 to 11 years.
The adult rate will apply to children over the age of 11.
Depending on the weather, main road safaris and treks are available on a first come, first served basis.
Prices are variable and dependent on supply
Exemptions:
Safari from the Forest Department (At an approx. cost of Rs. 450 per person)
Non-Vegan food (Available at an extra cost of Rs 800 per meal per person)
Alcoholic Drinks
Services for Pickup and Drop-off
Everything that isn't included in inclusions directly.

Policy on Cancellations:
A 100% reimbursement will be given if the cancellation is made at least 15 days before check-in.
Zero refund is there if the cancellation is made fewer than 15 days before check-in.
Does food come with the package?
The package mostly includes both dinner and breakfast. For an additional fee, extra food and snacks can indeed be arranged.
Is booze permitted on the farm?
Yes, there is no alcohol served on the farm, but visitors are allowed to bring.
Does the farm permit animals?
Yes! Your furry little companions are completely welcome since the farm is pet-friendly.