India is moving through the age of digital content where OTT platforms are providing people with enough and more content to watch and stream. Out of all the available options, one streaming platform in particular reigns supreme for being one of the first to roll down the business. The one that we are talking about is none other than Netflix and we are here to tell you all about its plans for 2023, ways to get free subscriptions and other benefits. 
Considering the quality of content that is now streaming on the platform, it makes sense to look through all that they provide and try your best to get a subscription. However, doing so without a detailed guide can leave you confused. So read the following and explore all the important points and details that you need to know about Netflix plans in 2023. 
Netflix Subscription Plans for 2023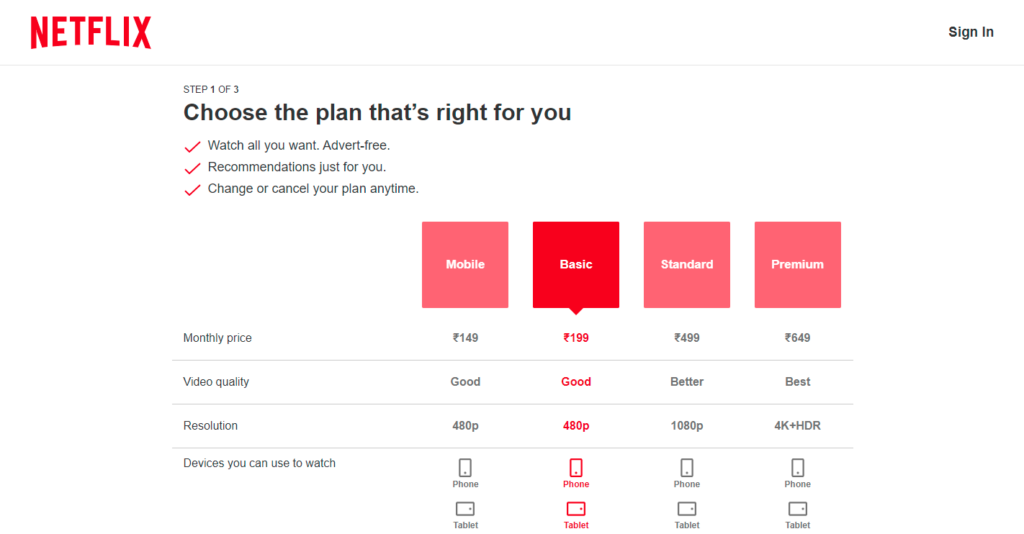 Netflix subscription plans for the current year have taken a different route with a small price reduction. The streaming platform has decided to cut down on subscription prices with the aim of bringing in more subscribers and keeping the current ones happy. 
The Netflix Mobile-only Plan 
The number of people watching content on their smartphone or tablet is not a small share of subscribers that you can ignore. Hence, Netflix decided to cater to these audiences. While they always had a Mobile-only plan, the difference is that it now costs ₹.149 instead of ₹.199. 
With this plan in hand, whose price goes up to ₹.1,788 a year, subscribers can access top content on Netflix through either their phones or tablet. It supports only a single screen and content can be viewed in SD. Since it supports only smartphones and tablets, you cannot Chromecast it to big screens, including iPads and laptops.
All your content can be consumed only via mobile phones and you cannot use the same on Amazon Fire TV.
| | |
| --- | --- |
| Pros  | Cons |
| Comfortable viewing via smartphone & tablet  | Content can only be viewed via smartphone & tablet.  |
| Costs ₹149 for a month | Costs ₹1,788 a year for a single screen |
| Can stream all Netflix content  | Can only stream content on 480p |
Netflix Basic Plan 
If you wish to operate Netflix on multiple devices, the basic plan might suit you. Apart from watching movies and TV shows on your smartphone and tablet, you can also stream the same on your computer and smart TV. In terms of pricing, the plan costs ₹.199 a month and is Netflix's basic offering. 
For a year, the bill would come up to ₹.2,388 and you will be paying the same to watch the content in SD resolution. When it comes to screens, the basic plan still sticks to a single screen and you cannot use the account to watch movies on multiple screens. Moreover, you can also download content.
| | |
| --- | --- |
| Pros | Cons  |
| Can watch content on smartphone, tablet, computer, smart TV and more  | Supports only a single screen  |
| Can access all types of Netflix shows, movies and more | Can only access content in SD resolution  |
| Can download Netflix content  | Downloaded HD or 4K content can only be viewed via SD resolution  |
Netflix Standard Plan 
Netflix's standard offering moves above the previous plans and offers more to consumers, who want more than a single screen. With the standard plan, you can watch all of Netflix shows and movies on 2 separate screens at 1080p Full HD resolution.
The plan comes up to ₹.499 a month which takes you to a total bill of ₹.5,988 a year. You can also stream Netflix's content on all kinds of devices while also keeping in mind that only 2 screens work at a time. As a result, this plan is ideal for a couple or two roommates who prefer to watch their own shows and movies.
The option to download content also comes into play and you can do so with ease. Since network coverage and other connectivity problems come into the picture, you can avoid such problems by simply downloading your favourite shows or movies. 
| | |
| --- | --- |
| Pros  | Cons  |
| Access to all of Netflix content  | Limits screens to 2  |
| Costs ₹.499 a month and provides HD content | Other OTT platforms have cheaper plans with access to HD content  |
| Works well for two individuals  | Not an ideal plan for the family  |
Netflix Premium Plan  
The Premium plan is Netflix's biggest offering and can be seen as the best one to come out of the streaming giant. While it costs the most, it provides the best set of features with which you can watch content through 4 different screens. Apart from that, the plan also offers content in Ultra HD (4K) and works well for smartphones, laptops, smart TVs, tablets and more.
It costs ₹.649 a month and moves up to ₹.7,788 a year. However, if you are sharing the plan with four different individuals, you will only be spending ₹162 which comes up to ₹.1,944 a year. So the ideal way to access all of Netflix's content in Ultra HD is to subscribe to the Premium plan and share the same with three of your friends. 
With different user profiles also coming in, you won't have to be worried about recommendations because your preferences will remain the same. You can continue using your profile to watch whatever you want on Netflix while your friends or family do the same with their respective profiles.
If the plan is being shared with your family and there are kids involved, you can also avail Netflix's content for kids and keep it exclusive for them. If the viewing becomes addictive, you also own the right to lock profiles and prevent them from viewing further. With the best quality that Netflix has to offer and the option to download as well, the Premium can easily be described as the best that Netflix has to offer. While it costs a lot, you can reduce the same by sharing it with your friends or family. 
| | |
| --- | --- |
| Pros | Cons |
| Access to high-quality content  | Access to content can vary depending on the region  |
| Can stream up to 4 screens at the same time  | Requires high-quality network connection  |
| Provides Dolby Digital 5.1 audio quality  | Not all devices might support high-streaming audio quality  |
Changing Netflix Subscription Plans 
There are multiple reasons to change your subscription plans. It might be because you want a plan that costs lower or a plan that costs more but meets your requirements. So the idea is to switch from one plan to another. But how can it be executed? Well, read the following and find out.
Changing the plan via the app/desktop
There's not much of a difference in changing your plan via the app and your desktop. The process is more or less the same and all you need to do is follow simple steps. If it is the app that you are using, you need to navigate across the profile section by merely tapping on the profile icon. 
By doing so, you will find an option called 'account', which takes you to all the details associated with your Netflix account. Once you scroll down, you will find the option to change the plan and by clicking on it, you can access all of Netflix's subscription plans. 
Clicking on the plan that you prefer will take you to further procedures and you can continue the process with ease. When it comes to the desktop, the process is the same because the account option works in a similar fashion.
So if at all, you need a change of plan, these are the steps that you need to follow and it all begins by clicking on the account.
Setting up autopay for Netflix 
Making payments to Netflix can also be done by setting up autopay instead of other procedures that consume a lot of time. With autopay, you will be notified that a certain amount has been debited from your account and you don't have to follow any other procedure to ensure that the transaction is complete.
With UPI (United Payments Interface AutoPay) in sight, you can complete the task with ease. But how do you set it up? 
Setting up UPI Autopay on Netflix 
Enabling this option is more or less a piece of cake and it all begins by opening the Netflix app on your phone. Upon opening it, you need to head to 'Profile' and then click on the 'Account option' under My List. Since this option takes you to the Netflix.com/your account page, you can carry forward the procedure by clicking on 'Manage Payment Info'.
By doing so, you receive the option to 'Change payment method' and once you click on it, you can select the UPI Autopay option. Once you have enabled the option, payments become easy and every month, the subscribed amount will be automatically deducted from your account.
Cancelling a Netflix Subscription 
If you wish to cancel your Netflix subscription, the process can be done in a simple manner. You won't have to go through a lengthy set of procedures and Netflix will no longer have control over the information that you had shared. So the process is not only easy but can also be deemed safe. 
Here's how you can cancel a Netflix subscription
Just like other methods, cancelling your Netflix subscription also begins by launching the app on your phone and clicking on the profile icon. Later, you need to proceed ahead to select 'Account'. After scrolling down, you will find the basic option to Cancel Membership. By merely clicking on it, Netflix will take you to the 'cancel plan'. 
The procedures that follow are simple and once you are done, you need to click on 'Finish Cancellation'. It should hardly take five minutes of your time and naturally, Netflix will not charge you until you have decided to restart your membership.
Free Netflix Subscription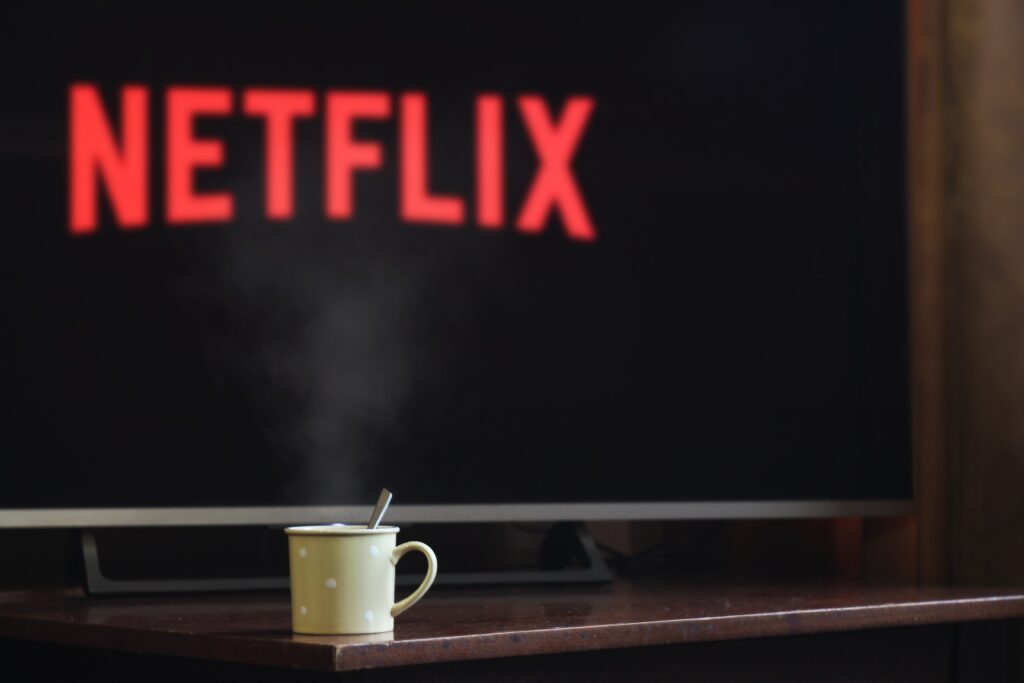 At last, we have come to the topic that you have been waiting for, i.e. how to avail a free Netflix subscription. While the process sounds unreal, there are ways to do so and we are about to tell you how. So read the following and be aware of all the important methods that can be followed to get a free Netflix subscription. 
Reliance Jio Free Netflix
One of the best ways to get a free Netflix subscription is by switching over to Reliance Jio. Customers using Jio will get a free Netflix subscription via Jio Postpaid Plus plans. The plans range from ₹.399 to ₹. 1,499 and includes different kinds of offers and discounts.
While the ₹.399 subscription plan offers Netflix, Prime Video, Disney + Hotstar and more, it also brings offers on aspects relating to the network with 75GB of data, 100 SMS/day, unlimited voice calls and more. The second plan in the offering is worth ₹599 and apart from Netflix, it offers Prime and Disney while also bringing in 100 GB of data and so on.
Moving further, you will find a third plan worth ₹799, which apart from Netflix, brings the usual suspects like Prime and Hotstar with other benefits such as a 200GB rollover facility, 150GB of data, unlimited voice calls and more. 
The last two plans are worth ₹.999 and 1,499. The former gives you 500GB of data rollover, unlimited voice calls, 100 SMS per day and subscriptions to leading OTT platforms like Netflix, Disney + Hotstar, Prime Video and more. On the other hand, by paying ₹.1,499, apart from Netflix, Prime and Hotstar, you will also receive 300GB of data, 100 SMS/day and more. 
Apart from all of this, you also have JioFiber, which is a new broadband connection offering a free Netflix subscription. 
And along with Netflix, the broadband plan also comes along with Amazon Prime Video, SonyLIV, ZEE5, Sun NXT, Disney + Hotstar, Discovery +, Eros Now, JioCinema and more. In order to avail all of this, you need to opt for the JioFiber broadband plan worth ₹.2,499. Since Netflix is a standard offering, you can always expect to have it for free. 
While that plan does sound exciting, Jio has more to offer for the ones looking for a free Netflix subscription. JioFiber broadband plans worth ₹.3,999 and ₹.8,499 also offer free Netflix along with a ton of other options. 
The ₹.3,999 package comes with 1Gbp internet speed, unlimited voice calls, data benefits. Prime Video, Disney + Hotstar, Sun NXT, SonyLiv, Voot Select, ALT Balaji, Lionsgate Play, JioCinema and more. 
On the other hand, the ₹.8,499 subscription plan, apart from Netflix Premium, also offers 1Gbps of internet speed, free voice calls, 6,600GB of FUP limit, subscriptions to SonyLiv, ALT Balaji, Lionsgate Play, Discovery+, JioCinema, Voot Select, Voot Kids and more. 
Free Netflix Using Vi
The combination of Vodafone Idea is the second network that is currently on the radar for a free Netflix connection. A postpaid plan of ₹.1,099 will not only give you free Netflix for a year but will also include Disney + Hotstar, VI Movies, Amazon Prime, TV VIP subscription. Unlimited voice calls, a 7-day international roaming pack worth ₹.2,999 once a year and more.
Netflix Free Trial Period 
In case, you don't want to pay different kinds of Networks for a Netflix subscription, you can still avail a free subscription with the trial period. However, the period is limited and won't be exceeding 30 days or 1 month. Since it is a way of showing you what Netflix is all about, you will have to start paying once the period is over based on the plan that you have chosen.
It is one of the most common methods through which people access Netflix and if they have liked the service, they look towards continuing with a plan that suits their requirements.
Sharing Plans 
Considering the fact that Netflix helps users access different kinds of profiles, you can always consider sharing the price with your friends or family by inviting them to be a part of it. While you can use a particular profile, they can watch whatever they want with the second profile. 
Not only does it reduce the amount of the subscription plan it also helps more people gain access to Netflix. And choosing a suitable plan on this front depends upon how many people are willing to share the account with you. If you are sharing with a single friend, you can opt for the standard plan, which as mentioned before costs ₹.499 a month and ₹.5,988 a year. 
By sharing the Standard Plan, you will be paying close to ₹.249 a month which goes up to ₹.2,994 a year. However, that is not the only plan that you have. If there are four people involved, then opting for the Premium Plan makes sense because it supports up to 4 screens. The plan costs ₹.649 a month and goes up to ₹.7,788 a year. 
But if you are sharing it, you will only have to pay ₹.162 a month, which goes up to ₹.1,944 a year. You will be saving ₹.5,844 a year, which is a major reduction. 
Netflix Gift Cards 
Netflix gift cards are another way to get a free Netflix subscription and it is something that you can consider. While the chances of getting these gift cards are low, you can still make an effort because it works and it has worked out for people. Exclusive Netflix gift cards are available on several e-commerce sites.
Amazon, Walmart and more are some of the leading names that offer these gift cards and you can look towards gaining more info on how to access the same. If you happen to receive one of these gift cards, you will get an 11 digit code, with which you can access your new Netflix account.
The process is as easy as it sounds with the hardest part being that you need to receive a gift card. It is also considered an ideal gift that you can give to your loved ones because who would not want a subscription to Netflix? 
While the plans that come with these gift cards are not clear, you can check out specific websites that offer such information. So go ahead and learn more about the ways through which you can get a Netflix gift card.
SBI Net Banking 
SBi Bank account holders can use SBI Net Banking to get a free Netflix subscription and it is exclusively meant for them. So if you are someone using an SBi account, you need to be aware of this, especially if a free subscription to Netflix is what you need. All you need to do is visit SBI Net Banking Portal and log in with all the credentials that have been offered to you by your bank. 
Upon logging in, you need to click on the Dashboard and go to the section called Cards, where you will also find Virtual Cards. Once the page is done loading, you have the option to generate a New Virtual Card, which for your information will only be valid for a day. Upon receiving the virtual card and its details, you can use the same to login into Netflix. 
Choose a subscription plan of your choice, click on pay and enjoy free Netflix for over a month. It is a common trick that many have been using. So if you are someone with an SBI account, you need to go ahead and try this out. 
Benefits of a Netflix Subscription 
A Netflix subscription has its plus points and you need to know all about it. These benefits help you understand the need for a Netflix subscription and how effectively it can change the way you consume content. So go ahead and learn more about the different benefits that come with a Netflix subscription. 
It's hard to find another OTT platform that is as simple and easy to use as Netflix. The streaming giant not only offers valid plans but also helps users navigate through their application and website in an effortless manner. You won't be having a tough time trying to find out what to watch because the platform keeps hitting you up with options. 
And in case you want to watch a particular show, movie or documentary at a later date, you can always add it to your list. The process is simple and you will be informed about the content that is yet to be watched on your list. Even if it is a show that you are currently watching and a movie that you are yet to finish, Netflix adds the same in a section called 'continue watching' and keeps it accessible.
And by looking into the type of shows and movies that you watch, the platform further recommends the type of content that you might like. It also works well for all kinds of devices and the app is highly rated for making the viewing experience an effortless one. 
The amount that you will be paying for Netflix does not go in vain because you won't have to watch a single commercial. As a streaming platform, Netflix serves its subscribers and there is hardly any other form of revenue that is supporting the platform. Due to that, you can bid adieu to commercials because Netflix won't be showing any. 
Even advertisements and promotions of its own shows won't make it to your screens. Due to all that, it is safe to say that Netflix is the true definition of add-free content. 
Netflix shows and movies, especially Netflix Originals, have made their way to the Oscars, winning all kinds of awards, which clearly showcase the quality of content that they generate. For a long time, critics have observed Netflix to be a platform that is obsessed with releasing the best content and they have rarely disappointed. 
Netflix Originals have been highly rated by many as it comes with a certain type of quality that is unmatched and hard to find elsewhere. These originals move across genres and don't stick to anything in particular. So you won't have a hard time by watching one show or movie because there is more on the table.
Their programs are true gems, which are produced and directed by some of the leading artists from around the world. 
Explore all kinds of languages 
There's no limit to what the world of art can offer. So why place a limit on the same by sticking to one language or one genre in particular. Netflix brings together content from all kinds of languages and thus, all kinds of countries. By sitting in the comfort of your home, you can enjoy shows and movies from different parts of the world. 
The experience is worth exploring, especially when you get to understand how content is viewed in different parts of the world. Moreover, most of these shows and movies are ones that have grabbed the limelight and swept awards from different categories, making it quite important for you to watch and explore them.
While people argue about Netflix being affordable, there is a particular point to be made on this front. The different plans that come with Netflix can always be shared in order to make it affordable. It is one of the best ways to explore content and since separate profiles are created for users, you don't have to be worried about things getting mixed. 
You can continue watching your favourite shows while your friends continue watching their favourite shows. 
Are there disadvantages? 
While the benefits steal the limelight, one must not forget that there are also a few disadvantages that come to the mix. These are some of the points that you need to consider and then compare the same with advantages to get a complete idea of what Netflix provides. 
Location interferes with content 
One of the biggest drawbacks about Netflix is the fact that the availability of content depends upon the location. The difference in content is clear as day when you compare what you can watch in India with what you can watch in the US. And this is a problem that not only affects Netflix but all streaming platforms in general, at least to a certain extent. 
Copyright claims and various other aspects vary from location to location, making it hard for a streaming platform to provide content all around the world. Due to this problem, certain users switch to a VPN.
Having to wait to watch content is clearly a huge problem that you don't want to be facing. But with Netflix, you may have to face it and at the end of the day, you have to face it. New episodes and specific movies aren't readily available, making you anxious about when they might be available. 
So if you are willing to wait, this won't be a problem for you. But if you aren't, then it might become a huge problem.
Conclusion
By now, it is obvious that the benefits move over the disadvantages and make them look irrelevant. Due to that, a Netflix subscription does make sense and checking out the different plans that offer the same seems to be the right way to go about getting it all under the paper.
From checking out the different plans to exploring ways through which you can get a free subscription, there is a lot for you to do and it is about time that you get started. So understand this lengthy guide, explore all that it has mentioned and look for ways to enjoy the best quality content that Netflix has to offer because you deserve it all.