Your dog needs a proper balance of nutrients, protein, carbohydrates, fats, vitamins, minerals and water to function normally. So it's vital to make sure the dog food you get your dogs covers all their needs.
Why Dog Food Matters
A healthy diet is needed for every organism to thrive and function better. A proper diet is the most influential factor in keeping your dog healthy during old age. A healthy diet will determine the quality of health and lifespan of your dog. The sad truth is that owners fail to provide our pets with healthy balanced food as they are more concerned about profit than dogs' health.
A healthy diet for a dog would consist of lots of juicy meats and crunchy bones. If you have observed your dog, you would have noticed that they also enjoy foods like fruits, vegetables, and leafy greens. When owners buy pet foods prioritising monetary gain, chances are high that these low-cost dog foods contain unhealthy ingredients like excessive salt, sugar, artificial flavours and preservatives. Feeding your dog bad-quality food can lead to various critical and chronic health issues.
To avoid this from happening, all you have to do is get your dog nutritious complete dog food. This doesn't mean that you have to spend lots of money. There are lots of affordable dog foods available in the market that are good for your loyal companion. These products can be pricier than the harmful inexpensive dog food, but spending a few extra bucks to keep your pet healthy and active is undoubtedly worth it.
What Is Healthy for Your Dog?
Sharing food is a way to share love, but when we share our fondness with pets, we are to be conscious. Make sure the food we share with them is not harmful to them. Although most human foods are healthy for dogs, keep an eye out for the healthy quantity and what is bad for your dog. Our dogs are always eager to get a piece of what we are eating, and we love to share, but food like chocolate and coffee can be poisonous to them.
Sometimes like us, our dogs can also develop an allergy to certain food items. Most dogs tend to develop an allergy to wheat and soy products. When we share cooked foods with our doggies the harm lies in the seasoning we add to our food spices, salt and added sugar can be very harmful to our dogs.
But there are some delicacies we can share with our pets, pasta, cooked white rice, boiled eggs etc are healthy and adequate for our dogs. As Indians when we share our tasty curry with our dogs, forgetting the attribute that, it is packed with salt, spices and veggies like garlic and onion which are harmful to our dogs.
On hot summer days, although you are tempted to share your icecreams and cold beverages with dogs, it is harmful to them. If you want to give treats to your dogs buy them dog treats, human treats like candies, gums, and chocolate contain Xylitol which can be harmful to your dog.
Best Dog Food- Dry Category
IAMS Proactive Health Dry Food for Small & Medium Breed Adult Dogs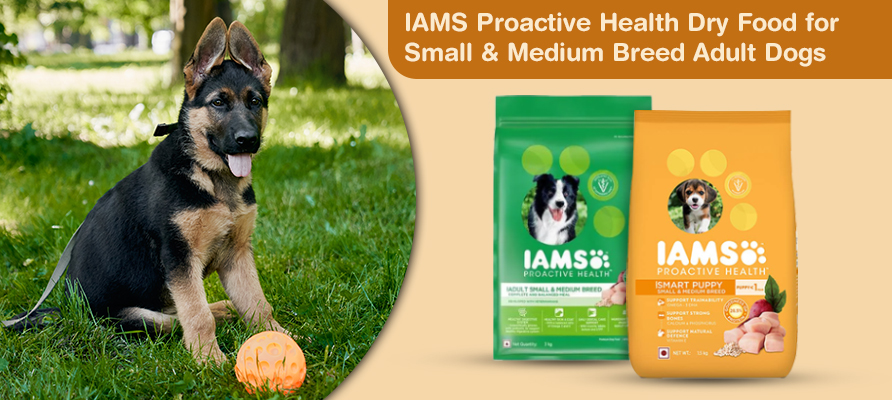 IAMS dog foods are tailored to meet the food requirements of different dog breeds. Small & Medium Breed dogs have different nutrition requirements than larger dog breeds. Smaller and medium-sized dog breeds are more prone to gum diseases. The food you serve them has to be energy packed to promote their active life. IAMS Proactive Health dry is made of healthy ingredients like;
Chicken- To meet your dogs' protein requirements for muscle growth. Chicken provides protein and keeps calories in check. Protein helps in improving muscle mass in dogs. And chicken contains Omega 6 fatty acids to improve coat shine and skin health.
Omega 3&6- Omegas are fatty acids that help provide calories for your dog. These omega acids are crucial for your dog's development, and an improved immune system. It helps in the healthy function of the central nervous tissue, reproductive health and vision.
Beet pulp- To improve the digestive health of your dog.
Glucosamine and chondroitin- To improve dogs' daily function and bone and cartilage health.
Drools Optimum Performance Adult Dry Dog Food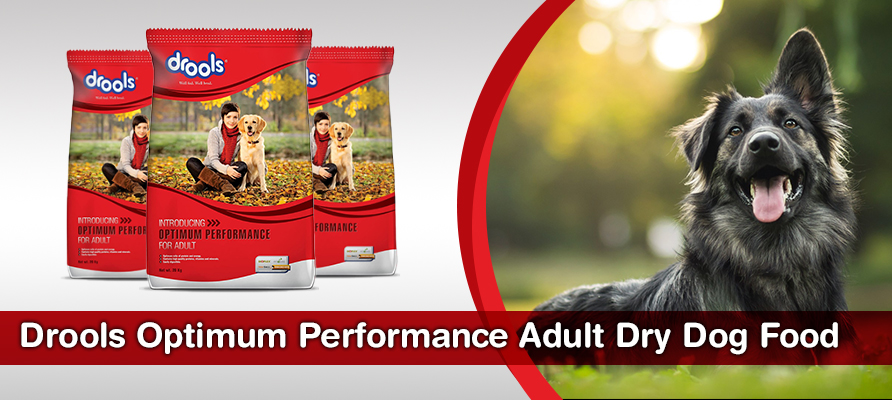 Drools Optimum dry food has high chicken content and amino acid and fish oil. Fish oil contains eicosapentaenoic (EPA) and docosahexaenoic (DHA). The presence of fish oil can helps in the protection of your dog's heart and kidney. In addition, fish oil can also help lowering blood pressure.
The Best Dog Food- Wet Category
Drools Adult Wet Dog Food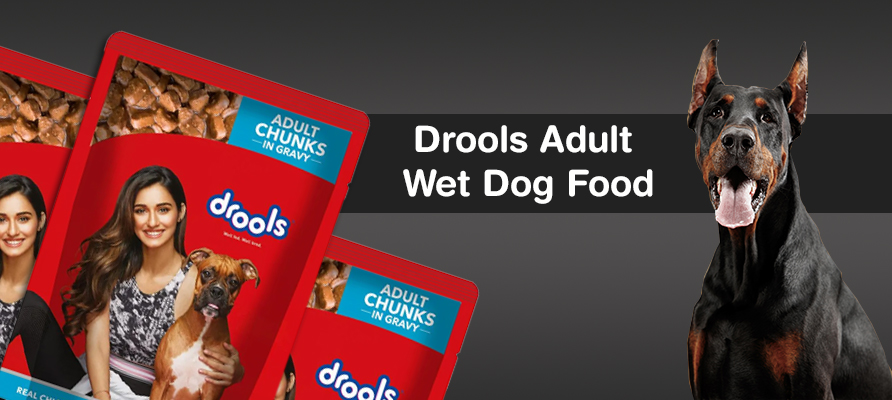 Wet foods are a wholesome meal for your dogs. The increased water content in wet foods can help in proper digestion. Drools wet dog food is suitable for all dog breeds. It contains chicken, chicken liver and eggs so it is protein-rich. It is also packed with organic minerals, and vitamins to maintain healthy bones and stronger teeth.
Sploot Fresh Wet Dog Food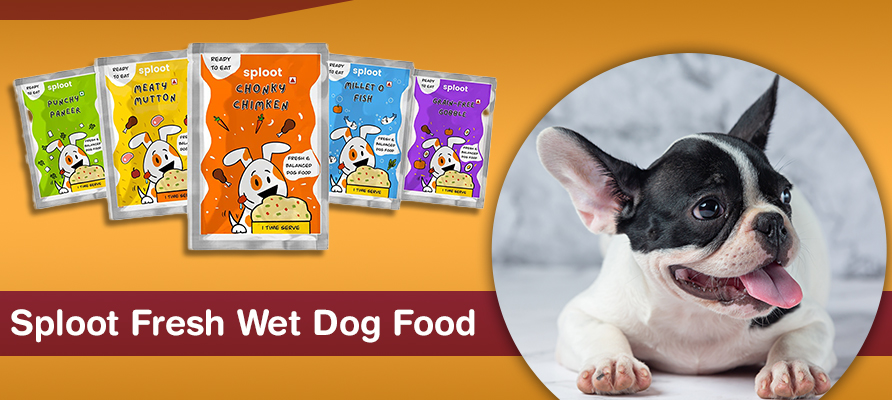 Sploot fresh dog food has no added preservatives or artificial flavours. They make dog food using human-grade quality ingredients. The ingredients they use are boneless chicken, pumpkin seeds, sweet potatoes and vegetable oils. To ensure zero wastage the product is packed in sealed pouches, so the portions can be kept aside for later use.
The presence of pumpkin seeds in Sploot dog food helps your dog fight off intestinal parasites like tapeworms. Sweet potatoes are a source of vitamins A and C, which can help to improve the vision, skin health and immunity of your dog.
Kennel Kitchen Puppy and Adult Wet Dog Food Lamb Chunks in Gravy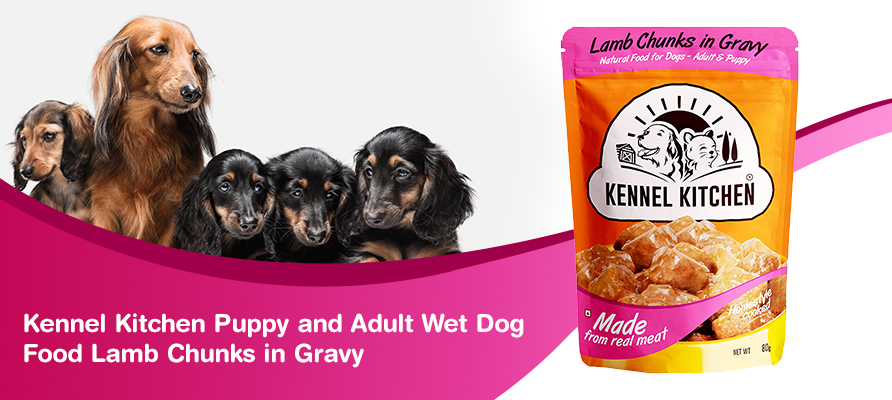 Kennel Kitchen Lamb flavour can be served to your dogs when their taste buds are bored of eating everything chicken-flavoured. Lambs are high in protein and amino acids. Kennel kitchen Lamb gravy has additional added vitamins and minerals to strengthen the immune system. It also contains omega 3 and 6 fatty acids for healthy joints and calcium for strong bones and teeth
Best Grain-free Dog Food
Posh Puppy Adult Dry Dog Food 100% Grain Free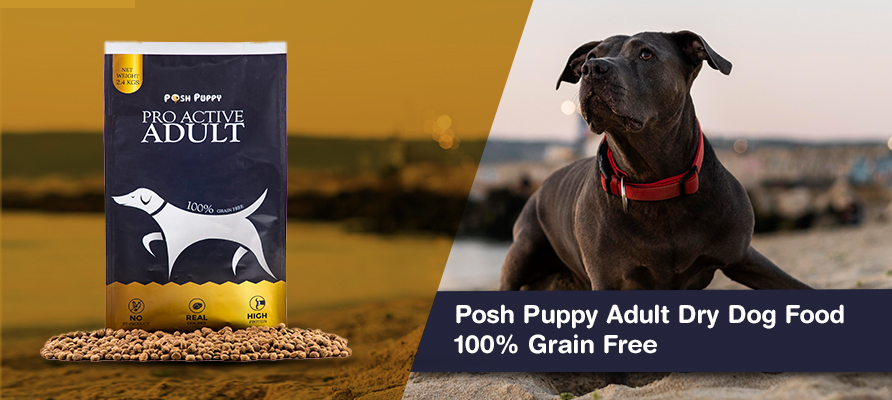 Posh puppy dry dog food is wheat free. It contains chicken, chickpeas, potatoes, chicken fat, whole egg, carrot, turmeric, brewer's yeast, vitamins and minerals. The contents included in it helps to dog to stay active and help improve their immune system. The real chicken and chickpeas along with added vitamins and minerals support their skin, muscle and heart health. The Posh Adult dry wheat-free food is suitable for all dog breeds.
Kennel Kitchen Grain Free - Chicken, Egg and Chickpeas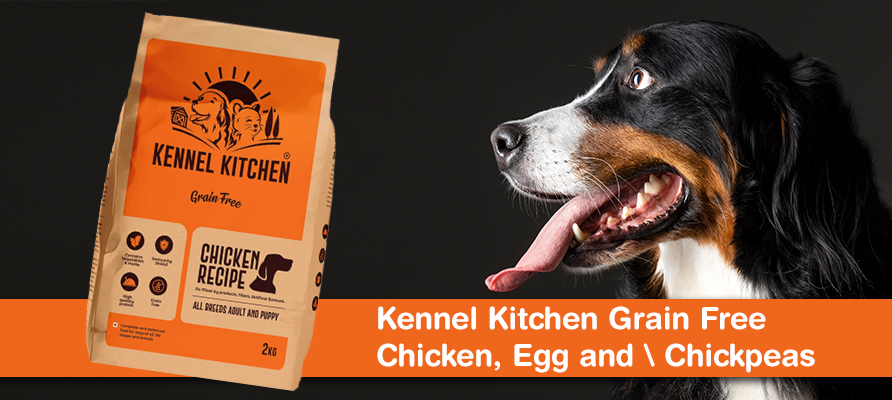 Kennel Kitchen Grain-Free foods are ideal for all dog breeds that are 1 year old and above. It contains superfoods like turmeric, ashwagandha and moringa. Turmeric helps in enhancing flavour and also helps boost immunity with its anti-inflammatory properties. Ashwagandha can help dogs with their emotional health and help them with environmental stress. Kennel Kitchen Grain is free of fillers, artificial flavours and preservatives.
Best Food for Puppies
Pedigree Pro Mother & Pup Starter Dry Dog Food, Chicken Flavour for Pups and Moms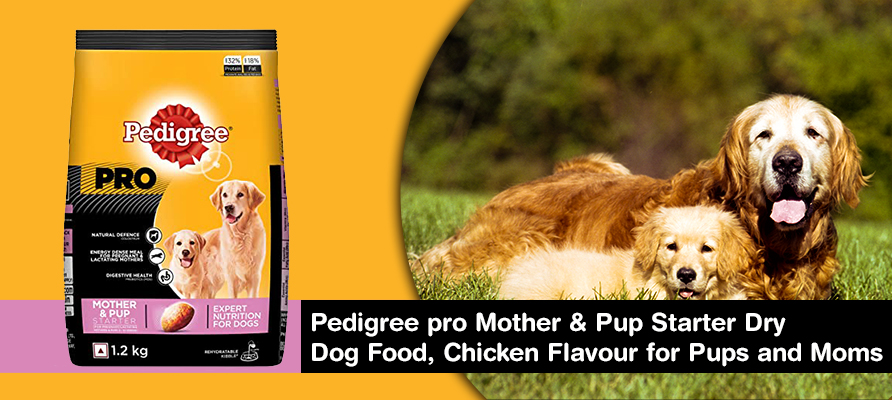 Pedigree Pro Mother & Pup is specially designed for mothers and puppies. It contains soya, rice powder, soya oil, and chicken. To cover the additional protein requirements of pups and moms It has additional isolated protein added to it. It also has vegetables, vegetable by-products, and prebiotics to help the young pups and moms with proper digestion, stronger muscle, teeth and skin health.
Pedigree Wet Food for Puppy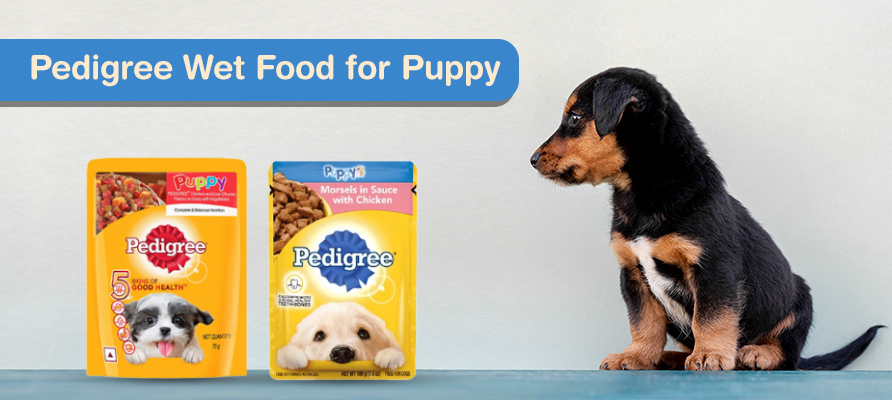 Wet foods are more suitable for young puppies as they have a vulnerable digestive system. The active ingredients of Pedigree wet food chicken chunks are packed with real chicken, soya oil, dietary fibre and wheat grains.
FARMINA N&D Ancestral Grain Chicken & Pomegranate Senior Dog Food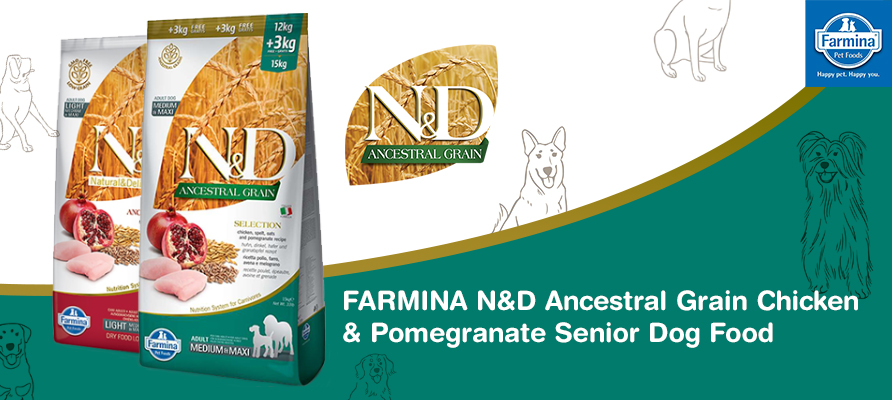 Senior dogs need a special diet as their health is deteriorating. Farmina N&D food for senior dogs has active ingredients like  Chicken, oats, eggs, fruits and vegetables. As your dog becomes old the digestive system and joints are more prone to health issues.
The food requirements of dogs change depending on their size, breed, age and reproductive stage. As puppies, they require more nutrition than adult dogs for their healthy development. As the puppy grows into an adult, it only requires an optimal amount of nutrition. The challenge owners have to take up during the adult stage of dogs is to maintain proper weight and keep them active.
Extra care is required when you take care of a pregnant female dog. Most owners tend to overfeed their dogs during early periods of pregnancy. During the early stage of pregnancy, the dog requires only the usual amount of food. When the fetus starts to gain weight during the third gestation, it is only then the dog's food requirements increase.
As dogs grow older they become less active and therefore they need a low-energy diet. Owners most often tend to get worried as they observe their dog now eating only one time a day. It is very common in old dogs, their digestive systems are not strong as they once used to be.