Ever since IKEA opened its megastore in Hyderabad, there have been talks about expansion. The company has widely spoken about exploring different Indian markets and meeting more customer demands. 
And if the latest reports are to be believed, they might just be coming to a location next to you. 

IKEA Bengaluru: Set to Open Its First Store in Nagasandra!
Yes, you heard that right. After years of waiting and speculation, everything is finally coming into place and by everything we are exclusively talking about IKEA. Sweden based global furniture retailer IKEA is all set to open its 3rd store in India. 
Followed by megastores in Hyderabad and Mumbai, IKEA is finally shifting its attention to Bengaluru. IKEA's India CEO Peter Bezel said the company is well on track to open its store in Bengaluru in the early summer. 
While plans for the same had been around for years, it was only recently that we received a word or two from the CEO. It was earlier reported that the global brand bought 14 acres of land in Nagasandra from Bangalore Metro Rail Corporation.
That news came out nearly four years ago and it was also reported that the land in Nagasandra was on the Tumkur road. While developments were always expected to come, it was not until the summer of 2022 that we got to receive something closer to confirmation.
Bezel, in an interview with CNBC TV18, also informed everyone that not long after the opening of the store, there will always be an unveiling of a smaller city format store. Bezel, who was speaking during the opening of the company's first small-format store in Worli, Mumbai, also mentioned that the company is right on track for its Bangalore store. 
They expect to be receiving customers around April, although nothing official has been put out for us to verify. Following the opening of IKEA's megastores in Hyderabad and Navi Mumbai, the one in Worli is a new format and something different from the Swedish furnishing brand. 
With deliveries also expected to reach Pune, Surat, Vadodara, Ahmedabad and Bangalore at present, customers can order online and look towards filling their household with products from IKEA.
News about IKEA delivering to different cities did come across as news that helped everyone check out IKEA and discover their products. 
What is the IKEA small store format?
While IKEA's small-format concept is new to India, it is not new to the world. Ever since the pandemic struck the world, IKEA has been experimenting with different concepts and the opening up of a small format store was one among them. 
It was aimed at vibrant urban destinations where IKEA could meet its target audience. According to their plan, the Swedish company went on to open 50 new smaller-format stores around the world and the one in Worli is one among them.
While these stores will offer the entire range of furniture available with IKEA India, they will only dwell over the process with limited inventory, which helps customers enjoy immediate take-away.
And if there are products not available for immediate take-way, customers can still order them and expect the same to be delivered home based on the locations that IKEA caters to. 
The format that IKEA follows on this front will be completely different from the rest as customers get to touch and feel the product and then decide whether or not to make the purchase.
With this system in place, customers will be able to access something different and going by reviews, many have also described the same to be beneficial. It is different from the other systems in place, although it might be a stretch to say that they are too different. 
The Five-Year IKEA Expansion 
IKEA's record-breaking run seems to be heading in the right direction and if more stores are to come, then more records will surely be broken. Their five-year plan of expansion is already on the cards and could be seen as a move to secure business in the future. 
The Swedish giants already hold the record for the highest amount of in-store food consumed, which talks about the number of people who visit their stores, despite there being only two megastores in the country. 
Thanks to the brand value that IKEA holds, they seem to be creating quite the buzz when it comes to opening new stores and providing customers with quality products. By paying attention to aesthetics, home decor and whatnot, news about IKEA coming to Bengaluru is certainly exciting.
However, that might not be all because Bezel hinted at the fact that in the long run, there might be more coming. He also said that he wanted to reach 200 million people by 2025 and with the five-year plan, even take that number to 500 million.
Due to that, IKEA's interest in the Indian market is quite clear, especially when the CEO himself is so ambitious about what he wants to achieve in the country. With the opening of stores, online delivery and the introduction of a new format, IKEA has a plan in place to achieve it all.
Top Benefits
Apart from meeting customer requirements, experts also believe that there will be other benefits to IKEA opening up a new store. And employment opportunities seem to be the biggest boast that everyone keeps talking about.
Considering the workforce that IKEA requires, the Swedish giant could go about hiring a lot of people based on their requirements. Not only will this be an employment opportunity but it will also enable skill development. 
In the past, the company has also spoken about their plans in terms of worker engagement as they look to bring in at least 2,500 co-workers by targeting 50% diversity and moving on to generate 1,200 indirect jobs.
With IKEA's presence also moving across online platforms, the company might just need a lot more. Their targets are ambitious and in order to meet those requirements, they will have to bring in the workforce capable of driving the team forward.
IKEA's First Store in India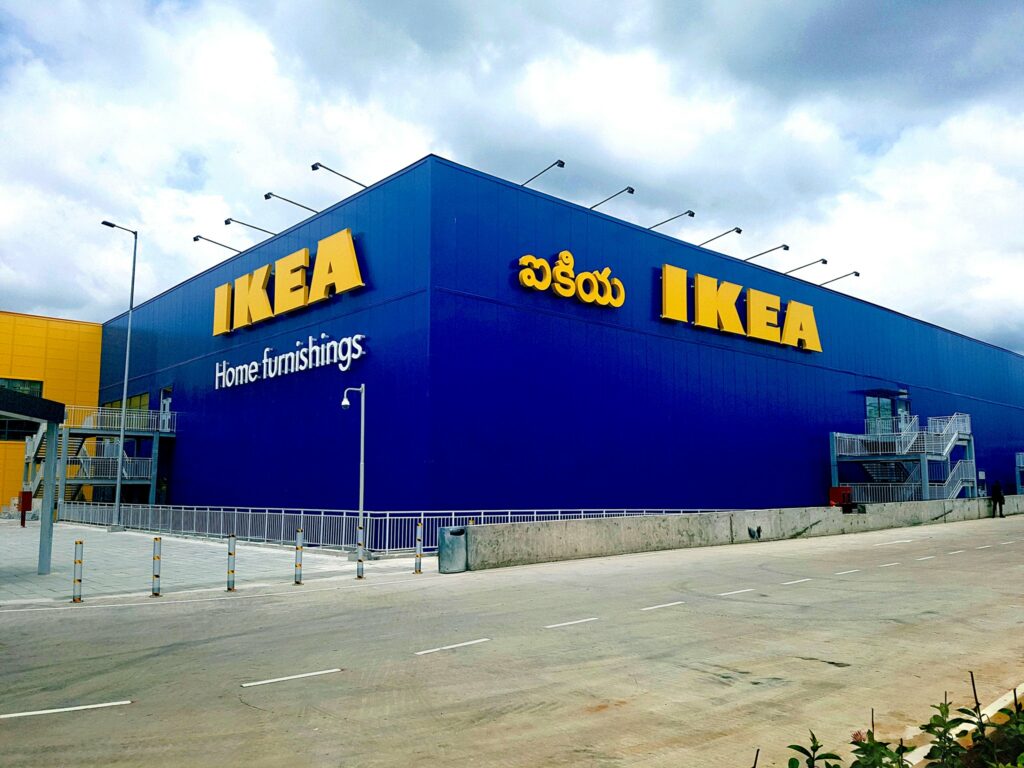 IKEA's growth has not only been planned but one that was adjusted according to the times. While their progression can be termed effective, it did take them years to come up with strategies to work in the Indian market. 
Their first retail store, which was opened in Hyderabad in August of 2018, was a welcome move that many saw coming. They acknowledged the presence of IKEA and within a span of two years, IKEA came up with another store in Navi Mumbai.
Opened in December 2020, IKEA's store in Navi Mumbai went on to become one of the two city-centre stores in the whole of India, which was also helpful in opening up IKEA's online presence. 
IKEA's online presence includes delivering to cities like Pune, Bengaluru, Ahmedabad, Mumbai, Hyderabad, Vadodara and Surat. Their omnichannel style of approach has worked and it seems to be an ambitious move.
With time, IKEA continued its expansion plan by including Indian social entrepreneurs and have also engaged close to 2000 women artisans, who have gone on to produce limited-edition products for the global store.
So let's wait and see how IKEA moves on to secure its future in India.