Emirates is a fantastic airline company to look up to. It lets its customers fly in sheer extravaganza! The airline provides its passengers with top-end hospitality service. Be it admittance to private suites, shower spas or the benefit of inflight wifi; you can get it all while flying with Emirates. The airline also has an exclusive student offer that you can check out.
Special Student Offer on Emirates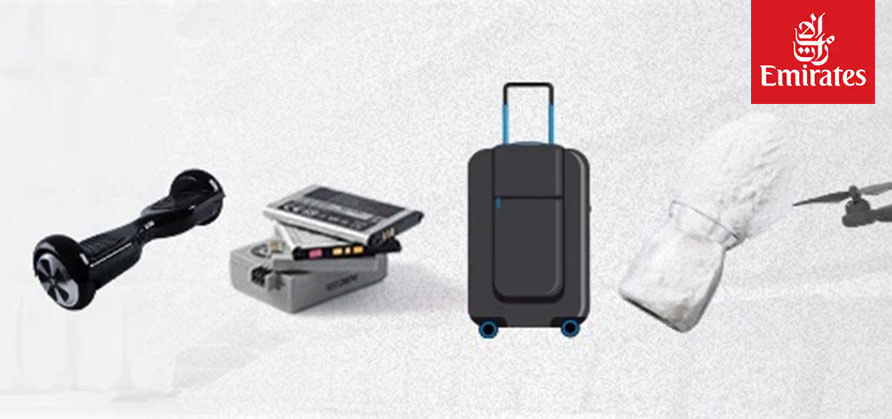 Are you planning to travel abroad for your studies? Studying abroad can help you to climb the success ladder in no time. However, sometimes many Indians find it expensive. Understanding the situation, Emirates has launched a special student offer just like Apple Student Offer, Amazon Prime, or Dell have. Students travelling to Europe, the USA, Australia, and New Zealand can now get access to excellent benefits under the special student discount on Emirates. This offer is applicable on all one-way and returns fares in economy class.KaroBaragain has laid down the various benefits of this offer one by one.
The Emirates student offer is applicable when you book flights from India to cities in the USA, Australia, Europe and New Zealand.
Students can get access to an additional baggage allowance. Students travelling to the USA can carry an additional one piece of baggage. Kindly note that this special baggage allowance is only applicable for Emirates flights. You can't enjoy the offer's benefits on any interline flights operated by the partner carriers.
To avail of the offer, the bonafide students should be between the age of 17-37 years. It is mandatory to provide supporting documents at the time of ticketing.
Passengers who are part of any student exchange program or internship program are not eligible to avail of this offer.
Kindly note that passengers who are travelling on J1 visas can't avail of this offer as well.
Emirates Baggage Allowance for Students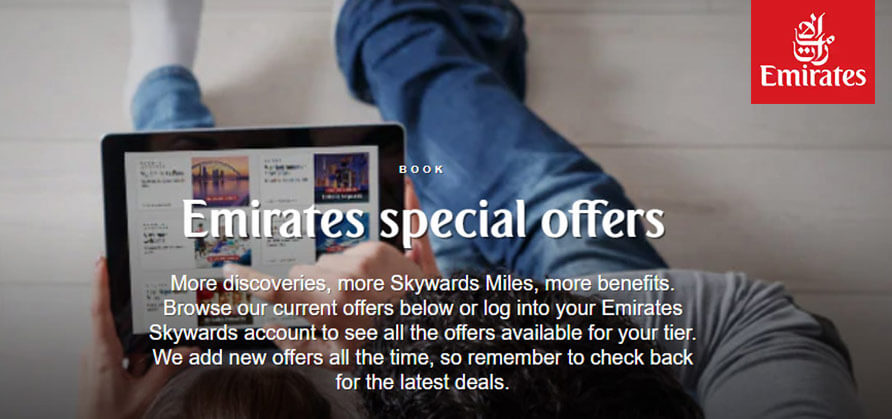 Assuming that you want to avail the incredible Emirates Student Offer, you would like to know the baggage allowance in detail. KaroBargain has put everything about it in the following lines.
Enjoy up to 10 kg remittance on your luggage. Get allowed to carry additional baggage.
Kindly note that for the journeys to and from Toronto and Canada, only the standard stuff recompenses will apply.
Passengers travelling with newborns are allowed to carry a carrycot or a folding carriage if there's additional space on the aircraft. If there's a shortage of space, this benefit can be put on hold.
If you are boarding in India, you can carry one portable device. Kindly note that the size of this device should not be more than 45.3 inches.
For every Emirates aircraft flying from Brazil, passengers can carry up to 10 kilograms of extra luggage.
Terms and Conditions of the Emirates Student Offer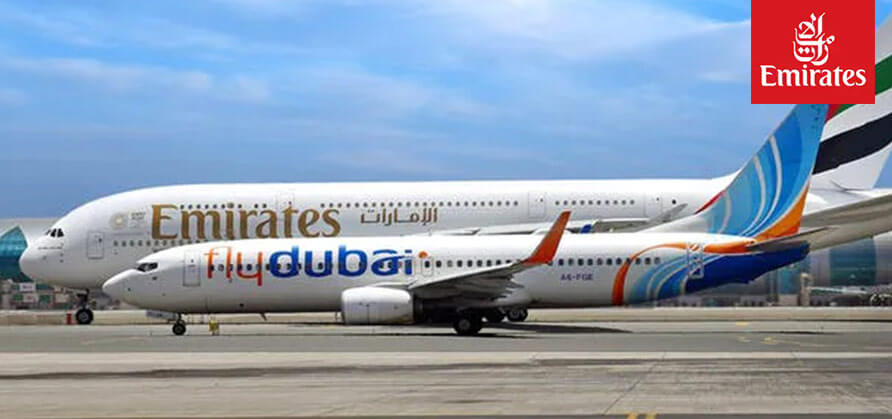 Before availing of the Emirates Student Offer, we advise you to closely go through the terms and conditions of the offer.KaroBargain, to make it all simpler for you, has listed below the various terms and conditions which apply to the offer.
Full-time students who are between the age group of 17-37 can gain access to the benefits of the Emirates Student Offer. The students must carry a legitimate Student ID.
Students must show their understudy ID or acknowledgement letter from their respective colleges at the time of check-in.
If you are unable to produce your understudy ID or college acknowledgement letter, all your advantages will be relinquished. Additionally, the advantageous passage access will be denied.
You must produce your understudy visa and identification duplicate document if you are moving to Australia, the USA or Europe.
Kindly note that this offer can't be traded for cash or other worth.
The remittance is applicable only for Emirates flights, and it can't be availed on interline flights.
If Emirates introduces a discount on the flight, the discounted amount will be deducted from the actual value of the ticket.
All the terms and conditions of the Emirates Student Offer are subject to change. The airline company can add or remove the terms whenever they want.
Exclusive Discounts on Emirates Flights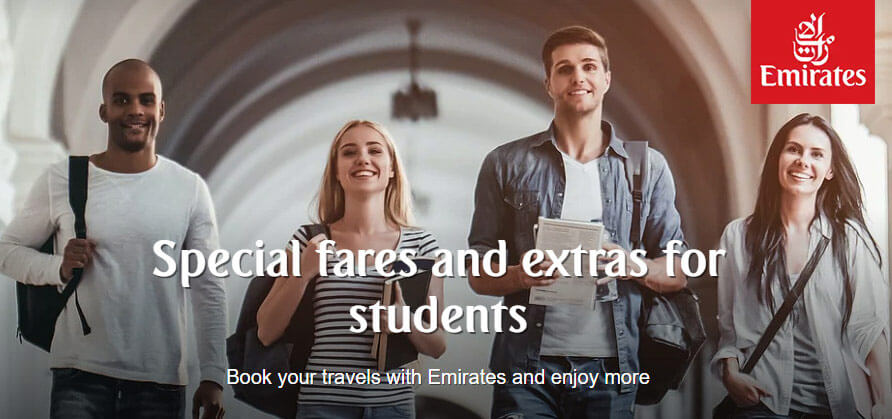 Emirates never disappoints its customers. Keeping in mind the interests of its loyal customer base, Emirates gives away regular discounts and offers. KaroBargain has brought before you some handpicked Emirates offers. Have a look at them.
Enjoy flat 10% off on Emirates Flight Booking.
Book your next trip with Emirates and enjoy a 10% discount on home-grown and international tickets.
Enjoy up to 20% off on Emirates Economy Class.
Flying with the Emirates Economy class has become more affordable as the airline offers up to a 15% discount on its flight tickets. You do not need to put a coupon code to avail this offer.
Enjoy up to 15% off on all Emirates flights to Singapore.
If you are planning to go for a trip to Singapore, don't forget to book an Emirates flight, as the airline company is providing a whopping 15% off on their Singapore flights. Please note that this offer can't be clubbed with any other offer.
Emirates Loyalty Program
Emirates, one of the largest airline companies in the Middle East, has a unique loyalty program called Emirates Skywards. Under the program, the more you travel with Emirates or one of its partner airlines, the more loyalty points you earn. Interestingly, these loyalty points are called miles. The amount of miles you will earn depends on several factors, such as your flight fare and the class of your travel. If you are a Skywards member, you can use the miles in several ways. 
Some partner airlines allow the passengers to use their Emirates membership code while they book their tickets. Remember to use your membership code before making your payment. Emirates has a partnership with Marriott, which allows certain users to earn Skywards miles for staying at Marriott. Additionally, you get to earn Marriott convoy points for booking an Emirates flight. Now, that's what we call a lucrative loyalty program.
You can find a mileage calculator on the Emirates website or app to see how many miles you will be offered for booking a particular flight. To see the miles, all you need to enter is your booking details.
Latest Emirates Coupons on KaroBargain 
Flying with Emirates is a different experience altogether! What about flying to your favourite destination on an Emirates flight at a much-reduced price? Won't you love that? KaroBargain can make this possible for you. 
Our Emirates coupons can help you get up to 20% off on your Emirates flights to international destinations such as Dubai and New York.
How can I use my Emirates discount?
Using a discount code while you are booking your Emirates flight isn't a complex task. In the booking form, you will find a section called Promotional Offers. Put down your discount code in this field. Your coupon will get validated in no time.
Do students get to carry extra luggage while flying with Emirates?
Yes, under the Emirates Student discount, you can carry a piece of extra luggage, weighing up to 10 kilograms.