Lingerie, the phrase which indicates a whole array of intimate wear for women of the world. The range includes sleepwear, bras, and panties. Their prominence in women's lives can be witnessed through their functionality over the years. In today's world, lingerie is not accepted as a mere functional garment but is chosen as a fashion statement. With the evolving fashion industry, lingerie brands also experienced the need for launching newer styles, which can respond to the distinct needs of women around the globe. Searching for a 'bra' in an offline or online store does not only consider the level of comfort but also encompasses every sense of sex appeal, which ultimately pictures the message of 'body positivity'. 
Lingerie is like a girl's best friend. Women from around the globe will certainly agree to the fact that the relationship can be of love and hate. On one hand, we appreciate the support we gain from a good bra but on the other hand, hate when all a bra does is look pretty without ensuring any form of comfort for a lady. Right? However, with the help of the right size and quality material, we can eliminate the sense of hate from the relationship. We may own a bunch of it, but we always have that one favorite brasserie which we hear about no matter how old or worn out it becomes. Good quality and a comfortable brasserie can make us feel contented and assured any day. However, many of us tend to make the mistake of choosing either the wrong cup size or the wrong type of bra for our bust. Every. Single. Time. Lingerie shopping can be a real struggle for women. Nevertheless, when we invest in the best and the right bra, it is bound to work wonders for you. Not only do they keep you in comfort all day but also make you look sexier and help with your body posture. So, girls! It's about time you start choosing and wear the right brassieres. Don't you worry, because this time we are here at your rescue!. Here, you can find the list of the best brands of bras for all your unique souls. So just sit back, relax and get to know about the Best Bra Brands in India, which will not disappoint you!
Types of Bras
Before we dive into the discussion of the best brands, let us understand the different forms or types of bras for all our unique demands. Just like how we all have different types of personalities, even bras have diverse types with their unique features and uses. Not anybody will fit in all types of bras. Each bra type is created and made for specific bust shapes and sizes. To get a clearer picture, we have listed down each one of them along with its purpose and uses.
T-Shirt Bra
T-shirt bras, also known as contour or wireless bras, are one of the most comfortable picks we have. They are perfect for everyday wear and are a must-have item in every girl's undergarment collection. They are designed for everyday comfort and best matched with basic tees and jeans. These bras come in simple patterns and seamless cups so you can wear them even under body-tight outfits. 
Push Up Bra
This type of bra, as the name suggests, is specially designed to lift your breast and give it a fuller look and a nice cleavage. They are designed with extra foam at the bottom of the cups and come in 3 levels of lifts- low, medium, and high. These bras are best matched with low-cut tops and dresses. 
Strapless Bra
The strapless bra comes as a life-saver on those special days where you are compelled to wear off-shoulder outfits. With this bra, you have to depend on the underwired band of the cups, so it is important to wear the right fit to avoid discomfort or unwanted wardrobe malfunction.
Sports Bra
If you're a sportswoman or who works out daily, this bra is for you! Created specifically for workout routines, this type of bra offers full coverage and extra support during strenuous movements. Apart from that, they are also crafted with a special kind of fabric that helps absorb sweats and dry fast. So, sports bras are also a must-have addition even if you are someone who doesn't work out because eventually, it'll be a life-saver one day!
Sports bras, which ensure sufficient support for most physical activities by controlling the 'bounce' or breast movement. Some of the activities which can be supported by medium impact sports bra are weight lifting, power walking, playing golf, and hiking. 
The low-impact sports bra is designed by prioritizing comfort more than support. This type of bra is suitable for lower impact physical activities, as these bras are comfortable and flexible, which does not offer the required support for rigorous activities. A few of the suitable activities concerning the low-impact sports bra are Pilates, walking, cycling, and Yoga.
A high-impact sports bra offers the maximum support, which can be opted for high movement sports or activities such as gym exercises, jogging, running, and skipping. 
Stick-On Bra
This type of bra is another excellent addition to your life-saver list because it's almost similar to strapless bras- except, this bra has more advantages. This bra comes with no straps or bands, just the cups which are usually made of silicone, polyurethane, or similar material. This bra type is most suitable for those women who have smaller busts. As a girl, all of us have special days where we want to look our best and wear gorgeous dresses, and with no exception, this stick-on bra comes to our rescue. Perfect for off-shoulders, backless, sheer-back, or low-cut outfits, these stick-on bras will keep your bust at bay and the perfect cleavage. 
Maternity Bra
These types of bras are crafted from elastane fabric, specially designed for new mothers to give extra comfort and support and to accommodate changing breast shape and size during their pregnancy period. Some of these bras also feature easy-removable flaps, which can be effortlessly unhooked for easy and comfortable breastfeeding.
Plunge Bra
Plunge bras are designed to show off your beautiful cleavage and come with demi-coverage cups. It covers ⅓ of the breast and has a deep neckline. These types of bras are modeled to match with low neckline dresses to give a fuller appeal to your bust. 
Minimizer Bra
This type of bra is best suitable for ladies with big busts. Minimizer bras are one of the oldest types of bras that give full coverage and minimize the bulky appearance of your breasts. They are modeled to spread the breast tissues evenly and provide extra support and shaping.  So, if you're someone who wishes to have lighter/smaller busts, this one's for you.
Wired Bra
A wired bra is designed with a thin metal underwire, which is seamlessly sewn under the cups. Wired bras are intended for offering support and ensure a perfect shape of the breasts. With a wired bra, you can have the required lift, which also adds to your looks or personality. This type of bra is existent in demi coverage and full coverage forms. Although, it is suitable for offering support but cannot be worn for a long period.
Non-Wired Bra 
The non-wired bra is a lot more flexible and comfortable in comparison to the wired bra but it does not hold a perfect shape due to the absence of the underwire.
Full Cover Bra 
Full coverage bra demands perfect coverage for your breasts with all-day support. Full coverage bras are very comfortable. Regardless of its coverage, a lot of brands offer seamless design, which won't peak through any garment. This type of bra is ideal for heavy-busted women, as it controls the movement with decent support. 
 Demi-cup Bra 
A demi-cup bra is the type of bra, which is known for covering half your breasts for a more natural look. Regardless of the coverage, demi-cup bras do not compromise on their comfort level, as you will experience the feeling of the t-shirt bra with a different overall look. These bras are known for lifting the bust and elevating your cleavage. 
Balconette Neckline 
Balconette Neckline bra is designed for accentuating your breasts with partial coverage. This bra does not resemble a push-up bra or t-shirt bra in any form or shape. Balconette Neckline bra offers natural contouring of your breast and is only suitable for average to small bust sizes.
Multiway Bra 
A multiway bra acts as a versatile piece in your wardrobe. The straps can be detached and reattached in any direction you prefer. This type of bra does not only offer support and coverage for your breasts but also adds a fun element to your sleeveless outfits. There are various ways of attaching the straps in the multiway bra:
    Strapless: The bra can be worn without the straps.
    Cross-back: The bra can be worn by crossing the straps around your neck.
    Halter-neck: The bra can also be worn by using a strap wrapped around the neck.
    Single Strap: The bra can be worn with the help of only a single strap. 
    Traditional: The bra can be worn with both the straps (available) without any detachment and reattachment. 
Sweetheart Neckline 
Sweetheart neckline bra is designed for offering natural cleavage and moderate coverage. This type of bra is perfect for low-neckline garments. Along with the medium coverage, the bra adds a sense of effortlessness and gorgeousness.
Bralettes 
Bralettes are more inclined towards fashion statements, which can be worn under deep neck tops, sheer ensembles, and even blazers. The bralette does not include any underwire, these bras are mostly designed with lace for accentuating the sex appeal. 
Front Closure Bra 
The design of the Front Closure Bra includes a clasp in between the two cups in the front of the bra in place of the back. The back area of the bra is smoother and stylish. This type of bra is ideal for deep neckline top wear or dresses. 
Padded Bra 
These bras are designed with smoother molded cups. Padded bras are the most preferred category amongst women of all ages due to their secure coverage and sleeker look. 
Non-padded Bra 
A non-padded bra is the traditional form of a bra, with simple layers of fabric. This type of bra does not accentuate your breasts and can be worn for a longer period in comparison to padded bras.
Significant Factors to consider before Buying a Bra 
Buying a bra can be as tricky as choosing the right pair of jeans! Let's have a look at the crucial factors, which can contribute immensely to choosing the right bra for you. Although these factors will seem very common as per women's understanding but trust me on this, more than half of the women in the world wear the wrong bra for their body type. The factors are mentioned below:
    Shape: Shape is one of the main factors, which women should consider before choosing the right bra. The shape of the bra determines the coverage and support features of any type of bra. 
  Size: This is the most important factor, which can determine your optimal level of comfort, support, and breast contouring. 
    Type: This factor completely depends on the type of garment you are wearing. The body shape and clothing choice will mold the decision of the 'type' of a bra. 
    Worth: The price of the different types of bras is also a significant factor, which can contribute to your final buying decision. Younger women or teenagers invest in affordable pairs whereas middle-aged or working professionals invest more in sophisticated and premium quality brass.
Myths about Bras
Let me burst a few myths related to bras for you! 
  A loose-fitting bra can be most comfortable: You don't need a loosely fitted bra to feel comfortable. Only a well-fitted bra can offer you the most comfort along with the best support and coverage. 
  One Size Fits All: This phrase is false in case of choosing your right bra. There cannot be a single bra size (standard) for every brand and every type of bra. 
  Bra traps toxins and potential cancer risk: Any type of bra you choose, you don't have to worry about trapped toxins and the risk of cancer as long as you are keeping your underwear clean and fresh. Even a wired bra cannot have any toxins. I hope this myth is also busted for your future purchase. 
  A well-fitted bra lasts lifelong: Alas! This is not true! Although careful handling (washing and storing) can keep your bras last long like any other thing, bras also need to be replaced every few months in response to the losing support, coverage, and comfort. 
  You need a white bra for a white top: No! I cannot stress enough on 'no' for this statement. White bras under white tops or shirts will always be visible, which will never look flattering. However, opting for a nude bra for your whites can be the best way to go. 
  A woman's bust stays the same size her entire life: While some may believe this misconception, you can't deny the fact that your breasts' size changes over time and years as you age. The size of your breasts may also fluctuate depending on whether you gain weight, or post-pregnancy. According to the experts, taking measurements of your bust semi-annually or yearly is necessary to keep track of your body. 
  Your bust size is the same for every brand!: No! Every lingerie brand differs from each other depending on their fit model. Even within the same brand, the sizes can be flexible based on the bra types. So, the next time you visit a retail store, get your size measured by the experts and also, try on different types of bras just so you get the perfect fit for you. 
  You can wear the same bra for consecutive days: Hmm…nope. Wearing the same bra for the consecutive week will decrease the quality and longevity instead, not forgetting the amount of dirt and oil transferring from your body. Gross! Experts suggest we must wash it after every wear for better hygiene and stronger elasticity. Now I know what you're thinking, laundry, right? Don't worry, I'm with you. Just get a few counts of your favorite everyday bra and rock it through the week.
  If your bra is loose, tighten the straps: This is one of the hacks we all did as teens back then because we thought tightening the straps of a loose bra will make it fit perfectly. But a perfectly-fitted bra shouldn't have any flaws from many angles and sides, it's a taken. So, measure your correct size before you invest in them!
Best Bra Brands in India
Now that you have learned about the different types of bras, factors to be considered before the final decision as well as gained insights by letting us burst your myths about a bra, you are ready to know more. You are ready to know about the brands which are best in the Indian market in 2021, so that you can finally make a rational decision for the sake of your comfort, looks, and style. Moreover, you can now find a comfortable bra within the comfort of your home through growing online platforms apart from the option of a physical store. However, we would suggest you measure yourself with a measuring tape carefully and tally your sizes with each brands' size chart for the best decision. 
Zivame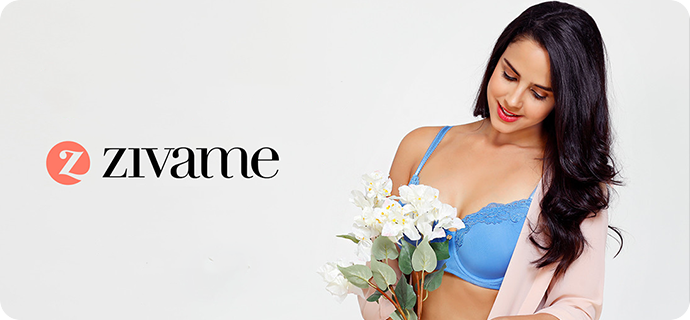 The first brand that tops my favourite best bra brands list is none other than Zivame! There are many factors why I am in love with this lingerie brand:
o  Budget-friendly
o  A wide variety of pretty lingerie collection
o  Frequently holds attractive sale events
o  Cost-effective
o  Great customer services
In short, they have the all-around qualities that every woman looks for during lingerie shopping. Apart from the excellent qualities that this brand offers, another plus point that makes me excited to shop for this bra brand is the 'Loyalty' benefits and the 'My Fit Profile' privileges. 'My Fit Profile' is a segment where you can calculate your body proportion measurements to get your perfect bra size. All you need to have is a measuring tape with you, and the rest will be assisted by Zivame Fit Experts with a few follow-up questionnaires.
La Senza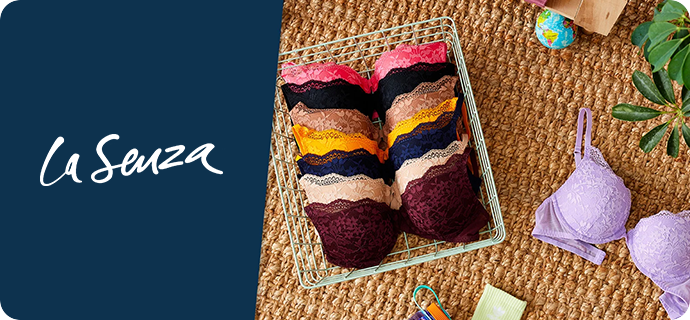 La Senza! My favorite bra brand among the premium-class range. This lingerie firm first came about in the year 1990, created by the Canadian entrepreneur, Lawrence Lewin. This brand is reportedly licensed to over 700 retail outlets around the world, including India that has 2 outlets so far. What I'm intrigued about La Senza is, their lingerie collections are exquisitely beautiful which you will find it difficult to just pass by without having a peek at them or maybe have a splurging moment. There is no in-between! Although this bra brand comes under the premium range category, you will be a proud owner once you own them. They have a series of collections that reflect different types of personalities, such as, Beyond Sexy, Obsession, Hello Sugar, So Free, Diva, Body Kiss, and more.
Enamor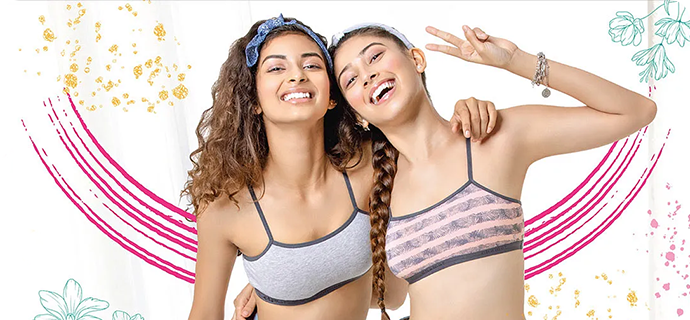 The fifth on the line would be Enamor. This brand is always one of the best bra brands in India because of its quality-efficient and budget-friendly products. Launched in the year 2003, they offer a broad range of lingerie series created particularly for Indian women. Just like Zivame, Enamor also offers to assist its customers if they want to find out their perfect lingerie size under the 'Know Your Size' section. They also have an exclusive segment for bride-to-be ladies where they will give you extensive exposure on bridal wear which you can easily shop from their collection. Apart from that, they also have excellent customer service! The reasons why Enamor falls under the best bra brands in India.
Amante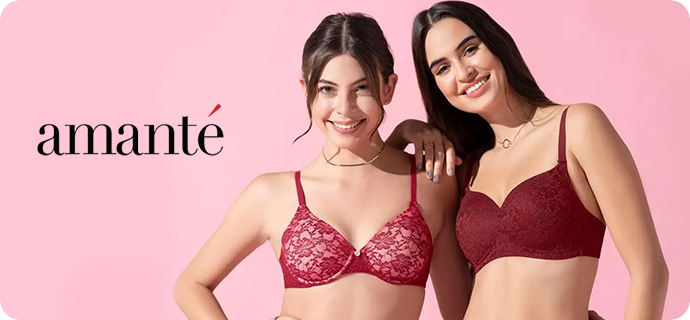 If you want to go for minimal and cute designs at a budget-friendly price, Amante is the one for you. This brand is one of the best bra brands that was created to make women happy and confident with their series of bras offering comfort, style, and sensuality to every type of body shape. They have several store outlets and also e-commerce websites. They have various sections of bras for everyone such as bridal wear, everyday comfort, fashion, and sports bra.
Clovia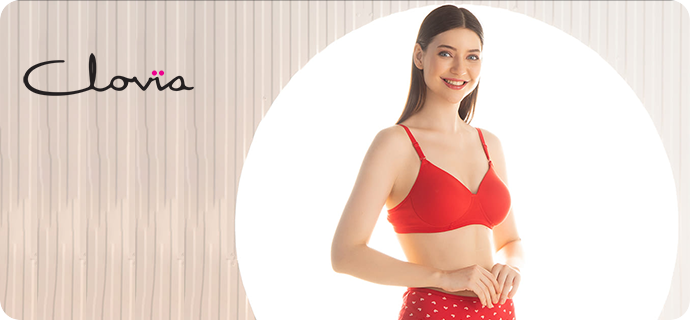 Clovia brand is another great choice next to Amante if you are seeking a budget-friendly quality lingerie brand. They offer a wide selection of high fashion and premium quality bras with a low-cost budget. Their lingerie line is acknowledged to be cute yet fashionable with high comfort and style. Their bra series has a wide selection of patterns, sizes, cup shapes, and different types of bras and thus, makes it easier for you to choose the perfect fit for your body type accordingly.
Jockey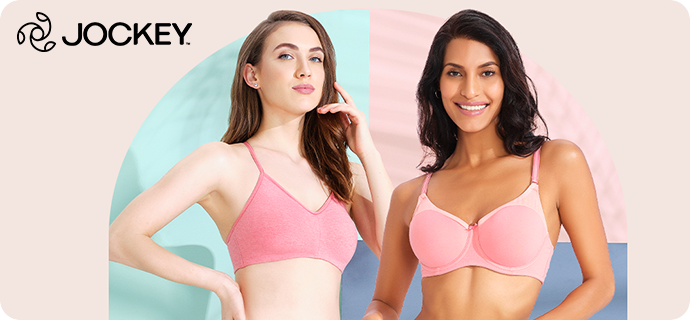 Jockey is one of the market leaders in India for selling affordable decent-quality bras. The brand is headquartered in Bangalore. Jockey offers an array of quality and comfortable bras with different designs suited for different body types. Jockey bras can be bought from both offline and online stores. Online stores like Myntra, Amazon, Tata Cliq, Flipkart, and Ajio sell Jockey's bras on their platform. You can also find Jockey bras in the physical and online stores of Jockey along with physical stores such as Shopper Store, Pantaloons, and many more. Jockey bras are available in various categories such as T-shirt bra, Padded bra, Full-coverage, Demi-cup, basic, Multiway, Seamed Cup, Push-up Underwired, Moulded, Seamless, Plunge Neckline bras, and many more. Jockey also offers both plain or solid and printed bras. The fabric used in Jockey bras is cotton, spandex, polyamide, and elastane. 
Calvin Klein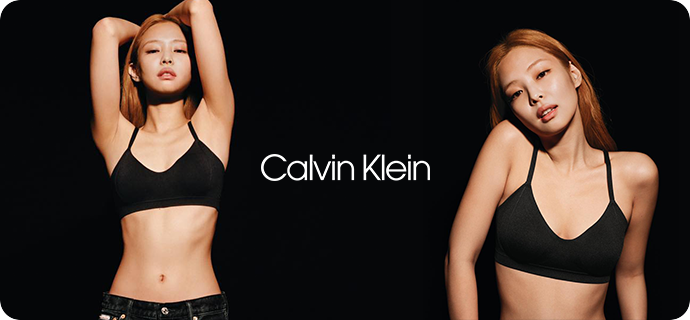 Calvin Klein is one of the most established international brands in India. This brand offers a wide range of bras with different trendy styles, technology, and designs, which can serve different purposes for women. The brand specializes in their premium quality and comfort, which also makes the bras on the expensive side. You can get your hands on their amazing product in both offline and online stores, such as Calvin Klein online store, Amazon, Flipkart, Myntra, Shoppers Stop, and many more. Calvin Klein specializes in Triangle, T-shirt, Soft cup, Seamless and Push-up bra. The materials used for designing Calvin Klein bras are cotton, synthetic and modal. 
Marks and Spencer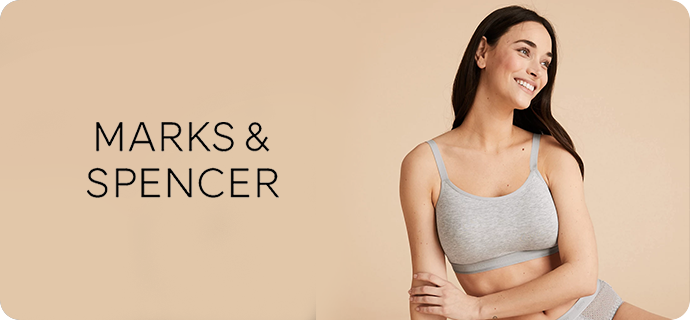 Marks and Spencer is an international brand, headquartered in London. You can find a wide array of varieties of premium quality. The bras are fashionable, sophisticated, and durable at the same time. Marks and Spencer bras can be available in Ajio, Amazon, Myntra, Zivame, Shopper Store, Pantaloons, and in Marks and Spencer stores (both online and offline). The types of bras offered by Marks and Spencer are Minimizer, Underwired, T-shirt, Non-padded, Balconette, Demi-cup, Seamless, Full-coverage, Padded, Moulded, Plunge Support, and many more. The bras can be chosen from solid, printed, and lace patterns. The fabrics used for designing this brand's bras are nylon, cotton, and elastane polyester. 
Shyaway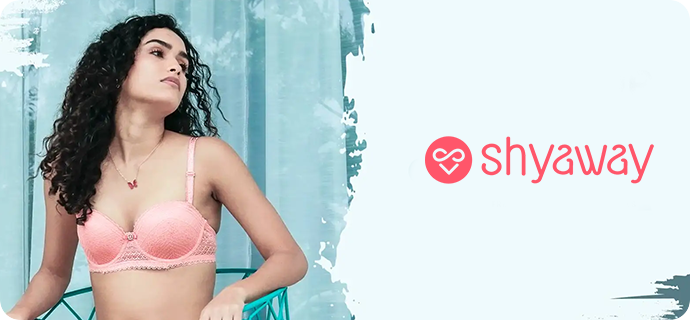 Shyaway offers a distinct array of bras, which are slowly being recognized by Indian women. The bras of this brand are primarily focused on care and comfort. This is mainly a premium brand that also sells exclusive products for special needs.  
Bw!tch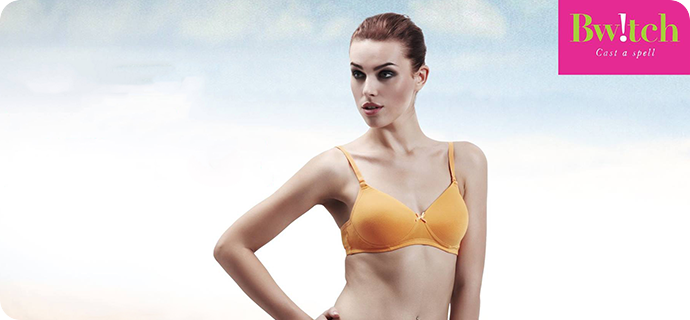 Next to enter my favorite list is Bw!tch from the house of Genesis Colors. This lingerie brand is not very well-known among the ladies yet, which I believe is because their retail outlet is set only in four States so far, but I can guarantee that once they set up their brand in the rest of the states, they will be in no match with the current leading lingerie brands in India. The reason why I choose this brand under the list of the best bra brands in India is that their collections have a contemporary touch to them that gives fresh, alluring, and elegant designs which are loved and gushed over by ladies of this generation. Their products are created for all body shapes and sizes and have an assorted collection.
Pretty Secrets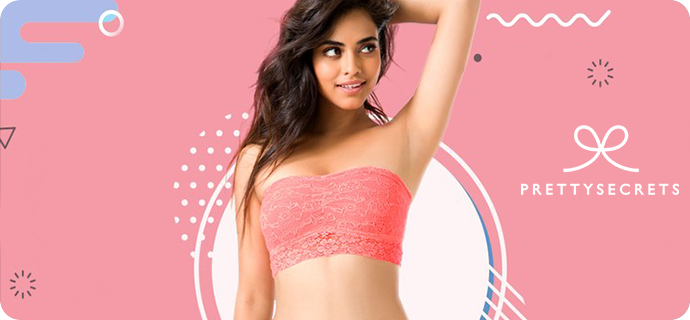 The following brand to take the second-best bra brands spot on my favorite list is Pretty Secrets. What I fancy about this brand is, they have the latest collection and a wide assortment of lingerie, sleepwear, and activewear, which are not only stylish but also super comfortable and affordable. The moment you visit their official site or app, you will be enchanted by the vibrant, luxurious designs, and the wide choice of sizes for all types of body shapes. Like Zivame, they also offer tempting offers regularly on both their online stores and in-store retail outlets. So if you fancy staying on-trend and elevating your style, Pretty Secrets might give you the Eureka Moment.
Websites to Buy: Amazon, Myntra.com, Tatacliq.com, Koovs.com, Limeroad.com, Flipkart.com, Snapdeal.com, and Nykaa.com
Hacks and Tricks for your Bra 
Every girl has this love-hate relationship with their intimate companions. They may give us the support and company we need, but they can also be the most annoying thing in the world. Breathe if you agree. Long story short, here are the few hacks and tricks you can try with your intimate companion. 
Too much cleavage? Try this.
Though there are times we want to show off our beautiful cleavages, it's not always comfortable or pleasant to flaunt it. Especially at your workplace or somewhere where you need to dress decently, but your favorite top has a plunging neckline. For these kinds of situations, you don't have to wear those bulky camisoles anymore- try this product.
Hide the strap & Save Yourself!
Don't get me wrong, it's not a sin exposing your bra straps, but it's the humans. Humans become extra sensitive when it comes to females, breasts, and bra straps! Eventually, we are compelled to hide the straps in any possible way so as not to face the extremely embarrassing moments in public. During the summer or workout sessions, you can't help but wear tank tops or any tops which can make your bra straps visible. But thanks to some genius individuals for coming up with such products, we can save our face now! 
Enough of the shoulder pains.
This is a frequent occurrence to all of us ladies, isn't it? Especially for those with big busts, shoulder straps are bound to happen because of tight straps. Furthermore, the pain deepens when we are required to stay out for several hours. Thus, for more comfort and less pain, try these silicon shoulder pads!
Make use of your old bras.
Pretty sure every girl has some bunch of worn-out bras stacking up in that corner of your cupboard. Too old to wear but you don't want to ditch it because you and the bra have some soul connection? Well, you can put it to some creative use. If your current bra band is too tight for you, cut off the back hook of your old bra and sew it to your current one, and ta-da! It will fit you like a brand new bra! In case your bra is too loose, cut off the end of the same bra and attach it using fabric glue or stitching at the right place you want.
Hand-wash it for longevity.
If you've been shoving your bras into the washing machine, stop right there. As much as possible, hand-wash them for better and longer use. If at all, you prefer using the washing machine, make sure your bras are put into the bra wash bag before you shove them for washing. It'll keep your bra longer and healthier.
 Exercise this hack for your sports bra.
To make your sports bra last longer, wash them with shampoo right after you reach home from an intense workout session. It will not only give a longer life to your bra but also leave you with a pleasant smell.
Which bra offers the best support?
There cannot be a single answer for this, as there are different forms of bras, which are known for their support feature but serve different purposes or occasions. In the category of sports bras, high-impact bras and medium-impact bras are the best options for ensuring support. On the other hand, bras types such as padded bra, full-coverage bra, and t-shirt bra are also few options that specialize in best support.
Which is the most suitable bra for me?
You can find the answer to this question in this article, by considering the mentioned factors before choosing the best bras for you. Consideration of shape, size, cup size, and acceptance of the fact that different brands offer different sizes can be the way to go.
Can buying a bra online be a good decision?
Yes! It will be a rational decision if you understand your size and requirements well. The size chart can be your best friend when choosing a brand for your most suitable bra.