Thinking about the shrilling pain down the neck can remind you of your deadliest nightmares. Don't you worry, you are not alone! More than two-thirds of the population suffer from neck pain on a regular basis. According to the AANS (American Association of Neurological Surgeons), there are in total, seven vertebrae or bones in the cervical spine. According to the statement of AAOS (American Academy of Orthopaedic Surgeons), the neck possesses the least amount of protection in comparison to the rest of the spinal cord, which makes it prone to injury and strain. 
Causes of Neck Pain 
Neck pain is mostly suffered by the middle-aged population. Neck pain may result from a number of causes, which can lead up to a consistent sense of pain. One of the reasons can be an injury. Usually, pain derived from an injury resolves within a week but around 10 percent may develop a chronic issue, causing a regular rage of pain around the neck. Another reason can be your sleeping position, for instance, 'stomach sleepers' experience neck pain due to the placement of the neck on either side of your spine. Pillow choice also determines the possibility of neck pain, a wrong choice of pillow can cause a sore neck, as well as neck pain, cannot be resolved or the wrong pillow can elevate an existing sense of pain around your neck. A wrong pillow can eliminate the expected support and cause pressure leading to straining of the neck. The right choice of pillow, which can ensure maximum support and relief in case of existent neck pain and can also prevent the risk of neck pain is certainly a cervical pillow. Let's learn more about cervical pillows. 
About Cervical Pillows
The primary application of a pillow is offering support to the head, which reduces the possibility of any form of pressure to our neck. The offered support contributes to the prevention of developing and/or existent neck pain. Cervical pillows can be accompanied by recommended therapeutic approaches for optimally responding to neck pain. According to a study on 'the effect of ergonomic latex pillow on pain and disability in patients with cervical spondylosis, the choice of ergonomic latex pillows with the doctor-recommended physical therapy or exercise can certainly project visible results in a response of the cervical spondylosis. 
Factors to Be Considered Before Choosing the Right Pillow
Choosing a pillow may seem pointless, as most people make their decision by just considering the immediate comfort, which is 'being squishy and soft. Choosing the most suitable pillow may include the following factors:
    Support: The most crucial factor that should be considered before choosing a pillow needs to be supported. You should always check the sufficient pressure required for supporting your neck. Contouring the area of the neck can only be possible with cervical pillows. 
    Loft: The loft reflects an angle formed between your head and the spine. People may suffer discomfort or even strain in their neck due to the unnatural angle from bending of your neck. The unnatural angle can be caused by a pillow that is too low or too high. It may seem too much work but before making the decision for a pillow, you should consider your head size and shoulder width for arriving at a perfect loft.
    Shape: Pillow shape needs to be considered as everyone will have a different preference due to the distinctive requirement of support. Some brands offer an assortment of various shapes to perfectly fit the demand of the consumers. 
    Pressure Relief: This is another important factor that should be considered before making a buying decision for a pillow. An effective pillow will help release all the pressure from a strained neck. Moreover, it also contributes to reducing your pressure points around the neck area. 
    Firmness Level: The level of firmness in a pillow choice is also different for every person as it depends on the weight of your head, the height of the pillow, and your preferred sleep position. A pillow with high firmness can lead to pressure points but too soft can fail in offering sufficient support. A right balance needs to be found, which perfectly suits your requirements of support for resolving neck pain or its risk. 
    Price: A good cervical pillow can transform your overall health by releasing pressure and resolving existent or risk of neck pain. The price of these pillows solely depends on the design, customized shapes, sizes, and of course the materials. A good quality pillow will be on the costlier side, but they last you a long time. 
    Quality Materials: The quality of a pillow can only be determined by the materials used for its design and manufacturing. The quality of the foam, cover, and/or feathers will reflect the comfort and longevity associated with a pillow. 
Best Pillow Materials for Your Neck Pain
The types of materials which balances pressure relief and support significantly are as follows:
    Buckwheat: Buckwheat can be one of the best options for a cervical pillow as it offers required neck and head support. Buckwheat is a natural material, which naturally holds its size and shape. Buckwheat as a material in pillows is also capable of offering a natural breathable design as well as also offers significant resistance from allergens. The material is eco-friendly and can last very long. Regardless of its several qualities, you may experience few challenges due to its material in your pillow. Buckwheat pillows may require a considerable amount of time to adjust as these pillows won't be as comfortable or soft as regular pillows. Another drawback or factor which can lead to hesitance.
  Latex: The naturally derived latex has the capacity of holding or supporting our neck in the right place with minimum pressure points. Most of the pillows made with latex as their primary material will have pin core holes for the purpose of improving temperature regulation. People choose latex as a sustainable alternative or natural option, which makes it environmentally friendly. However, the organic material makes the pillows very expensive. The latex pillows are also made up of a single solid piece, making them unsuitable for everyone as you cannot adjust their size or shape based on your requirement. 
    Memory Foam: Memory Foam can be one of the best material alternatives for cervical pillows as the memory foam pillows offer great support with contouring of the neck and head. These pillows are also responsive to pressure points and heat, leading to a comfortable experience. Memory foam pillows are comparatively affordable, easily accessible, and hypoallergenic. Regardless of the mentioned benefits, memory foam pillows do not offer long-lasting durability and may tend to trap heat. 
    Polyfoam: The polyfoam pillows are capable of moderate contouring but are quicker in responding to the pressure points in comparison to the memory foam. Polyfoam pillows are accessible at an affordable price. These pillows are hypoallergenic and are lightweight. The drawback of this material includes heat-trapping and does not offer quality durability.
Benefits of Cervical Pillow
A cervical pillow can help in improving your sleeping pattern as it eliminates the risk of experiencing pressure points around your neck. Cervical Pillow also helps in improving your body posture with the avoidance of conditions like numbness, stiffness, and poor blood circulation. Thus, a cervical pillow improves your overall well-being. A cervical pillow is specially targeted at people suffering from neck stiffness and spondylitis. Cervical pillows are known for offering maximum support. These pillows ensure sufficient flexibility in the discs and vertebrae of the spinal cord by maintaining a natural curve of the spine. Along with the improvement of your posture, while sleeping, cervical pillows can also respond to other concerns such as tensed muscles, discomfort, and stiffness. 
Best Pillow Brands for Resolving Neck Pain 
HealthSense Soft Orthopedic Memory Foam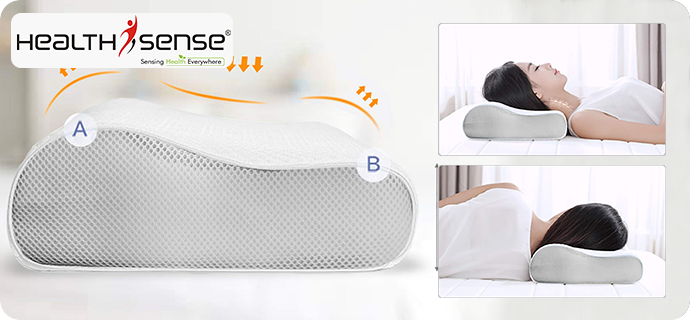 The HealthScience Soft-Spot CP 30 Orthopedic Memory Foam Cervical Pillow is strategically designed for the purpose of adapting to a naturally contouring process depending on human spines for maximum support. This memory foam cervical pillow is made with high-density foam, thereby ensuring long-lasting life and slower rebound. The pillow has a high-low design, which is suitable for different positions of sleeping. The lower area is intended for your straight sleeping, whereas the higher area is dedicated to supporting your posture while sleeping sideways. This brand's cervical pillow offers hypoallergenic properties with mite resistance. These pillows are also manufactured for orthopedic purposes specifically. HealthSense Orthopedic Memory Foam Cervical Pillows are perfectly aligned with your cervical region along with the upper lumbar area. These pillows are very effective in response to chronic spinal cord concerns such as upper back pain, disc issues, headaches, shoulder and neck stiffness. HealthSense Orthopedic Memory Foam Cervical Pillow offers:
    Treatment for spinal cord disorders
    Breathable and hypoallergenic features
    Perfect back and neck support 
    Alignment with the natural curve of the spine 
Tynor Contoured Cervical Pillow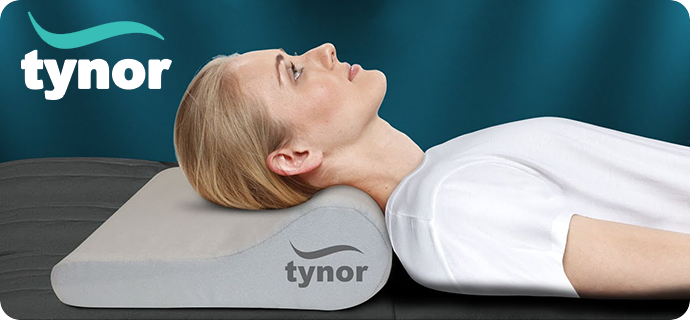 Tynor is a well-known brand for offering cervical pillows. Tynor Contoured Cervical Pillows are designed for everyday usage. For ensuring a perfect alignment of your spine, these pillows are manufactured with double contouring and are designed with high-density PU Foam. The PU Foam is suitable for offering ideal support for the back and neck. The curve design allows you to experience optimum comfort and relaxing muscles. The company has also prioritized the outer layer of the pillow by making it soft for extra comfort. The features offered by this brand of cervical pillow are:
    Firm and comfortable support 
    Contoured shape with curved design 
    High durability of the pillows
    Maximum comfort with the support to the natural curve of the spine.
Tynor Cervical Pillow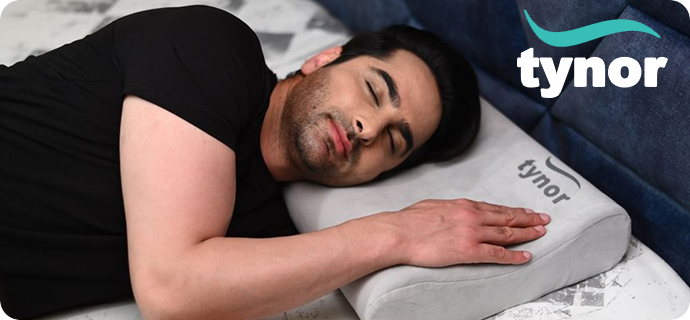 Another variant of the Tynor brand is Tynor Cervical Pillow, which is a regular cervical pillow without the presence of a curved design. These pillows are designed with premium quality PU foam with optimal head and neck support. Although the regular size does not allow flexibility of priorities it is meant for everyone with stiffness in the shoulders, back, and neck. These pillows are best for cervical spondylitis and specialize in removing strain in your muscles from the everyday hustle. The offerings of Tynor Cervical Pillow include:
    Decent support for shoulder and neck 
    Soft outer fabric, leading to a comfortable feel
    High functional life 
Proliva Contour Memory Foam Cervical Pillow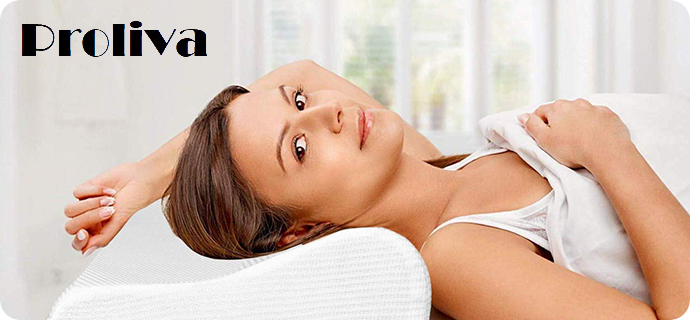 Proliva Contour Memory Foam cervical pillows are easily available in both offline and online mediums with affordable pricing. The ergonomic design along with therapeutic features projects impressive support for the back, neck, and head regardless of your sleeping positions. The contoured design ensures the natural curve of the spinal cord, thereby adding to the ultimate comfort. The outer layer is plush and soft, with hypoallergenic properties that eliminate the risk of bugs and mites. In comparison to other brands, Proliva Contour Memory Foam Cervical Pillows are filled with 25 percent extra foam for better comfort. The advantages of Proliva Cervical Pillows are:
    These pillows can be used as an accessory in the home because of their decent aesthetics.
    The pillows offer uniform softness in every region.
    The high-low sides ensure comfort in every sleeping position. 
    The high-density foam design helps in regaining the pillow's shape. 
 Ozoy Cervical Contour Memory Foam Pillow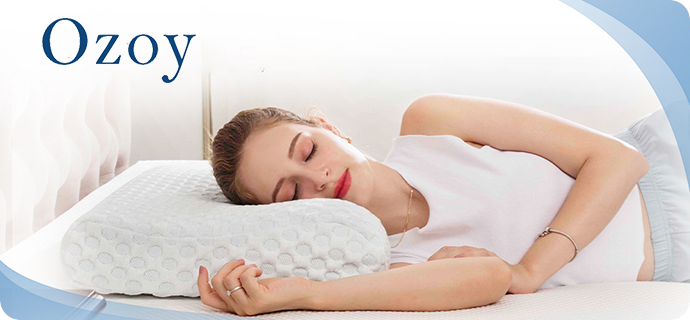 Ozoy Cervical Memory Foam Pillow is very affordable with breathable US-Certified foam, which is known for ensuring temperature control and blood circulation. These pillows are designed for all kinds of sleeping positions, stomach sleepers, back, and side sleepers. The brand also offers variants in sizes such as queen and king size. The pillows are a 5'' Loft design, which offers comfortable sleep with the maintenance of good posture. The features of the Ozoy Cervical Memory Foam Pillow include:
    The idea for every sleeping positions
    Healing of muscle, neck, and shoulder stiffness
    Cool hypoallergenic cervical pillow
JSB BS52 Orthopedic Memory Foam Cervical Pillow
 
JSB BS52 Orthopedic Memory Foam Cervical Pillow has a 'B-shaped' design, which contours the natural curve of the spinal cord with maximum back, neck, head, and shoulder support. This brand is reputed for scientifically responding to shoulder numbness, muscle stiffness, and of course cervical pain with the improvement of sleeping postures. The cervical pillow of this brand is equipped with a washable and removable cover, which adds to the sense of cleanliness. Along with the dedicated design for sleeping postures, these pillows also help in minimizing the conditions like sleep apnea and snoring. The advantages of this brand involve:
    Soft outer cover which can be washed regularly
    B-shaped design improved sleeping postures and relieves back and neck stiffness
Zofey Cervical Contour Pillow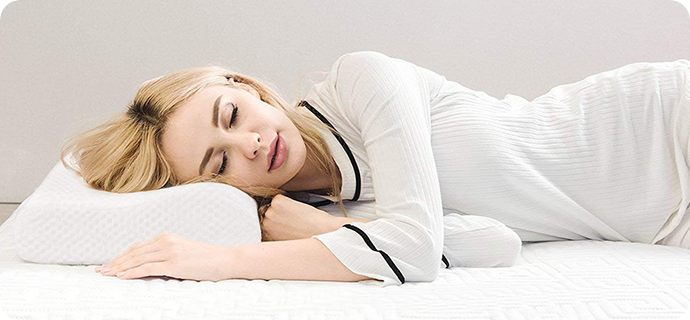 Zofey Cervical Contour Pillow is one of the best brands for Orthopedic solutions. The pillows are most suitable for the side and stomach sleepers, as the curves maintain a balanced, breathable and comfortable alignment of the head and neck. The pillows offer both firm and softer support, which manages the removal of muscle tension. The outer layer is removable and washable and comes with breathable fabric. The pillows are designed with high-density foam, leading to a long-lasting life with low maintenance. The advantages of these pillows include:
    Ease of pressure release
    Breathable material 
    Maintain comfort level by relieving pain in neck, shoulder, and head
    Contours the shape of the spine and body
What level of firmness in cervical pillows helps in eliminating neck pain?
The cervical pillows should be a combination of firmness and softness, but more inclined towards firmness as the firm structure adequately supports the neck and shoulders. The firmness of the cervical pillows removes the pressure points, helping you get a perfect sleep. 
Can cervical pillows be used by anyone?
Yes, anyone can use cervical pillows. Cervical pillows are not only meant for people who are already suffering from neck pain but are also designed for avoiding any form of potential muscle straining. 
What is the ideal sleeping position for cervical neck pain?
The ideal sleeping positions for people suffering from cervical neck pain can be back or either side positions. These positions project minimum pressure to your neck muscles, thereby avoiding the risk of straining and stiffness.