In today's society, chyawanprash has become an essential dietary ingredient for bodily rejuvenation. Chyawanprash is a nutritious and tasty jam that has long been used in Ayurvedic medicine. It increases energy and protects against illness. The availability of hundreds of various kinds and varieties of chyawanprash is the one thing that isn't that amazing and fantastic about it. As a result, choosing the appropriate one becomes quite difficult. And it might be frustrating if you walk into a store or search online and don't know what to buy. As a result, to make things easier for you, we've compiled a list of the finest ones on the market.
List Of Top Chyawanprash Brands
1. Dabur Chyawanprash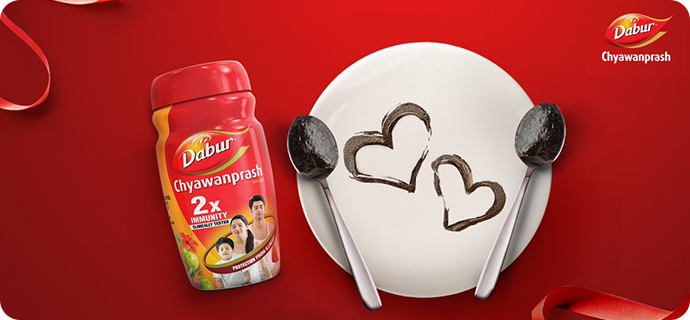 Derived from a 2,500-year old Ayurvedic formula and coming from a brand that is often classified as the market leader, Dabur Chyawanprash is one of the most Holistic Ayurvedic products in the country. With amala being its main ingredient, followed by other natural ingredients like Amalaki, Kumkum, Sharkara and so on, Chyawanprash produces a sweet-sour taste, which many have consumed either directly or with milk.
Since it is proven to be effective and safe, people of all age groups can consume it and look towards improving stress tolerance, energy levels and so on.
Weight: 500g
Price: Rs. 170
Specifications
Amla, Ashwagandha, Hareetaki, Dashmul, Ghrit, Mulethi, Shatavari, Pippali, Giloy, and numerous more plants and herbal extracts are included.
Immunity 2X
Increased Energy
Enhances Strength
Boost your immunity twice to combat sickness.
A combination of all 40 essential ayurveda components
Internally, it builds strength and immunity.
It gives you an immediate energy boost.
We liked:
This Dabur Chyawanprash is reasonably priced and comes in a 500 g package.
Dabur Chyawanprash is a traditional Ayurvedic combination comprising over 41 Ayurvedic
herbs.
Amla has antioxidant qualities.
Pipplai has been shown to benefit respiratory health.
Ashwagandha, by increasing energy, keeps you active without exhausting you out too frequently.
Amlaki aids in the removal of pollutants while also boosting your body's defensive system.
Shatavari is just included to boost your internal strength.
Mulethi is beneficial for coughs and sore throats.
Finally, Giloy is in charge of developing immunity in order to combat day-to-day sickness.
2. Zandu Chyawanprash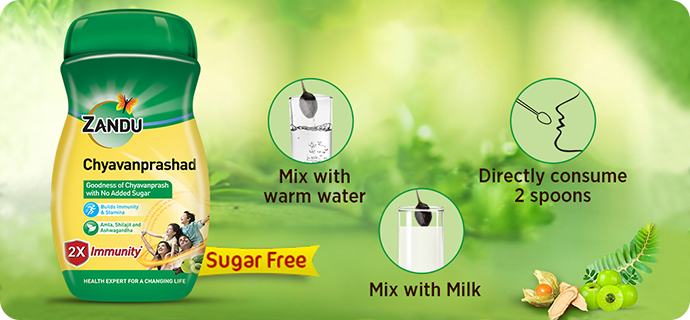 When it comes to healthcare items, Zandu, a subsidiary of the former Emami Group, is a well-known and reputable brand. You've probably seen Shah Rukh Khan endorsing Zandu on television and in print. Zandu is without a doubt the industry leader in Ayurvedic-formulated health supplements. Zandu also has various Chyawanprash variations, such as Sona Chandi, Zandu (Sugar-Free) for diabetics, and Kesari Jivan Chyawanprash. Its major component is Amallaki, and its high amla concentration makes it high in Vitamin C. It increases the body's immunity, improves digestion, and enhances an individual's physical and emotional well-being. Ghee, honey, jaggery, kesar, exotic herbs & spices, and mineral residues are also present.
Weight: 450g
Price: Rs. 140
Specifications
Shilajit, Ashwagandha, and Amla are among the ingredients.
Increases stamina
There is no added sugar.
46 Ayurvedic botanicals that will improve your overall health
25 immunity-boosting herbs in 900 grams of quality and flavor
We liked:
At the pricing, 500 g is not a bad investment.
Shilajit offers a variety of health advantages, including acting as an antioxidant to boost your body's immunity.
For ages, Ashwagandha has been utilized for its health benefits.
Amla is a good source of vitamin C, which helps strengthen your immunity, metabolism, and protects viral and bacterial infections.
Zandu Chyawanprashad is said to increase stamina.
It is also known to improve your immune system.
Zandu Chyavanprash is a sugar-free energizing drink.
3. Baidyanath Chyawanprash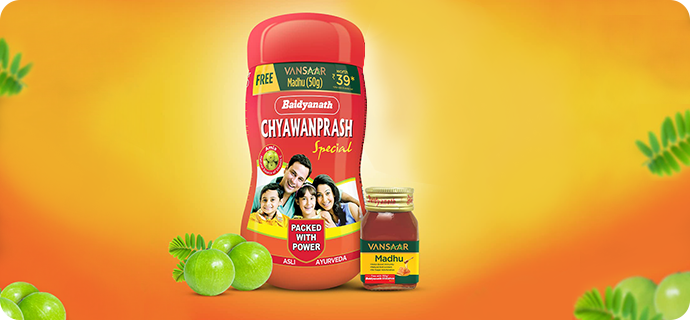 Shree Baidyanath Ayurved Bhawan is one among India's largest Ayurvedic Medicine manufacturers, with over 700 formulations made and distributed in the Indian and international markets. Chyawanprash is available in a variety of flavors, including Junior Chyawanprash for children,Special, and Kesri Kulp Royal for ladies alone. They also make sugar-free versions of the same. It is made according to Ayurvedic recipes utilizing ancient methods. Ambhari bark, honey velvetleaf, dried grapes,myrobalan, white sandal, bael bark, sugar, lotus flower, emblica, cinnamon, and saffron are among the powerful substances used. It all works together to improve your immune system and body. Baidyanath Chyawanprash is also high in antioxidants, which improves immunity while boosting the defensive system within the body.
Weight: 1kg
Price: Rs. 257
Specifications
Phyllanthus Emblica, Herpestes Monniera, Rhus Succedanea, Convolvulus Microphyllus, Honey are ingredients
Increase Your Immunity
Improve Digestion
Fighting Fatigue
We liked:
The price of the 1 kilogram container is quite affordable.
It is a combination of 52 herbs that comprises well-known immunity-boosting components such as Amla.
Excellent for increasing your family's strength and stamina.
Baidyanth Chawanprash Special is well-known for its ability to boost immunity.
It also helps to strengthen the body's inherent defenses against illness.
The antioxidants in the product help to balance the nutrients in your body.
Aids in the enhancement of digestive and metabolic processes.
This Chawanprash assists in the treatment of tiredness.
4. Kottakkal Arya Vaidya Sala Chyawanprash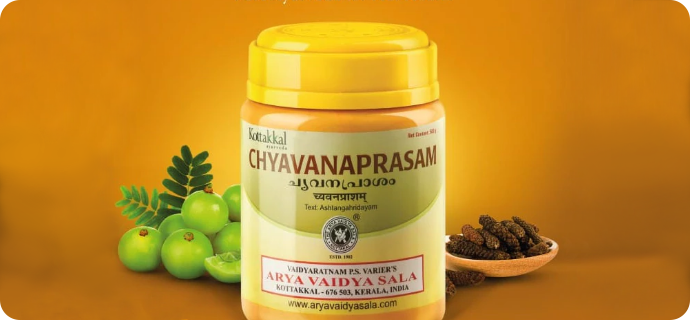 Kottakkal Arya Vaidya Sala Chyawanprash is a unique product from God's Own Country, Kerala. Matsyandika, Thugakshiri, honey, bovine ghee, Kasmari, Tailam, and vilwa are among the several components. It also made use of jaggery instead of sugar, as well as a potent combination of additional spices and herbs. Consuming Kottakkal Arya Vaidya Sala on a regular basis will enhance memory and attention while also calming the nervous system. It is also appropriate for those who are depressed. It improves the complexion and delays the aging process. A 500-gram pack costs Rs. 205 on MRP and has a three-year shelf life from the date of manufacturing.
Weight: 500g
Price: Rs. 197
Specifications
Kottakkal Arya Vaidyasala Chyavanaprasam has the benefits of over 50 therapeutic plants and extracts.
The wonderful thing about this Ayurvedic medication is that it has no processed sugar.
The main ingredients of this herbal food product are Honey, Amla (Indian Gooseberry), Indian Bael, Cow Ghee
We liked:
Strengthens the body's natural defenses by promoting the synthesis of hemoglobin and white
blood cells, as well as nourishing the lungs' mucous membranes.
 Revitalizes and strengthens the body while increasing vitality.
supports proper digestion and evacuation while increasing metabolism.
Promotes clear, healthy skin.
It feeds the reproductive tissues, promotes fertility, and maintains a healthy libido in both men and women.
5. Patanjali Chyawanprash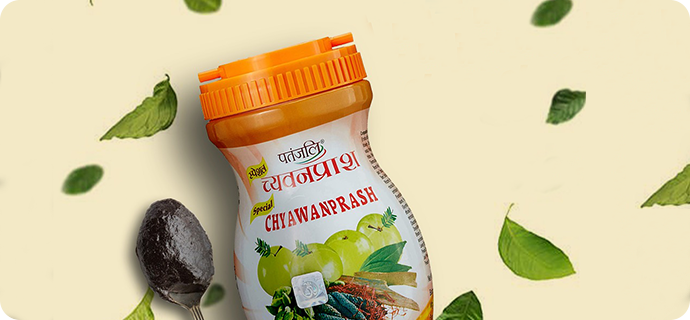 Patanjali is another well-known brand that requires no introductions. If you live in India, you have most certainly utilized some of their products. Patanjali Chyawanprash is one among the greatest with herbal preparation, and it is not only beneficial to people who are sick but also very good for healthy people also. Patanjali's goods are well recognised, and they are produced in strict accordance with Good Manufacturing Practices (GMP) and their principles. All of the components are Ayurvedic, and cow's ghee is a key component in its production. This Chyawanprash is now made with around 40 ingredients, including amla, guduchi, elach, and others. Patanjali's Chyawanprash is known for rejuvenating the body and boosting physical and mental strength. Regular consumption also aids in the strengthening of the heart and lungs. This product also helps with coughing, bronchitis.phlegm, and is one of the most efficient asthma medicines. It is high in minerals and antioxidants, and it is very inexpensive.
Weight: 500g
Price: Rs. 134
Specifications
Improves bone health, the autoimmune system, and the respiratory system.
Vitamins, minerals, and nutrients are abundant in this food.
It has around 25 ayurvedic components.
It increases energy, immunity, and mental fitness.
We liked:
Aids in the maintenance of a healthy appetite
Effective for symptoms such as lung disease, sinus infection, and bronchial asthma.
Helpful in preventing memory loss and preserving overall health
Useful for ordinary colds.
6. Himalaya Herbals Chyawanprash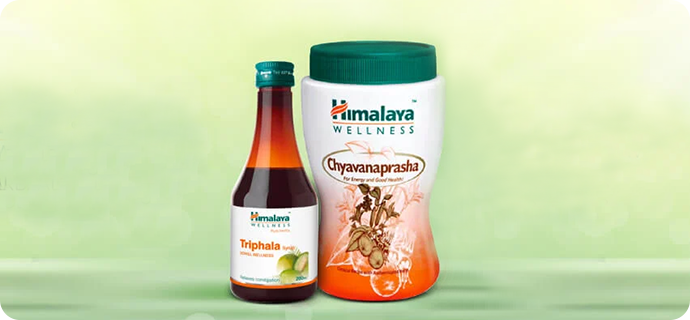 This is another well-known and well-liked brand in India. So, if you're looking for a branded Chyawanprash, this one is a good option.Himalaya is yet another health company that seeks to improve the quality of life by combining traditional ingredients with contemporary technology.  For optimum effects, eat it approximately 30 minutes before breakfast. It is also recommended that you drink it with milk or lukewarm water. Himalaya Herbals Wellbeing Chyawanprash employs a traditional formula and traditional botanicals to promote natural wellness. It is recognized for its medicinal powers and is enriched with more than 30 herbs. Although the bottle comes with a set dosage, you will be able to adjust it based on the advice of your own Ayurvedic practitioner.
It strengthens the body's resistance to infections, increases energy levels and fitness, cures stress-related illnesses, and improves digestive health. It can be especially useful for those with allergies and asthma because its components are weather-friendly and reduce the negative effects of changing seasons. Himalaya Herbals Chyawanprash has an MRP of Rs. 40 for a 1 kilogram jar.
Weight: 1000g
Price: Rs. 340
Specifications
Ingredients: Kashmari, Shatavari, Ashwagandha, Draksha, Bruhati, Kantakari, Varahikanda, Vasa, Bala, Ela, Gokshura, Guduchi, Haritaki, Jivanti, Kakanasika, Kamala, Musta, Peppali, Punarnava, Pushkara, Shyonaka, Tamalaki, Tvak, Ushira
We liked:
The product's pricing is extremely inexpensive for a quantity of 1000 g.
Himalaya Herbals Chyavanaprasha has a sweet, sour, bitter, pungent, and astringent flavor.
Amalaki provides Vitamin C and antioxidants.
Honey acts as a "herb transporter" deep into the tissues.
It protects against infections and debility.
Furthermore, it energizes the body and enables for fitness.
Provides defense against respiratory disorders.
Keeps stomach problems away.
8. Sri Sri Tattva Ayurveda Chyawanprash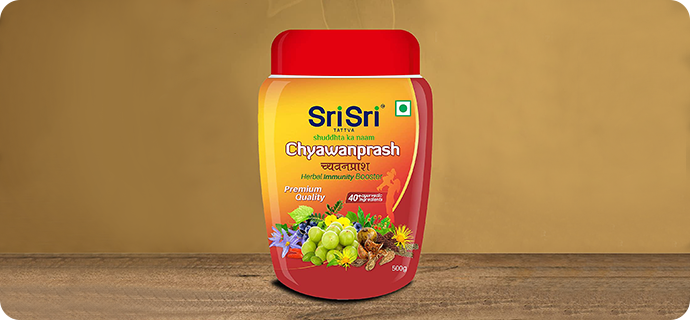 Sri Sri Tattva Chyawanprash is a one-of-a-kind blend of over 40 distinct herbs. This herbal mixture is made using the age-old, traditional technique of ancient Rishis, ensuring the greatest standards of purity. It strengthens the immune system, revitalizes the body's health, and restores vitality and energy levels. This herbal composition is made with the utmost purity and according to the ancient Rishis' ways. It improves cognition, immunity, and vitality when used on a daily basis. It also improves general health by facilitating mineral absorption from meals.
Weight: 250g
Price: Rs. 108
Specifications
Herbal Immunity Booster
40+ Ayurvedic Ingredients
Each box contains 250 g of Chawanprash.
We liked:
It is created by mixing over 40 different plants.
This substance aids in immune enhancement.
Rejuvenates the body's health by restoring vigor and energy levels.
This Chyawanprash is of high quality and serves as a herbal immune booster.
Consuming it may make you feel happy because it has a natural flavor.
It is completely chemical-free and helps to improve your body's internal defense system.
9. Dabur Chyawanprakash Sugar Free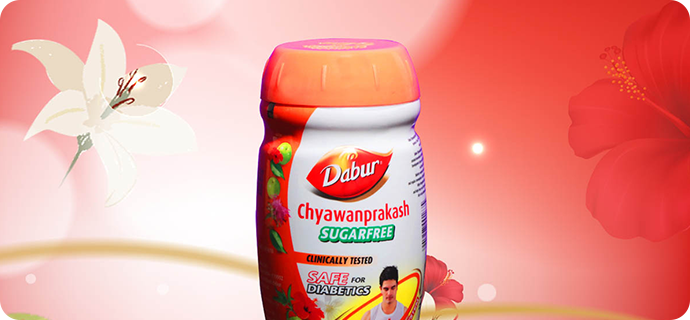 Dabur Chyawanprash is something that most of us have known since we were children. To become the finest Chawanprash, Dabur Chyawanprakash sugar free gives the best quantity and quality at a reasonable price. Natural components such as Amla, Ashwagandha, Hareetaki, Dashmul, Ghrit, and a variety of other herbs and herbal extracts are included. A combination of these allows the Chawanprash to have antioxidant qualities and become the greatest Chawanprash by boosting stress tolerance and energy.
Weight: 500g
Price: Rs. 370
Specifications
Amla, Ashwagandha, Hareetaki, Dashmul, Ghrit, and a variety of additional herbs and herbal extracts are included.
No Added Sugar
Strengthens the Immune System
We liked:
The product's price is proportional to its quantity.
Aids in the improvement of stress tolerance
There is no sugar in the product.
It has significant antioxidant effects.
It is said to strengthen the immune system.
A synergistic blend of herbs and plant extracts in an amla fruit pulp foundation.
Assists in increasing energy
10. Organic India Chyawanprash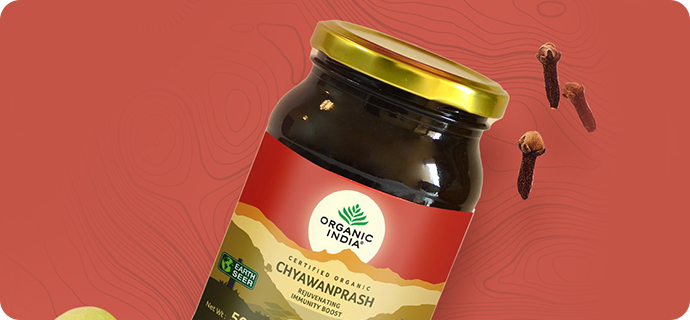 India Organic Chyawanprash, often known as "The Elixir of Life," is a combination of 38 herbs that promotes our entire wellness. It is made according to the traditional Ayurvedic formula and contains about 44 herbs, with Amalaki as the basis. It is high in antioxidants, improves the immune system, and aids in the health of the heart, liver, and other critical organs. It is a high-energy source that aids in the revitalization and rejuvenation of the body. Overall, it functions as a comprehensive nutritious supplement to the body.
It also has antioxidant-rich fruits from the wild forest, resulting in a powerful herbal mix with a delicious flavor. Regular use rejuvenates, energises, strengthens, and nourishes the body, resulting in better overall health and wellness. The strong antioxidant properties alleviate cough and cold symptoms while also cleansing the blood, resulting in a gleaming and sparkling complexion. It boosts memory, soothes the heart, and promotes digestive health, allowing for better nutrient absorption. This medicine is one of the best for individuals who suffer from asthma.
Weight: 500g
Price: Rs. 495
Specifications
Ingredients: Amlaki, Draksha, Ela, Pippali, Patra, Tvak, Abhaya, Amrita, Bilva, Agimantha, Syonaka, Gambhari, Patali, Salaparni, Prsniparni, Mudgaparni, Masaparni, Svadamstra, Brhati, Kantakari, Vidari, Sati, Musta, Punarava, Vrsamula, Kakanasika, Utpala, Jivanti, Candana, Tamalaki, Tugaksiri, Naga Kesra, Kakoli, Rddhi, Jivaka, Rsabhaka, Meda, Matsyandika, Taila, Ghrta, Madhu
Immunity Boosting
100% Vegetarian Product
We liked:
The product has a 500 g content.
The product contains Amalaki as well as 38 other therapeutic herbs.
Enhances the complexion and radiance of the skin
It has the ability to nourish brain cells, thereby improving retention and recall.
India Organic Organic Chyawanprash aids in the strengthening of the immune system.
Aids in blood purification
It is also recognized to be beneficial to one's health.
Cough and asthma symptoms are alleviated.
11. Urban Platter Natural & Ayurvedic Yogi Prash
Urban Platter Natural and Ayurvedic Chyawanprash Yogiprash has the possibility to be the greatest Chawanprash due to its vast list of components. The product is completely vegetarian and has no preservatives, tastes, or colors. The benefits of Amala, Sharkara, Dashamool, Ashwagandha, and other nutrients boosts your immune system and invigorates your body. With 400 g of whole spices and herbs, Urban Platter Natural and Ayurvedic Chyawanprash Yogiprash covers pretty much everything to be recognized as the finest Chawanprash.
Weight: 400 g
Price: Rs. 370
Specifications
Ingredients: Amala, Sharkara, Dashamool, Ashwagandha, Guduchi, Shatavari, Punarvana, Haritaki, Apamarga, Kakadshingi, Kantakari, Jivanti, Kamal Beej, Vidarikand, Haridra, Munakka, Dalchini, Lavang, Chhoti Elaichi, Nagkesar, Varahikand, Pipar, Sukhad, Baladana, Madhu, Ghrit
100% Vegetarian Product
We liked:
It includes 400 g of Chawanprash.
This product contains no preservatives, tastes, or colors.
It aids in the rejuvenation of your body.
It acts as a general immune enhancer.
Contains a lot of whole spices and herbs.
What Is Chyawanprash?
Chyawanprash is an ancient Ayurvedic Rasayana that has been used for ages to restore health and extend life. As a nutritious polyherbal jam, it's a versatile treatment that's been recommended for a variety of health issues, ranging from enhancing digestive health to boosting immunity. Chyawanprash (CP) is an ayurvedic health supplement produced from a combination of herbs (rich in nutrients) and minerals. CP is made from old ayurvedic scriptures and contains honey, ghee, sugar, amla, berries, Indian gooseberry, sesame oil, and a variety of spices and herbs. In Sanskrit, "prash" refers to a specially prepared meal. The Ashwini Kumar brothers (two old sages) are said to have created this recipe for the first time to restore youth and prevent aging for Chyavana Rishi (an aged sage) in his ashram, thus the name "Chyawanprash." CP is classified as an Ayurvedic Rasayan – Rasayan Is a type of therapeutic tonic that focuses on preserving youth and slowing the aging process.
Benefits Of Chyawanprash
Immunity and general health
Increases Ojas for better immunity and general health. Enhances Reproductive and Sexual Health.
Helps with Detoxification
Colds and coughs are prevented.
Heals Allergies and Other Illnesses
Skin, hair, and nails are all nourished by this product.
Enhances The respiratory system's health
Prolongs life and has anti-aging properties.
It gives you a burst of energy.
Improved Digestive and Gut Health
Enhances Cognitive Health
The three Doshas are balanced (Vatta, Pitta, Kapha)
Cancer treatment
Lowers Depression
Antioxidant-rich
Lowers cholesterol levels, resulting in a heart that is healthy.
How To Select The Best Chyawanprash
Ingredients
Chyawanprash is made up of nutritious and extremely useful components that provide several health advantages. To get the greatest outcomes, go for an Ayurvedic or organic formula.
Key components in chyawanprash include amla, ashwagandha, neem, pippali, tulsi, saffron, brahmi, shatavari, honey, jaggery, giloy, mulethi, ginseng, and haldi. These substances aid in the strengthening of your muscles, the improvement of your immunity, the rejuvenation of your internal health, the increase of your stamina, and the prevention of stress and seasonal illnesses.
Taste
While the therapeutic benefits of the substance must be prioritized, the flavor cannot be overlooked. Chyawanprash has a sour and acidic flavor with a touch of sweetness. To offset the harsh or sour taste of the Ayurvedic components, make sure the recipe contains a little amount of sugar, jaggery, or ghee.
Formula
It should go without saying that you should read the labels on anything you use or consume. Avoid preservatives, chemicals, metals, or GMOs in chyawanprash since they might have negative and dangerous effects for your health. Check to see whether the formula contains any toxins, parabens, mineral oils, artificial perfumes, food colorants, or other adulterants.
Shelf Life And Packaging
Most chyawanprash is made from natural herbs and organic extracts that are devoid of chemicals and preservatives. Make sure it does not come in a metal container, since this might be harmful to your body. Choose brands that provide chyawanprash in glass bottles or BPA-free plastic bottles that are manufactured in small, fresh batches if feasible. The optimal shelf life of the finest chyawanprash brand in India is between 24 and 36 months, but because you will be using the product for at least two months, it is important to verify the expiry date before purchasing.
Chyawanprash offers several health advantages, including the ability to keep you stress-free and energetic throughout the day. That is why most individuals incorporate it into their daily routine in order to maintain a healthy lifestyle. Choose a chyawanprash from our selection today to provide your family with excellent immunity.