A good bath soap brings your bath to a completion. Bathing is the first ritual you do as part of your daily grooming routine and as part of personal hygiene. When men use the appropriate bath soaps, they may have a more refreshing shower experience in the morning. Regular soaps can cause skin to become itchy and flaky by drying it out. Using soaps, lotions, face or body wash, and other beauty items is no longer exclusive to women. Men's skin demands the same level of care and attention as women's skin. Regardless, body soap is a soap and will clean your skin. However, the chemicals in soap might respond differently to men's tough skin. As a result, it is important to use soap that is appropriate for males. An excellent grade of body soap results in a richer foam and a nicer bath. Soaps are offered in a broad range of varieties on the market. It might be difficult to choose the most appropriate one for you.
The Top 10 Best Soaps for Men in India for 2023
1.The Man Company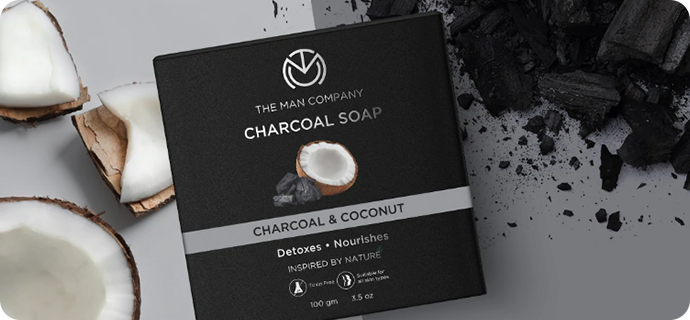 The Man Company is a well-known men's skincare brand. Its charcoal soap has activated charcoal as the major component, which eliminates all of the dust, humidity, and impurities that have become trapped in the pores. In the long term, it minimizes pores and is suitable for men's skin. It also possesses antimicrobial qualities, which help to keep pimples, acne, and other skin issues at bay. It also detoxifies the skin and eliminates blemishes and discolouration. Overall, it's a good men's soap. Although the phrases "charcoal" and "soap" may appear to be incompatible, activated charcoal is a tried-and-true cleaning ingredient recognized for its unique ability to extract toxins from the body. It cleans the debris and oils that clog your skin's pores.
Price: Rs. 250
Ingredients
Bassia Latifolia, Cocos Nucifera Oil
Sodium Hydroxide, Ricinus Communis oil
Activated charcoal, Pogostemon Cablin
Cedrus Deodara , Mentha Piperita Oil
Cinnamomum Zeylanicum Leaf Oil.
Highlights
Treats Acne
Removes Blackheads
Removes Dead Skin
Long-Lasting Bar
Deep Cleanses Skin
We liked:
Natural handmade soap bar
Deep cleanses & detoxifies the skin
Exfoliates & removes tan
Sulphates & paraben-free
2.Menthol Exfoliating Soap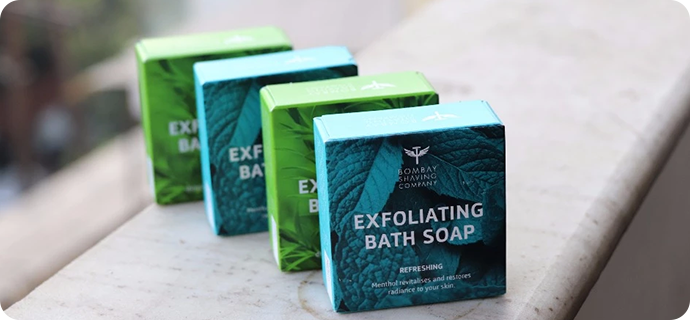 This menthol exfoliating soap provides a pleasant wash while also soothing itching and sunburns, leaving you feeling rejuvenated. It contains poppy seeds, which can help exfoliate dead skin cells while also moisturizing your skin. With this soap, you can give your skin the attention it deserves. An exfoliating bath soap with menthol that refreshes and moisturizes your skin. Organic Poppy seeds help exfoliate dead skin cells, while menthol soothes irritation, redness, and sunburn. To soothe and protect the skin on your face and body, this product is made entirely of natural components.
Price: Rs. 149
Ingredients
Made entirely of natural components.
Menthol and poppy seeds are added for extra deliciousness.
An exfoliating bath soap
Extra virgin coconut oil, Sorbitol, Glycerin, Essential oil.
Highlights
Refreshing Exfoliating Bath Soap
Cooling freshness revitalises and repairs skin
Menthol infusion leaves you feeling minty fresh
Signature scent combination for long-lasting odor protection
Suitable for both male and female skin types.
Suitable for both the face and the body
We liked:
For everyday usage.
Suitable for all skin types.
Menthol refreshes and moisturizes your skin
It stimulates the mind, the body, and the soul.
Cleanses the skin of dirt, oil, and other pollutants.
Exfoliates and moisturizes the skin.
Menthol soothes irritation, redness, and sunburn.
3.Beardo Activated Charcoal Soap For Men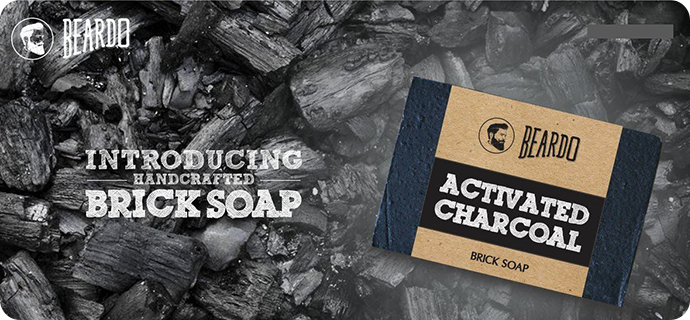 If you are searching for a soap that will ensure that you clean all of your skin's blockages and pores, this is the one for you. The combination of activated charcoal, sugar, aloe vera, and patchouli oil deeply cleanses your pores and eliminates the stubborn accumulation of oil and grime from all the filth that has collected on your skin. This natural charcoal cleanser soap for men provides your skin and body with much-needed cleaning treatment after a long day at work. Commuting in dust and pollution makes your complexion drab and dry, and your body weary. Rub a good quantity of lather into your skin, then spray it with water for a spa-like sensation, making it the finest soap for men in India. Purchase it immediately for clean, clear skin.
Price: Rs. 499 for 3
Ingredients
Aloe vera gel
Patchouli-Oil
Activated-Charcoal
Sugar
Highlights
It has the richness of basic oils.
Patchouli and cedarwood oil are included.
It eliminates bodily odors and reduces inflammation.
It includes almond oil, which promotes beard growth.
It gets rid of harmful dirt and dead skin cells.
We liked:
It is designed to make the skin's surface smooth and supple.
It has a flowery aroma.
It is suitable for all Indian skin types.
It hydrates the skin.
4.Fiama Men Gel Bathing Energising Bar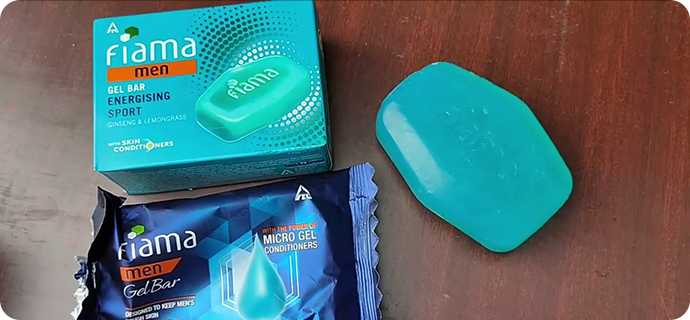 Fiama Guys Energizing Sport Gel Bar contains ginseng, lemongrass, and a pleasant scent designed just for men. This soap, India's first gel bar, dissolves the hardest marks and completely cleans your skin pores. Use it on a regular basis to feel refreshed after each shower. Because it contains skin conditioners, Fiama Men Gel Bar Refreshing Pulse keeps your skin smooth and hydrated. Its micro gel conditioner technology thoroughly penetrates and conditions men's rougher skin for a better bathing experience. It is India's first gel bar designed just for guys. It keeps you fresh all day thanks to marine minerals, blue lotus extracts, and a pleasant scent.
Price: Rs. 132
Ingredients
MicroGel Conditioners
Blue Lotus
Highlights
Includes skin conditioners that keep your skin moisturized
Energizing scent will keep your mood up for hours.
The fresh, clean scent wipes away filth, grime, and perspiration
Leaves you feeling energized.
We liked:
Ginseng, Lemongrass, and Micro Gel Conditioners are included
Designed specifically for men's rough skin.
Rich lather effectively cleanses the skin
Eliminates all dirt, grime, and other impurities.
Softens and nourishes the skin
5.Ammunition Cologne Soap – Ustraa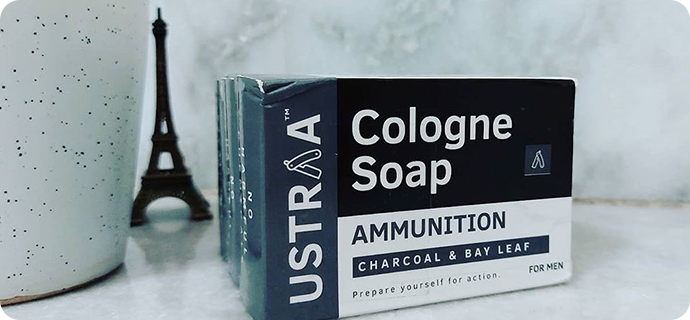 Ustraa's Ammunition Cologne Soap contains charcoal, which aids in deep cleansing. Its potent antimicrobial qualities ensure a long-lasting scent. It is a paraben-free soap with no hazardous ingredients. The nicest aspect about this soap is that, although having a lot of froth, it does not leave your skin dry. This soap has a thick and powerful foam that is enhanced with charcoal, witch hazel, and bay leaf. The charcoal cleanses the skin deeply and eliminates filth and grime. The soap has a long-lasting aroma thanks to witch hazel and bay leaf.
Price: Rs. 479 Pack of 6
Ingredients
Witch Hazel
Bay Leaf
Charcoal
Highlights
It arrives in a bright, gorgeous blue package.
It has the beneficial properties of charcoal for thorough cleansing.
It runs on imported palm and coconut raw materials.
It includes witch hazel extract, which helps to decrease oiliness.
It is a bath soap that has been triple-milled. It cleanses more thoroughly without evaporating so rapidly.
We liked:
It has a long-lasting scent.
It is devoid of SLS and other potentially hazardous compounds.
It combats germs that cause body odor.
6.Park Avenue Luxury Soap for Men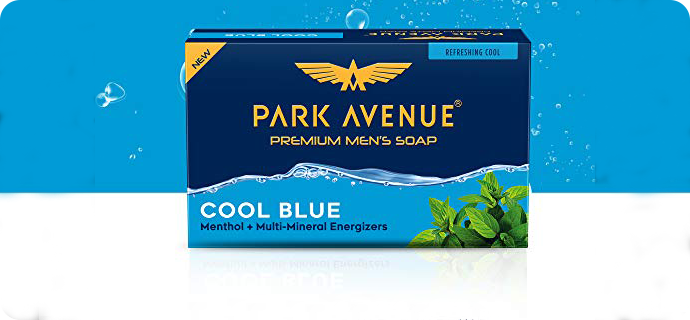 The best moisturizing soap is now available. Using the combined power of three moisturizers: glycerine, coconut oil, and shea butter Prepare to discover the ideal moisturizer. All of this tenderness on your skin, accompanied by a powerful woody smell. Park Avenue Luxury Soap has been enhanced with a creamy skin conditioner that moisturizes your skin and shea butter to quickly hydrate your skin. It is now available in a brand-new avatar to fit your personal flair. The dual mix of skin conditioners will collectively penetrate and moisturize rough skin. The original classic long-lasting manly scent that will raise your spirits. Go ahead and deep-cleanse your skin without worrying about it drying out. You may thank us afterwards.
Price: Rs. 141, pack of 4
Ingredients
Extracts Of Shea Butter
Peppermint Leaves
Orange
Rosemary And Cedarwood
Highlights
It has glycerine, coconut oil, and shea butter in it.
It has a strong woody scent and a lot of bloom.
It contains a skin conditioner that moisturizes.
It includes Shea-Butter, which provides essential nutrition.
It hydrates dry skin.
We liked:
It's gentle on the skin.
It has the ability to thoroughly clean your skin's surface.
This bundle of four sob bars is reasonably priced.
It softens and velvetines men's skin.
It lathers nicely.
7.Cinthol Lime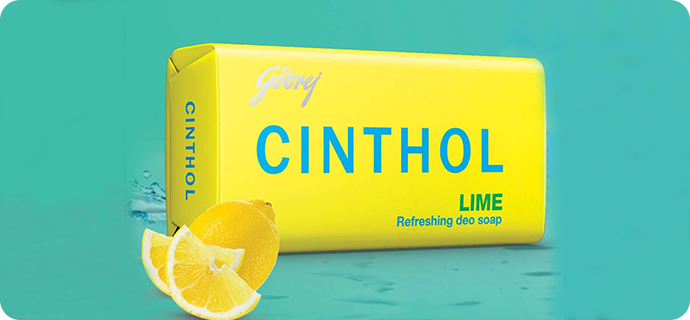 Cinthol Lime has been utilized by Indians for a long time and has been a favorite throughout the centuries. The fresh lime aroma, along with the qualities it contains, can keep you feeling revitalized for up to twelve hours. Its increased lime scent revitalizes your senses, providing you with a wonderful bathing experience. Cinthol Lime Bath Soap has a wonderful citrus smell that stays throughout the day, leaving your skin feeling refreshed and revitalized. Being Alive is Awesome with Cinthol Lime Soap. Cinthol was India's first deodorant and face wash brand. Cinthol has instilled trust and vitality in its consumers since its inception.
Price: Rs. 75, pack of 4
Ingredients
Sodium Palmate
Sodium Palm Kernelate
Water, Perfume, Triclocarban
Sodium Chloride, Glycerin
Titanium Dioxide, Disodium EDTA
Lemon Peel Extract
BHT, Citric Acid
Highlights
It is a dual-action soap that leaves men feeling refreshed.
It is a bath soap that is antibacterial.
Sodium palmate, sodium palm kernelate, triclocarban, and sodium chloride are all present.
It is also available in a 100g size.
We liked:
It is suitable for everyday use.
It treats the entire body as well as the face.
It will not dehydrate.
It has a nice scent.
8.Wild Stone Ultra Sensual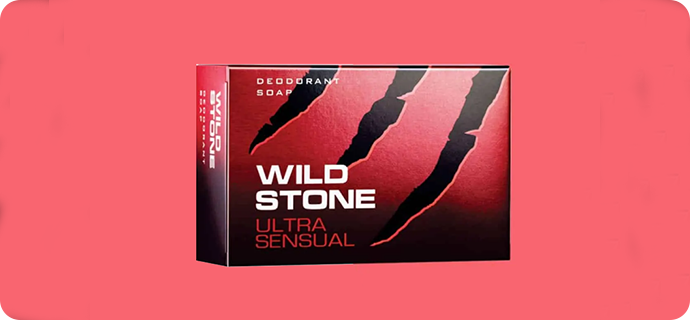 This soap, made with kokum butter, revitalizes and refreshes your skin while leaving a lovely aroma. Whether it's a hot day or a humid day at the office, this soap will keep you clean and cool all day! The scent lingers on your skin and keeps it soft. These premium deodorant soaps by Wild Stone are infused with the benefits of essential oils and rejuvenate, refresh, and deodorize your skin, leaving a lovely aroma that stays for a long time. McNROE Consumer Products Pvt Ltd's Wild Stone is a leading men's grooming-personal care brand. Wild Stone is most known for its deodorants/perfumes, although the company also sells perfume, shaving cream, talc, and soap.
Ingredients
Ethyl Alcohol Max.
Sodium Palmate
Sodium Palm Kernelate
Kokum Butter
Liquid Paraffin
Titanium Dioxide
Tetrasodium Edta Triclosan
Butylated Hydroxytoluene
Highlights
It's prepared using kokum butter.
Its seductive scent stays for a longer period of time.
It is appropriate for daily usage.
Its Forest Spice flavor offers a pungent aroma.
It keeps body odor
We liked:
It maintains skin's smoothness, softness, health, and hydration.
Even on the hottest days, it keeps men smelling fresh.
It is really effective.
9.Khadi Natural Sandalwood Soap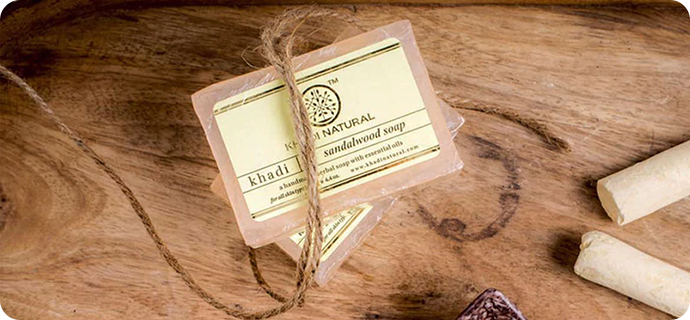 It is a soap with tremendous healing qualities, and its antibacterial characteristics will keep you clear of illnesses. The cooling impact of the soap calms and moisturizes your skin. Use it on a regular basis and see how big of a difference it can make. It has been infused with the richness of sandalwood, which is recognized for its antibacterial qualities. Khadi Sandalwood Soap helps to keep skin infections, acne, and blemishes at bay. Sandalwood oil and glycerine assist to hydrate the skin from the inside out. Khadi Natural products are prepared under the supervision of certified Ayurvedic physicians and contain herbal active components derived from organically cultivated pure plant extracts. Khadi Natural products are manufactured in accordance with WHO, GMP, and ISO standards, and they integrate the concepts of a preservative formula as a routine.
Price: Rs. 221, pack of 3
Ingredients
Sandal Oil
Glycerine
Vegetable Oils
Paraben free
SLS free
Mineral oil free
Highlights
Khadi Natural is a prominent manufacturer
Aromatherapy product that is free of parabens
Khadi Natural goods are created with Herbal active components
Supervision of experienced Ayurveda Doctors
Khadi natural goods are free of SLS, Parabens, and Mineral Oil
We liked:
It is great for those who have dry skin.
The antibacterial qualities help to prevent acne and blemishes on the skin.
It maintains the skin's softness and smoothness.
It softens and velvetines the skin.
It aids in the addition of moisture to the skin.
It helps to keep you hydrated and healthy.
10.Tabac Original Soap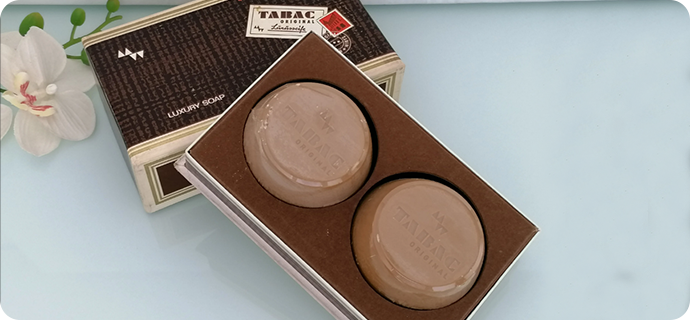 This men's soap has a pleasant aroma and is gentle on the skin, making it an excellent choice for the summer. The premium soap may revitalize your soul and is one-of-a-kind; the tart spicy scent will keep you fresh for hours. The scent is a combination of rare woods, musk, amber, and a lasting floral aftertaste. This soap would be ideal for you if the edges were neat and circular. The unique and spicy aroma also distinguishes the "Tabac Original" Soap. The caring and cleaning action nourishes the skin, allowing it to meet the demands of daily life.
Ingredients
Potassium Stearate
Potassium Tallowate
Aqua, Sodium Tallowate
Parfum, Sodium Cocoate
Glycerin, Potassium Hydroxide
Sodium Hydroxide
Linalool, Citronellol
Highlights
Glycerin-based
Rich, luscious lather
Quality Tabac bowl with lid included
Herbal spicy scent is a classic.
Produced in Germany.
We liked:
Soap for the hands and body
All skin types are suitable.
Produces a lather that is both moisturizing and cleaning.
How is soap made?
The following ingredients can be used to manufacture a bar of soap.
Lye: Soap is created by the interaction of lye and oils. This is known as saponification. The lye might be sodium hydroxide or potassium hydroxide.
Water: Lye is dissolved in water before being added to the oil.
Color: Color is not required while manufacturing soap. If you want to make your soap more visually appealing, you may add a plant-based color.
Scent: Scent is not required while manufacturing soap. However, if you want to add some scent to it, you may include some essential oils.
Preservatives: Natural soaps do not require preservatives. However, it may be used to produce liquid soap.
Ready-made soap bases: These are required for melting the soap before putting it into a mold.
Buyer's Guide: Best Men's Soap in India
Skin Type
When selecting the finest soap for men in India, the skin type is quite significant. Men's skin might be oily, sensitive, dry, or normal. Let's have a look at what each skin type requires:
Hard soaps should be avoided by men with oily skin. Prefer gentle soaps with sea salt, oats, peach pits, and other natural ingredients.
Choose hydrating glycerine soaps that are gentle on your skin. Because glycerine absorbs water from the air, it keeps your body wet. You may also choose soaps containing vegetable oils, jojoba, and so forth.
You are the luckiest since you can use any herbal, ayurvedic, or organic soaps.
This skin type needs particular care. It requires a soap with a pH balance. There are no colorants or perfumes in it. You may choose natural soaps produced from goat milk, chamomile, aloe vera, and other natural ingredients.
Ingredients
Read the label carefully and choose a product that is devoid of hazardous chemicals such as SLS.and  is devoid of harsh chemicals.
Soap Types
Soaps come in a variety of forms, including liquid bars and bar soaps. Bar soaps have a longer shelf life than liquid soaps. Liquid soaps may be used with a loofah or a washcloth, but they take a lot more to generate a lather than bar soaps.
Fragrance
A body soap's scent is determined by personal preferences. However, in general. Bar soaps with strong fragrances should be avoided at all costs.
The Different Types Of Soaps For Men Available in India
Beauty Soap
These are soaps that are designed to make you smell fantastic. Some can help you lower your melanin levels, while others can help you restore your body's moisture. The only thing they have in common is that they are intended to combat the noxious germs that accumulate in men's bodies as a result of filth, perspiration, and pollution. Beauty soaps are often perfumed and come in a variety of colors, brands, and chemicals.
Organic Soap
Organic soaps are designed with men with extremely sensitive skin in mind. These are produced from natural components. It is produced from goat's milk, essential oils such as chamomile, and even aloe vera extracts. This will not dry out your skin and will keep it hydrated all day.
Triple Milled Soap
The Triple Pressed soap contains skin-soothing natural ingredients. It produces a denser soap. This soap contains natural oils such as olive oil. It is devoid of hazardous chemicals and animal fats and is prepared with natural oils such as coconut or olive oil.
Glycerin Soap
These soaps are thick and are in charge of drawing moisture from the air to the skin. During the bathing procedure, natural oils are stripped from your skin. Glycerin-based soaps keep moisture locked in and prevent dryness.
How to choose a soap that is suitable for you?
According to experts, there is a precise and ideal technique to use soap to help clean effectively. Applying the bar straight on your skin will not produce the desired lather. To lather and apply soap to the body, always use a washcloth or a loofah. By rubbing the towel or loofah over the soap a few times, the soap is absorbed and considerably more lather is produced.Cold water showers extend the life of soaps more than hot water showers. Keep away from water and store in a water-draining box for long-term storage. If you put wet soaking soap in a locked box or on a ledge outside, it will not last long. Do not leave the soap in water, near water, or open to steam.
Soaps can be split into 2-3 pieces so that they do not go to waste.