Lately, there has been a hot buzz going around, especially for movie freaks, and it's all because of the much-awaited and much-talked-about upcoming Bollywood musical drama film titled 'Gully Boy', starring every girl's favourite heartthrob (Ladkiyon Ke Dillon ki dhadkan) Ranveer Singh and the very 'It' girl, Alia Bhatt. The film is distinctly based on the real-life events of Divine and Naezy, the two underground hip-hop artists hailing from the suburbs of Mumbai. The two lads (Two Gully Boys) who grew up on the streets of Mumbai have been delivering powerful socio-political verses for years instead of the usual cliche scenario which consists of fancy cars, alcohols and girls. Their honest and sincere views on society and people through their music have won the hearts of many fans over the years.
The first official trailer of the film was released on January 9, 2019, which took the entire world by storm. Uncountable fans went on top social networking sites like Twitter, Youtube, Instagram, and Facebook to show their support and excitement for the upcoming film. But it was not only the fans but also many top celebrities who took the Twitter platform to show their support.
Karan Johar, the famous charismatic personality in B-town reacted on Twitter by tweeting: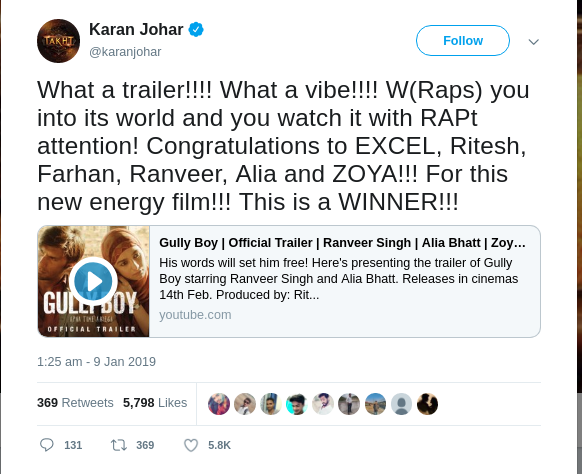 While, the beauty queen, Dia Mirza made everybody pause their work and watch the trailer by tweeting: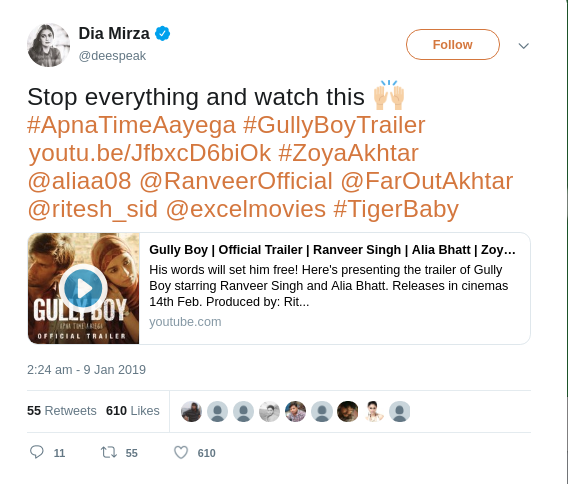 The next thing that caught the full attention from the fizzing film is the song 'Mere Gully Mein', which is the original song of Divine ft. Naezy released in the year 2015. The entire music video of the film is inspired by the original video, as the film director, Zoya Akhtar wanted to create the masterpiece as authentic as possible. Check out the two videos on the link given below and I leave the judgement to you.
Many other songs are featured in the film which is sung not only by Divine and Naezy but also by Ranveer Singh and few other artists. Songs like 'Apna Time Aayega', 'Asli Hip-Hop', 'Azadi', 'Doori', etc have sincere lyrics, which talk about the real scenario of the society and how they perceive underground artists to be and sneer at them, without recognising their true talent, and their honest struggles as an artist.
With the amount of craziness that the Gully Boy has been serving the entire nation even before its official release, top Indian online shopping sites like Flipkart and Amazon has something for the fans! They have released merchandises like T-shirts, Mugs, Phone covers, etc. with the movie tags on it.
Still Planning on skipping to watch the movie? Think Twice. ;)
The movie is scheduled to release on V-day and we just can't keep Calm.