Voot is a famous video on demand platform of Viacom 18 on-demand video platform which offers a wide array of content for users of all tastes. This video-on-demand streaming platform also has several prominent television networks such as MTV, colours, and Nickelodeon along others. Viacom 18 also has a lot of original stuff like blockbuster movies and a lot of other programs which are kid-friendly. To know more about the Voot Viacom subscription plans and detail check out this article.
Apart from a wide range of shows, Voot's offers its content in multiple languages such as Hindi, Tamil, Telugu, Bengali, and others. All other subscribers of this video-on-demand platform have to pay a voot subscription charge to access the contents in the language of your favour. Voot also has a free version but with ads popping up while you enjoying your favourite show or program.
Voot Subscription Charges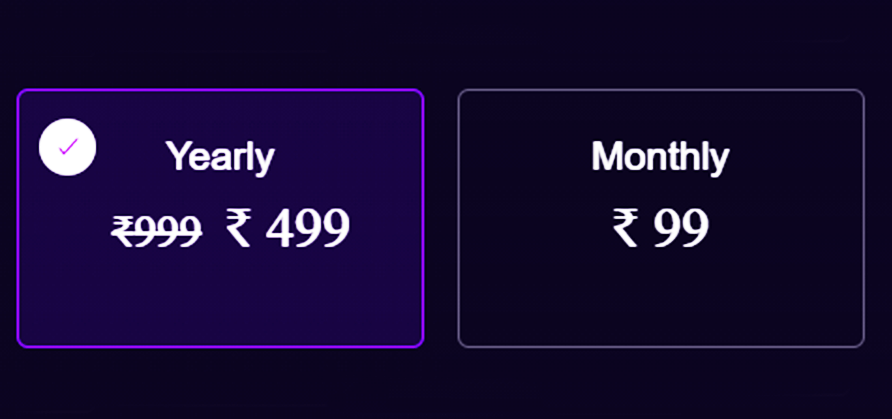 Initially, for a long time, voot was available for free. Eventually, Viacom 18 launched voot select which comes with a subscription cost. Voot select is nothing but a video on demand platform with a subscription cost. You can select the best contents and the channels you wish to watch using your subscription.
The subscription cost varies based on the number of screens you are availing of. Perse, if you are availing of a single screen only the voot subscription cost will be Rs. 99 monthly and Rs. 499 annually.
Apart from that, there are no additional voot subscription plans available currently. The annual subscription cost was originally Rs. 999 annually but as a part of the launching offer, you can avail of it for just Rs. 499.
| | | |
| --- | --- | --- |
| Name of the Plan | Voot Monthly Subscription Price with Number of Screens | Voot Annual Subscription Price with Number of Screens |
| Voot Select | Rs. 99 | Rs. 499 |
| Number of Screens | 1 screen | 1 screen |
The Advantages of a Voot Subscription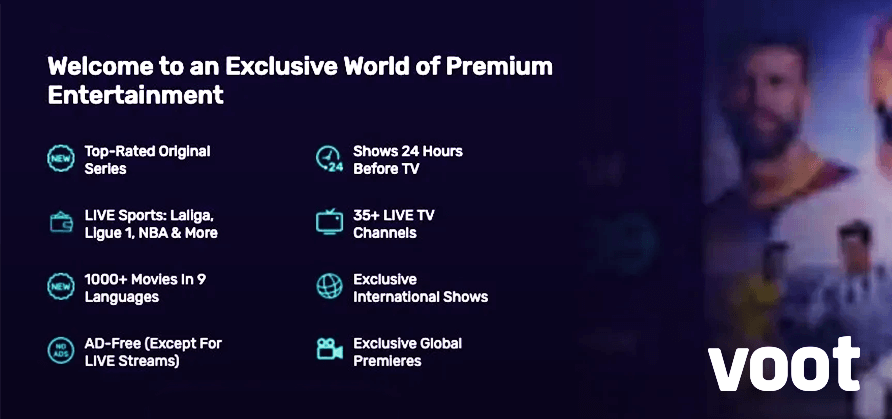 If you are a fan of Indian originals, Voot got your back because Voot select offers top originals in your subscription. Apart from that popular Indian reality tv shows, the detailed episodes of big boss for example uncut material, never before seen, behind the scenes, 24 hours live streams, etc voot offers all the exclusive details you are looking to watch. Also, Voot select customers have access to popular tv show episodes before 24 hours of their original telecast.
Along with the access to popular Indian channels and show voot select customers can enjoy prominent foreign channels and content like America's Got Talent, Shark Tank, Dexter and so much more. Voot is allowing its users to experience a flawless and ad-free content watching experience with its premium subscription. Brand new subscribers can also avail themselves of a 14-day free trial.
Voot has a large array of 45+ live television channels in various categories such as music, news, entertainment and so much more. Also voot select is offering a lot of ad-free streaming without any subscription cost.
 All you need is a voot account to access those shows and movie content. With a single voot subscription how many screens can be used is a matter of concern for its subscribers, we are going to resolve those concerns with the below-mentioned details.
Basic Voot and Voot Select Plans Comparison
| | | |
| --- | --- | --- |
| Streaming Content | Voot Basic Plan | Voot Select Paid Plan |
| Voot Special Contents | Yes | Yes |
| Foreign Shows | No | Yes |
| Kid Friendly Content and Movies | Only Hindi Dubbed | Hindi Dubbed along with English |
| Newly Released Indian Movies | After television broadcast | Yes |
| Colors TV Soap Operas Aired on | Post tv telecast | Prior to tv telecast |
| Quality of the Video | HD 720p | FHD 1080p |
| Number of Screens Available | 1 screen | 4 screen |
| Ad-free Streaming | No | Yes |
Details of Voot Free Subscription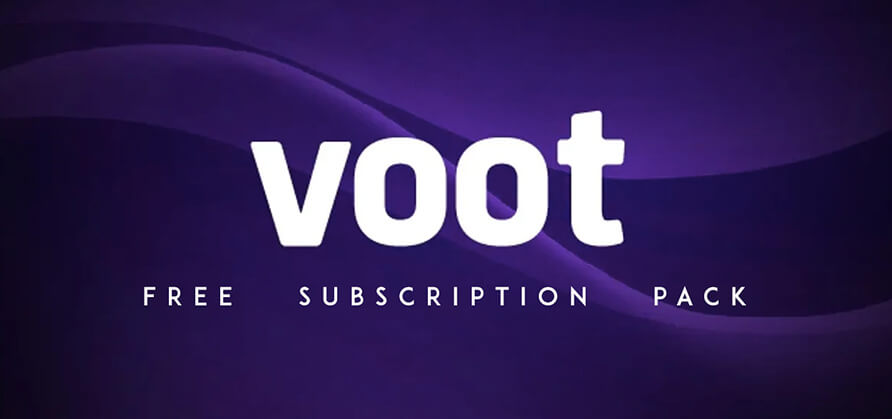 Voot hasn't offered any free subscription for voot select yet but it provides a free trial of 14 days for newly registered voot customers. If you are looking to watch voots premium content you must have a voot select monthly or annual subscription. But voot also offers certain contents for the voot account holders that do not require any fee or charge. Voot lovers are always curious about knowing more about free access to voot select but unfortunately, it is not available currently apart from the 14 days free trial.
However, if you wish to get a voot select trial here are a few steps to follow.
Download the voot mobile application or pay a visit to the voot select website
Once the app is installed sign up or log in using your password and id.
Open the settings and choose voot select option
You will end up with a screen offering two options: annual subscription option and monthly voot select option
Both of the options will offer a different number of trial period days will be 3 days for the monthly plan and 14 days for an annual subscription
Select the option you prefer
In the next step, you should enter your card details or future payment plan details to continue accessing the service also note that you will not be charged any cost before the expiration of your free trial period
The good news is you can cancel the subscription during the free trial or before the end of the trial period you don't have to pay a single penny.
The trial period is offering a chance to the customers to get to know the voot select contents and privileges if you wish to continue you can or else you can end the commitment with no questions asked.
Popular Voot Subscription Offers and Way to Avail Them?
Offers and discounts play a key role in the hyping of services that are meant to cater to or entertain customers. This will also enhance the chances to be purchased. Here we are going to discuss the most popular list of best voot select subscription offers and discounts and ways to avail of them.
Get up to 50% Discount on Voot Select Yearly Subscription Plan
Purchase an annual subscription of voot select at Rs. 499 which is originally Rs.999
No extra coupon or promo code required
70% Flat off with an Added 30% Discount with a Special Voot Coupon Code
You must have a promo code to avail this offer
The original price is Rs 999
The offer price after using the promo code is just Rs.299
Apply the voot promo code to activate an extra 30% discount
This will help you to get the voot select yearly subscription for just Rs. 209
Please note that this is a limited period offer
Get Access to Premium Content:
Entertainment for 24x7 which is ad-free
Live Television broadcast
Early access to international and national tv-shows
HD quality
Offer is limited to the yearly subscription plans
Voot Kids: 20% Flat off on Unlimited Kids' Content
Redeem this chance to get unlimited kid-friendly content for your little champs. By availing of this 20% flat-off promo code, you can get a great deal for voot kids. Which will offer you unlimited cartoon and kids shows which are internationally and nationally well-liked. Try not to miss out on this great deal!
Get a Free Voot Select Subscription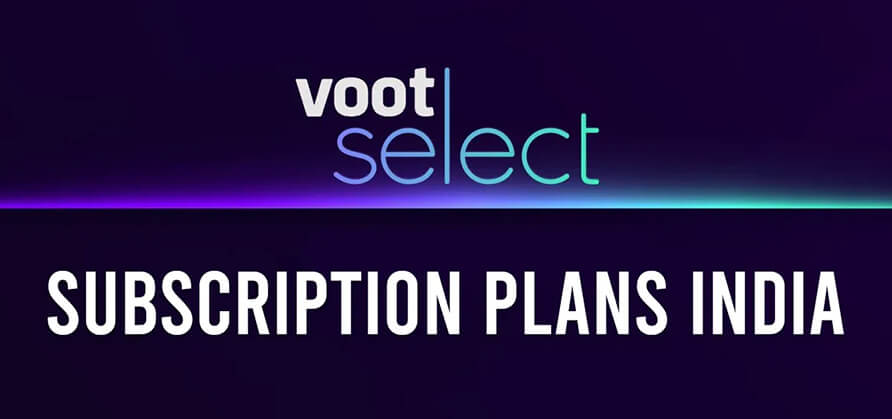 Jio Fiber Broadband Connection
Luckily there are few options to get voot select for customers who do not wish to pay for them you can avail of a free yearly subscription by taking a jio fiber postpaid or prepaid connection. Jio fiber connection comes in handy with a free voot select premium membership. In this way, you get tons of data along with a voot select platform for a single cost. 
Many customers have chosen this offer as they find it more convenient and beneficial. Now, to help you more understand the details of it Let's have a closer look at the plans jio fiber broadband is offering which comes with a free voot premium access.
JioFiber's Prepaid Plans offer bundled subscriptions to various OTT platforms
JioFiber prepaid plan of Rs. 999 
JioFiber prepaid plan of Rs. 1499
JioFiber prepaid plan of Rs. 2499 
JioFiber prepaid plan of Rs. 3999 
JioFiber prepaid plan of Rs. 8999 
Postpaid Plans of JioFiber which  provides bundled access to the OTT service:
JioFiber postpaid plan of Rs. 5994 
JioFiber postpaid plan of Rs. 8994 
JioFiber postpaid plan of Rs. 14994 
JioFiber postpaid plan of Rs. 23994
JioFiber postpaid plan of Rs. 50994 
Activate the Premium Subscription of Voot Select on JioFiber
To avail of this offer, you must take any above-mentioned prepaid or postpaid JioFiber broadband connection. To make this connection you should contact your local Jio telecom provider and request the activation after paying the charges. Post that you can activate the voot select premium plan by following the steps mentioned below.
Step -1: Once you have received the jiofiber broadband connection you should find the call transfer code. After receiving the code turn off your modem. The next thing you should follow is to connect your jiofiber modem to any outlet. Before doing so you should be well aware of various types of plugs for several kinds of fiber connections. Once the modem is connected successfully you can move to the settings menu of your router which is usually seen in the network section.
Step-2: The next step to follow is to create a VoIP account along with your chosen company for which you must use the jio account key and credentials. You also have to be aware of the user identity and passwords to get into the VoIP jio account. Then after completing the above-mentioned steps search for the button with a sign, now you are all ready to use your jiofiber system with the search engine of your preference.
If you have successfully connected to your jio VoIP account, all you need to do is to understand how to activate your free voot select subscription. To do that once again you need to open the network setting option on your modem, once you are there. You will see a " wireless settings" named section. Just below that field, there is a language button. This is the button you need to click on to continue further.
Step-3: Once you have made progress in all the above-written steps, click on the "ok" button. If you were successful in configuring the jio VoIP account with jio fiber, you are allowed to move to the next session by testing VoIP cells. Consider these all are the last steps of your voot select activation process hop on to the " call " button. Once you are done with these steps, you will be allowed to verify if your VoIP has been activated on your network.
After the completion of these steps, you don't have to worry about the configuration of your VoIP with the jio phone but you may have to add your phone number in some fields. After this, your jio phone may require some additional process to follow. Like to connect your jio phone to the internet, you will be asked to enter a personal PIN.
Step - 4: Luckily this is the last step you have to follow to succeed in the process of activating the free voot select subscription jiofiber offers. To set up the voot select to your smart tv, you will be asked to add an IR receiver code. To do so, you must have an IR receiver. To find out the IR receiver look into your smart TV remote control and you will get an IR receiver. If you can find a three-pong tiny plastic device in your remote control connect this to the smart TV.
Now you have done with the major part of the activation process the free voot select. The IR receiver which is already connected to your smart TV will help you to activate your voot select. To perform so, click on the tab named " activate" on the screen window. Now you are all set to enjoy your free voot select subscription with unlimited and ad-free entertainment content.
Timesprime Premium Subscription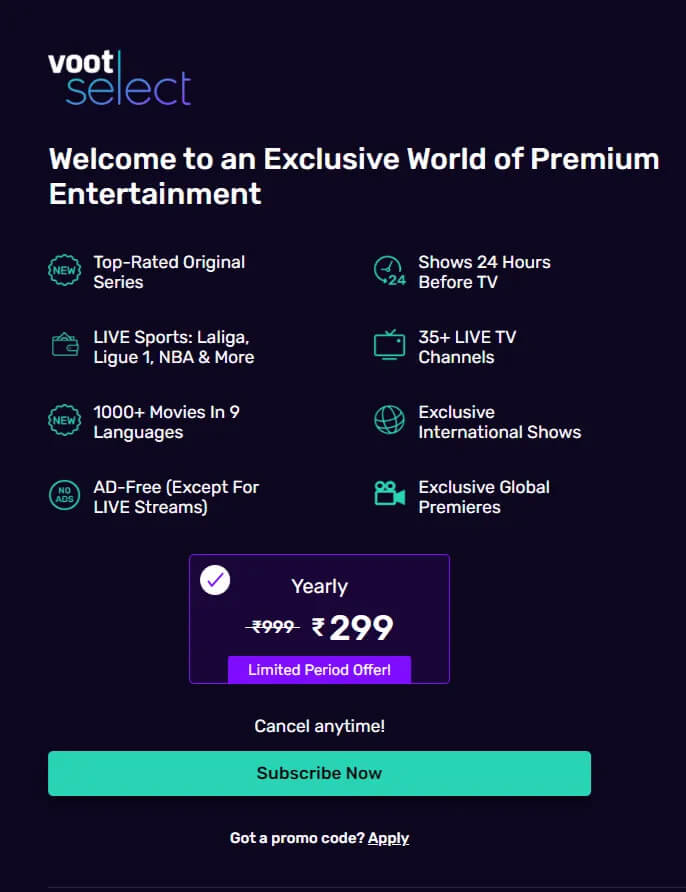 Times Prime is a premium membership program which is designed to modify every possible aspect of human life. Being an exclusive member of the service will give you countless benefits which include tons of entertainment contents and great benefits from your favourite top brands. It can be considered as a one time stop for most of your lifestyle, entertainment and fashion requirements.
If you have this exclusive membership you can avail a lot of free subscriptions of various OTT platforms like Voot, Amazon Prime, Disney Hotstar etc. 
Many voot fans consider this as a best chance for them to avail free voot select annual membership and an exclusive Times Prime membership in one take.
Steps to Follow to Take an Exclusive times Prime Membership
Pay a visit to www.timesprime.com
Click on the join button
Choose your convenient plan
Add your payment method
Enter your details, email and phone number
Check whether if you are eligible for any coupon codes or discounts
Complete your transaction and experience the whole benefits of Times Prime membership
Paytm first membership is also offering voot select free subscription
Just like Times Prime, Paytm First is also a kind of premium membership which will help you to experience the premium way of life. You can enjoy the benefits of 100 of top brands if you opt to take paytm first membership. It will fulfill your luxury travel needs, fashion, shopping, health, entertainment and a lot more.
Along with all these benefits Paytm first premium membership offers access to various OTT platforms including Voot, Amazon Prime, and Hotstar. Millions of people are using Paytm First Membership as an opportunity to get Voot select membership nowadays.
Conclusion
Voot is a prominent entertainment streaming platform with remarkable qualities and standards. It will let you watch various kinds of content at a low subscription cost compared to other popular OTT platforms. You can stream various kinds of entertainment and live programs like comedy, action, informative, love, and much more. 
The major specialty of Voot is it will allow you to stream programs of international origin in your preferred languages. 
In a nutshell, voot will allow you to spend your free time effectively in a pocket-friendly way. So what are you thinking? go grab the voot select deal immediately before the time-limited discount expires.
Go and get your voot select promo codes today and activate your next voot premium subscription to access the most entertaining ad-free content. Don't worry all the coupon codes and offers mentioned here are valid. So hurry up and kick your boredom out of the window.
Popular Voot Selects related FAQs
How many screens can you access with a single voot select subscription?
Single voot select subscription allows you and your family/friends to watch unlimited add free content simultaneously on 4 different devices maximum.
Are any free subscription plans available for voot which will provide unlimited entertainment?
The answer is yes, voot is available without any cost apart from its regular monthly and annual plan. But the content will not be added for free and it comes onboard with certain limitations. To watch voot in your preferred language along with additional free content you must have a subscription to voot select which can be available with certain discounts and promo codes.
What is the highest video resolution available?
The voot select subscribers can avail of 1080p which is the highest video resolution available in our on-demand video platform powered by Viacom 18. But keep in mind this resolution is only available on the devices which are designed to support it. Before expecting the high resolution make sure your device is compatible.
Can we be able to stream live channels on the voot platform?
Yes, our voot select subscribers are allowed to access Viacom 18 networks and 40+ channels. If you wish to access all these channels we suggest you join us with a voot select subscription
Can I enjoy the video in offline mode?
The answer is yes, fortunately, most of the videos are downloadable from the app. And you can watch later from your downloaded section while you are offline. Also, note that contents that can download will be labeled downloadable.
Can we download the episodes or shows without opening them?
Sorry to say, as of now you have to open the content first you wish to download. We are hoping to meet you guys soon with an update that will let you download without opening the content.
Will we be able to watch international shows offline after downloading them?
Yes, you can, you can download any programs in the voot which is showing a download option along with that.