This generation supposedly values the environment much while simultaneously watching their spending to be within their means. Consequently, it appears that a phrase is becoming more popular in our lives.
For several causes, practically everyone in today's society is familiar with thrifting. While some people could favour thrift stores because they have limited funds and a need for fancy goods, others might do it just to save the environment. The same reason has led to the development of thrifting as a powerful weapon against some of the drawbacks of the quick fashion sector.
To further that idea, the same phrase is sometimes known as slow fashion or sustainable fashion.
About Thrift Stores In Mumbai
Thrifting, to put it simply, is the act of going on a shopping binge at a flea market or thrift shop where one can readily obtain upscale used products for a drastically discounted price. Now, considering that they could not be in good condition, one might question whether the goods offered at these markets are truly worthwhile to purchase.
Because the past owners of the items sold at these markets typically loved them, they are always in good condition for the next buyer. The affection we have for the clothes, accessories, shoes, and countless other things we own is something I'm sure many of us can identify with. Another advantage of thrifting is that a lot of these items are not available in the market anymore. let's check Thrift Stores In Mumbai.
Top Thrift Stores In Mumbai
While there are many benefits associated with thrifting stores, we must also have the appropriate hunting abilities for the items we wish to look out for. In addition, many of us might not be aware of the abundance of secondhand stores and flea markets nearby, resulting in our continued overspending on fast fashion.
Therefore, let's have a look at a couple of the most incredible flea markets and thrift stores in Mumbai.
Chor Bazaar, Mumbai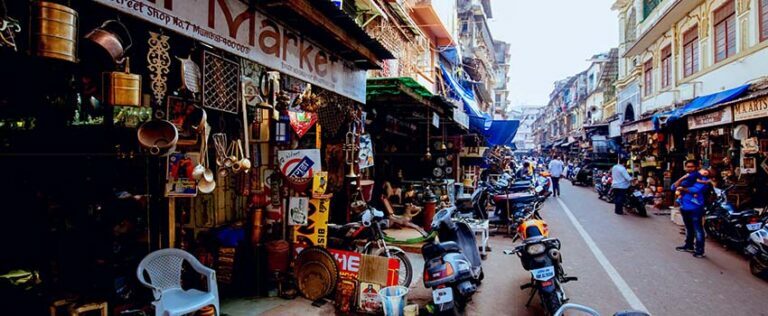 The Chor Bazaar in Mumbai is one of the best Thrift Stores In Mumbai and is sure to excite any serious enthusiast of secondhand shopping. This well-known bazaar, which dates back to the mid-19th century, attracts odd goods from all across the nation and from various eras. Whether you're looking for spare car components or posters from 80s Bollywood movies, Chor Bazaar has all you need and then some.
Mumbai's Chor Bazaar is among India's most famous, biggest and oldest markets.
The Thrift Store is located at Mutton street, near Bhendi Bazaar in Grant Road, South Mumbai.
Bombay Closet Cleanse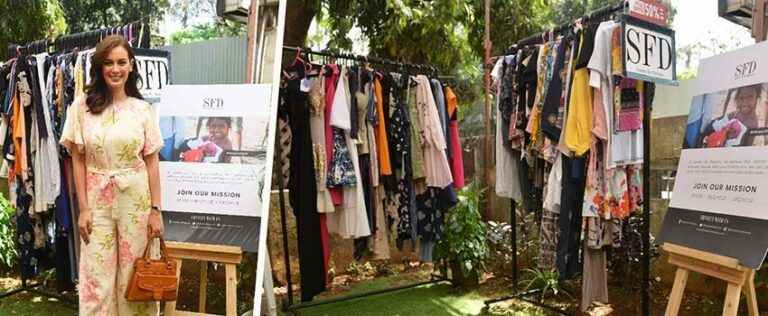 A modest house garage sale catalyzed a quiet campaign to encourage a less wasteful way of living and a greater awareness of our impact on the environment.
Bombay Closet Cleanse think that what one person discards can be someone else's treasure. The clothes in people's closets that have been unused for years and years could provide a lot of joy to someone else.
To curate unique pieces that add value to your closet, Bombay Closet Cleanseheaded out to thrift stores, secondhand markets, export surplus businesses, and people who have things to give away.
They are always thinking of ways to help, whether it's organising thrift pop-up experiences, working with like-minded entrepreneurs, making exciting, repurposed items, or donating clothing to those in need.
a women-owned resale and consignment shop that strives to promote circular fashion.
They sort through thousands of articles of clothing that come from donors and resellers throughout the globe to produce gorgeous, inspirational collections that delight fans of vintage and thrifted apparel.
The Thrift Store is located at Shop No 10, Silver Pearl Building, Waterfield Road, Bandra West, Mumbai, Maharashtra 400050.
Colaba Causeway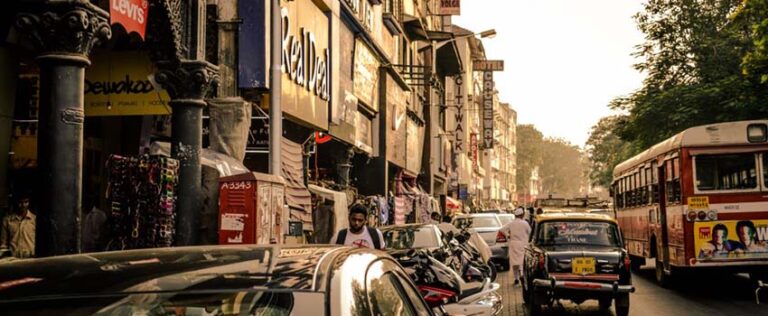 The Colaba Causeway sometimes referred to as Shahid Bhagat Singh Road, is a significant causeway/commercial street that connects Colaba to the Old Woman's Island in Mumbai, India.
The Taj Mahal Palace & Tower and the Gateway of India, two of Mumbai's well-known attractions, are nearby. It is located adjacent to the Fort neighbourhood and the east of Cuffe Parade, an upscale neighbourhood in South Mumbai.
The best selection of imitation traditional jewellery in the city can be found at Colaba Causeway, one of India's most well-known street markets. Among other things, the numerous sellers along Causeway sell used books, gadgets, clothing, shoes, purses, and souvenirs. When you need a break from shopping, head to Café Mondegar, which is located at the northernmost point of the Causeway.
This Thrift Store is located at Bakery Ln, Army Area, Nofra, Navy Nagar, Colaba, Mumbai, Maharashtra 400005.
Linking Road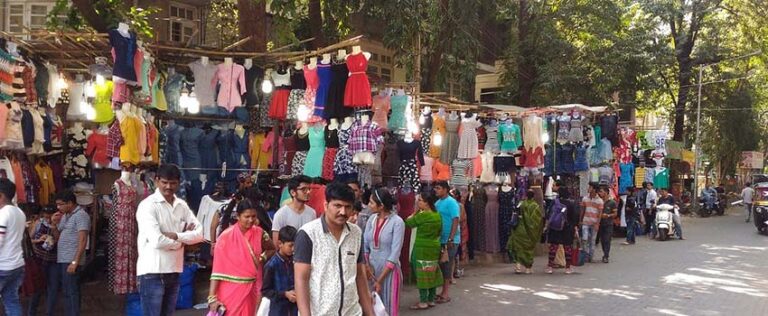 Linking Road is a great option for those wishing to indulge in street shopping while also having close access to upscale boutiques and upscale businesses, making it another excellent spot for thrift shopping in Bandra. The market has a lot to offer, from clothing and accessories to electronic devices.
In terms of sales and foot traffic, Mumbai's Linking Road connects Bandra to Santacruz West, making it the country's third-largest shopping area. One of the earliest arterial roads "connecting" the remote suburbs of Bandra and Juhu in the 1940s was Linking Road. Dadabhai Navroji Road was the original name of the street.
The Thrift Store is located at 33rd Rd, Khar, Khar West, Mumbai, Maharashtra 400052.
Bhuleshwar Market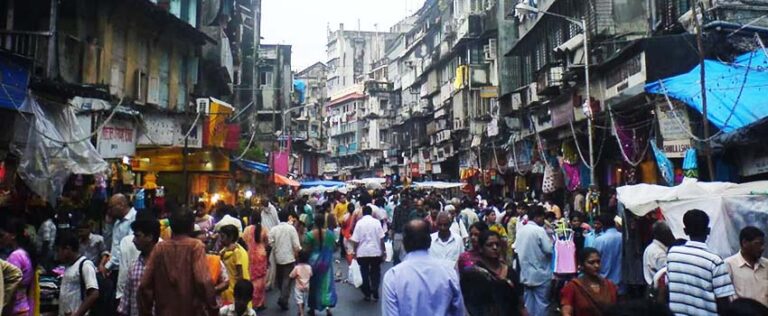 Mumbai's important area of Bhuleshwar is well-known for its sizable and diverse market. One of the biggest retail hubs in the city, the neighbourhood is also surrounded by Crawford Market, Mangaldas Market, Zaveri Bazaar, and Chor Bazaar. Due to its reputation as the perfect place to shop for weddings, the market is also known as a "Bride's Market."
From bridal attire to shoes, tassels, and jewellery, you can buy it all here. The market's jewellery section, however, is its main draw. You can get lovely oxidised jewellery, stunning counterfeit jewellery, junk jewellery, and more here.
In addition, you can find additional items here, such as linens, cutlery, and everyday necessities for the home.
Things you can buy from this market are:
Imitation Jewellery
Flower jewellery and accessories
Latkans and tassels
Bangles
Lehngas and apparels
This Thrift Store is located at Bhuleshwar Road, Marine Lines East, Panjarpole, Bhuleshwar, Mumbai, Maharashtra 400002.
Crawford Market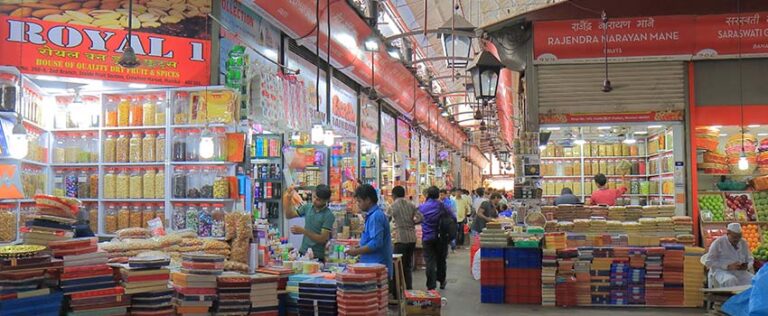 One of Mumbai's most popular markets for shopping is Crawford Market. Its formal name is Mahatma Jyotiba Phule Mandai, and it can be found in South Mumbai.
Crawford Market is well-known for its selection of wholesale goods, including bags, stationery, apparel, fruits, vegetables, chicken products, home decor items, and stationery. It is also renowned for holding some of Mumbai's most renowned pet stores.
in addition to the stunning architecture, expect to encounter numerous merchants selling items like scarves, table mats etc.
Additionally, you'll see that this market has separate lanes, each of which is devoted to a particular kind of goods, such as party supplies, fruits and vegetables, home perfume, decor, stationery, fruits and vegetables, and spices.
This Thrift Store is located at Lokmanya Tilak Rd, Dhobi Talao, Chhatrapati Shivaji Terminus Area, Fort, Mumbai, Maharashtra 400001.
Manish Market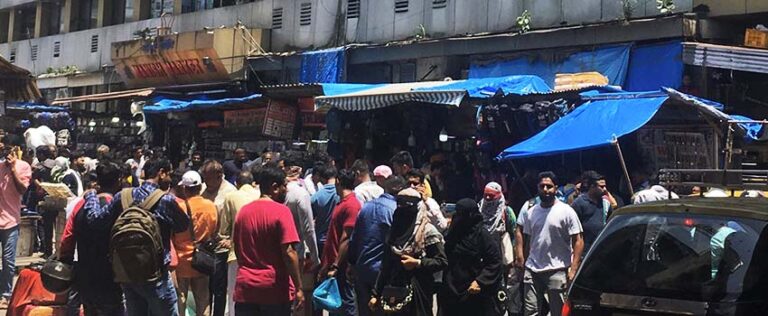 The Manish market in Mumbai is currently one of the nation's largest wholesale and retail markets for Chinese goods. Manish Market is a large retail centre with more than a hundred businesses, the majority of which specialise in selling mobile phones and related accessories. This marketplace is next to the well-known Crawford Market.
Mobile enthusiasts may only purchase at an extraordinary price at Manish Market. Even though these fantastic brands may be classified as "second-hand products," they are wholly original items produced by the company.
Mumbai residents who are unable to afford branded smartphones or smartphones throng to Manish Market to purchase Chinese smartphones & cheap smartphones at incredible discount rates.
The Thrift Store is located on the ground floor, Senapati Bapat Marg, beside Kohinoor Technical institute, opposite the flowers and petals shop, Dadar West, Dadar, Mumbai, Maharashtra 400028.
Fashion Street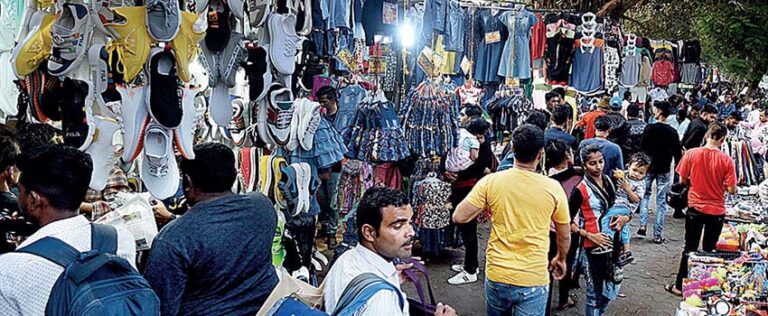 Fashion Street in Mumbai is all about the newest fashion trends, a wide selection of clothing, and the mouthwatering smells of street cuisine. One of Mumbai's most popular shopping destinations, especially for students, the location offers some of the hottest and newest designer clothing at unbelievable discounts.
It offers a selection of over 150 shops close to CST (Chhatrapati Shivaji Terminus) that sell a huge variety of clothing and accessories. Shopaholics will find paradise on fashion street because of the abundance of goods available.
Shopping at Fashion Street can be extremely confusing for those who are unfamiliar with it. Even the designer brands that are offered here at a discount can be found here.
This Thrift store is located at New Marine Lines, Churchgate, Mumbai, Maharashtra 400020.
What serves a thrift shop's purpose?
Thrift shops offer merchandise for consumers of all economic levels because of their inexpensive prices. They enable people on low incomes to purchase high-quality goods that would be more expensive in other outlets. These things include apparel, furniture, home accents, toys, books, minor appliances, and more.
What makes it a thrift store?
Additionally, the language had evolved: The term "thrift" once applied to what were seen as "junk shops," and it represented a marketing strategy that encouraged middle-class women to "feel good about buying something new because they can give something back''.
Who are thrift stores' intended customers?
Although thrift stores were first intended to serve people with lower incomes, people of all ages and socioeconomic backgrounds have begun to frequent them as a result of thrifting's constantly growing appeal.