Air Conditioning has become the topmost priority for the Indian population to survive the hot and humid climate. Winters can be spent with heaps of warm clothes and getting yourself stuffed under a blanket but sustaining Summers in India requires additional support from electrical and electronic devices. Air Conditioners can certainly create a relaxing environment, especially when you are coming home or home from a long commute or hot summer day in India. The feeling evokes a sense of comfort and satisfaction amongst the consumers. Although in the past, Air Conditioners were considered as a symbol of status or luxury with the accessibility of numerous options based on affordability, features, and use, the consumer base for ACs is growing exponentially. A number of options sometimes confuse the consumers for making a choice or leading towards a final buying decision. Don't you worry about that, we are here for that! Let's look at the exhaustive and well-thought-out list for you, so that you can just enjoy the luxury without sweating in the process of making a choice. 
A Normal vs. an Extraordinary AC
A basic air conditioner is bulky and does not reflect refined performance. These air conditioners have frequent maintenance requirements and are poor at balancing the low and medium temperature for a longer duration. Due to their poor to average performance and high maintenance cost, normal air conditioners are not energy efficient. 
On the other hand, an extraordinary air conditioner has the capacity to maintain its temperature for longer durations and does not experience a hot summer day. These ACs have numerous features starting from being energy efficient and lower maintenance periods. 
List of the Factors considered for buying an AC 
Here are a few factors which should be taken into account before making a final buying decision of an Air Conditioner:
The technology of the AC
Based on the preferred duration of usage, there are two categories of AC:
    Inverter AC: Its key features include exceptional ratings for energy efficiency. These ACs are best for both commercial and domestic usage. 
    Normal AC: The features of normal AC are cost-effectiveness, low maintenance costs involved, and usage rate of 3-4 hrs. in a day. 
AC types
    Split AC: Split ACs have both indoor and outdoor units and encircle the features such as durability, low noise, energy-efficient but expensive for installation.
    Window AC: The Window AC is the traditional form of air conditioner which involves features like low installation costs, easy relocation, and bulkier design. 
The type of air conditioner can also be divided on the basis of the following categories:
    Window or Split Air Conditioner 
    Office or Home Purpose 
Energy Efficiency
This is a significant feature to consider before making a final decision as a lot of people in India restrict themselves from investing in an AC due to the fear of electricity bills associated with its usage. 
Budget
The willingness to pay for a quality air conditioner defines the budget of a user. Setting up a budget can be very impactful in seamlessly arriving at a buying decision for such a major investment. Buying an air conditioner can be a one-time affair, which requires careful consideration. The preference of choosing an affordable or premium air conditioner will depend on the individual budgets. 
Promotional Deals
The brands offering air conditioners usually present various tempting deals as promotional strategies for attracting the target customers. The type of deals may vary depending on the occasion such as Diwali, Holi, and seasons like Winter or Summer. Deals also include a warranty or guarantee for the product for ensuring quality product and service amongst the customers. Air Conditioner brands also offer the deal for maintenance services, for example, 'Three free servicing on the purchase of 45k rupees product'. 
Customer Service
This should be one of the most significant criteria for making a decision on air conditioners. A product manufacturing or offering company should always ensure quality service association for maintaining and growing its customer base. Customer Service is a very crucial feature for air conditioner companies as the appliances require maintenance for long-lasting smooth operation. Well-structured responsive customer service can boost the rank of an Air Conditioner brand. 
Best Air Conditioners Brands of India
Most Indians have become more conscious of brands in the past decades, where they find themselves choosing between a few brands just because they are well-known and have a long operating history. However, a rational decision can only be made when the comparison process involves various factors such as efficiency, performance rate, innovative features, advanced technology, and of course price. 
LG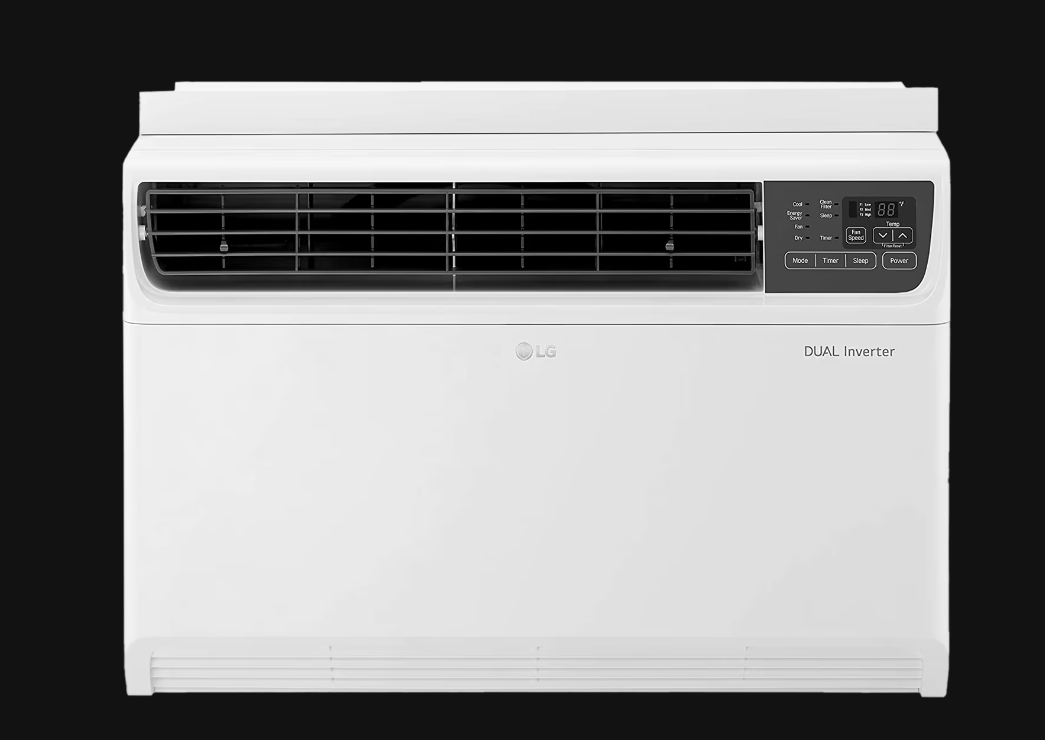 *Full Disclosure: We earn a commission if you click this link and make a purchase, at no additional cost to you.
LG is a South Korean company with the vision of making our 'Life's Good'. LG offers a wide range of electrical and electronic appliances. LG is a well-known old brand, which attained more popularity from word-of-mouth than regular advertisements. Along with its hi-tech features, LG has also improved its operations with its energy-efficient solutions. The hi-tech features have also included voice commands and switching to just inverter power. LG ACs can also be operated with the help of a mobile application from your handheld devices, which adds to the overall experience of operating an AC. Apart from the advanced technology, LG offers a sleek design and sophisticated look. LG's split ACs also have several colors to choose from. LG also introduced a newer form of 'Dual Inverter Compressor' technology, which consists of a dual rotary motor that is built-in in the Air Conditioners. LG offers these new-technology ACs at reasonable rates between 35k to 50k rupees. 
A few of the best models of LG are as follows:
    LG KS-Q18ENZA, 5 Star, 1.5 Ton, Inverter Split AC with price offering of 42k
    LG L-Nova Plus LSA3NP5A, 5-Star Split-AC, 1 Ton with a price offering of 30k
    LG JS-Q18NPXA, Dual Inverter Split AC, 1.5 Ton, and price 40k
Carrier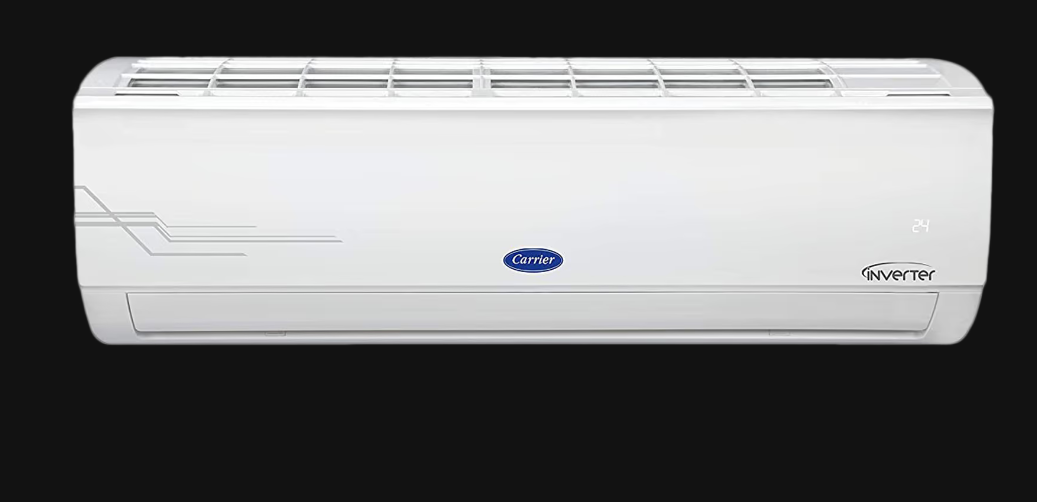 *Full Disclosure: We earn a commission if you click this link and make a purchase, at no additional cost to you.
Carrier or Carrier Corporation is a US-based company founded in 1915 by Willis Carrier. Carrier is known for offering stylish air conditioners which are complemented by the systematic cooling system. The all-rounder approach of the products involves energy-efficient features, quieter operation, and sleeker designs. Its usage or acceptance can be widely witnessed for commercial purposes, in offices, malls, and supermarkets, which proves its high-quality cooling power. Despite their heavy-duty performance in the business units, these air conditioners do not demand high maintenance because of their high durability and quality compressor. Another reason for its popularity can be its quieter system, which does not disturb the important meetings in an office. Although these air conditioners are durable or strongly built people have various complaints regarding the low accessibility for replacement parts, i.e., if a buyer needs to change any damaged or non-functioning part of the air conditioners, the replacement parts are not easily accessible, which harms the ultimate purpose of long-term loyalty. The price range of Carrier air conditioners is between 35k and 60k. 
Few top-rated and best Air Conditioners of Carrier are as follows:
    Carrier (CAS12EK3R39F0 + CF123R3CC90), 3 Star, 1 Ton, Split Air Conditioner with price up to 30k
    Carrier (ESKO + HYBRIDJET INV R410A, CAI18EK3R49F0), 3 Star, 1.5 Ton, Split Air Conditioner, Inverter with the price up to 38k
    Carrier (ESKO + HYBRIDJET INV R410A, CAI24EK3R49F0), 3 Star, Split Air Conditioner, 2 Ton with price up to 60k
    Carrier (ESKO NEO HYBRIDJET INV R32, CAI18EK5R39F0), 5 Star, 1.5 Ton, Split Air Conditioner with the price up to 43k
Blue Star 
Blue Star is a home-grown company, which was established in the year 1943. The company usually targets comparatively lower-cost ACs for middle-class families. Along with its lower-cost ACs, the company also offers premium products with better technological features. Blue Star ACs are known for easier operations and faster cooling. The Air Conditioners are well-reviewed for their power-saving features, the ACs consume less voltage. The price range for which Blue Star offers their air conditioners is between 25,000 to 1,00,000 (rupees).
Few popular and best models of Blue Star are as follows:
    Blue Star (IC326YATU), 3 Star Split Air Con., 2 Ton with the price up to 60k
    Blue Star (5W18LC), 5 Star Window AC, 1.5 Ton with price up to 27k
    Blue Star (3HW18AATU), 3 Star Split AC, 1.5 Ton with the price up to 35k. 
Hitachi
Hitachi is a Japan-based brand, which was founded in the year 1910 and established in 1920. The owner of the company is Toshiaki Higashihara. This international consumer electronics company is very popular amongst Indian buyers due to its approach towards middle-class families with its affordable pricing. The air conditioners are not only affordable but consume an optimal rate of energy. Moreover, the eco-friendly ACs are pleasant to the eye as well with a stylish and sleek look. Hitachi focuses on the consistent improvement of technology and their designs of both window and split air conditioners. Hitachi ACs are available at a range of 35k to 70k rupees. 
A few of the best models by Hitachi are as follows:
    Hitachi 2.0 Ton Split AC Kashikoi 400i Inverter- R410A-RAU024CVEA, the price is up to 65k
    Hitachi RAC312HUD Split AC, 1 Ton, with price up to 35k 
    Hitachi RAV518HTD Summer QC, 5 Star Window AC, 1.5 Ton, with price up to 37k
Whirlpool 
Whirlpool is a renowned US-based company, which has been operating since 1911. The company offers high-quality products specializing in electrical appliances. This internationally based company has successfully established its impact over the vast Indian markets. Along with its high-selling products like washing machines, refrigerators, and chimneys, Whirlpool ACs are sleek with a cost-effective range and cutting-edge technological features. These ACs can easily complement your interior design with a range of attractive colors to choose from. Along with being energy-efficient, the air conditioners are IoT-enabled, which enables the users to control the temperature from anywhere through a mobile application, which adds to the hi-tech experience of the users. The newer models of Whirlpool air conditioners offer an innovative form of 3D cooling technology. The products are low-maintenance and are highly durable. Whirlpool ACs are very affordable based on their value offerings, it ranges between 25k to 60k. 
The best-selling AC models by Whirlpool are as follows:
    Whirlpool 3D Cool Eco, Inverter Split AC, 1.5 Ton, with price up to 40k
    Whirlpool Magicool COPR 5S, Window AC, 5-Star, 1.5 Ton and price up to 27k 
    Whirlpool 3D Cool, 3 Star, 1 Ton, Split AC and price up to 35k
    Whirlpool EZ Fantasia COPR 3S, Inverter Split AC, 1 Ton and price up to 30k
Sanyo 
Sanyo, a Japanese-based company was founded in the year 1950. The parent companies of Sanyo are Panasonic and Haier. The Panasonic association has helped in boosting the popularity of Sanyo products. Sanyo's air conditioners are of good quality with an average of 3-Star rating. The newer models of Sanyo offer the technology of an inbuilt dual cool inverter system, which allows the air conditioners to boost the temperature by also being energy efficient. Sanyo ACs do not require frequent maintenance, especially because of their 100 percent copper condensers, which restricts corrosion in the units. The average price range of the Sanyo ACs is between 25k to 45k. 
Here is the list of the well-accepted models in the Indian market:
    Sanyo (SI/SO-20T3SCIA), 3 Star, 2 Ton, Wide Split AC, Dual Inverter Technology with price up to 40k
    Sanyo (SI/SO-10T3SCIA), Inverter Split AC, 3 Star, 1 Ton with price up to 25k
    Sanyo (SI/SO-15T5SCIA), 5 Star, 1.5 Ton, Wide Split AC, Dual Inverter Technology with price up to 35k
    Sanyo (SI/SO-10T5SCIA), 5 Star, Inverter Split AC, 1 Ton with price up to 30k
Voltas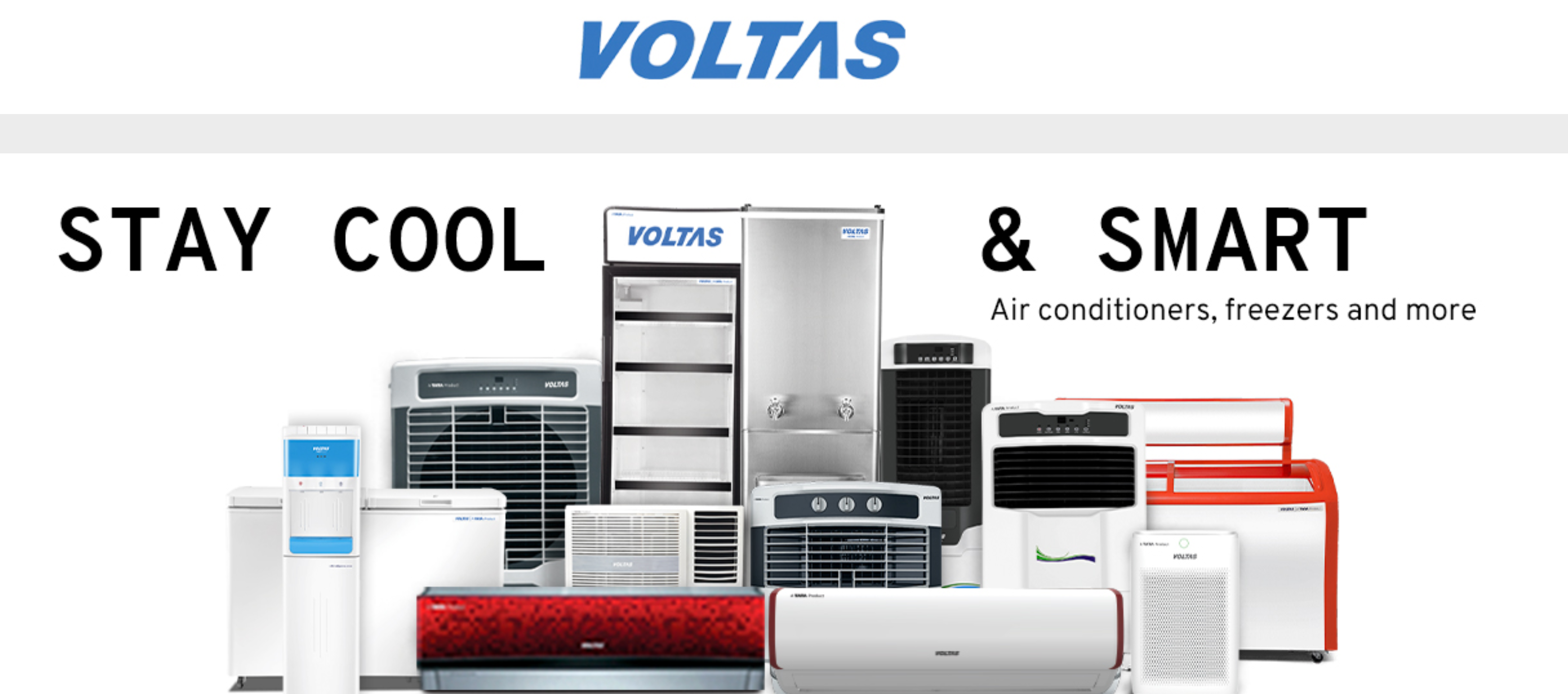 *Full Disclosure: We earn a commission if you click this link and make a purchase, at no additional cost to you.
Voltas is an Indian brand and is commonly referred to as the 'common man's air conditioner'. It has one of the top-performing ACs amongst the competitors in India. The company's market share in the air conditioner category is around 20 percent. Voltas Limited belongs to Tata Group, which adds to its trustworthiness. The air conditioners of Voltas' rate between 30k to 60k. Based on the prices offered, the company successfully includes a range of hi-tech features in their products along with the feature of energy efficiency. The air conditioner includes a wide range of models with a sleeker look and even available in vibrant colors. 
Here are some best-selling Voltas ACs for you:
    Voltas 185v DZV, 5 Star Inverter Split AC, 1.5 Ton with the price up to 40k 
    Voltas 183 VJZJ4, 3 Star Inverter Split Air Conditioner with 1.5 Ton and price up to 34k
    Voltas Jade 185 JY, 5 Star Split AC, 1.5 Ton with the price up to 45k
    Voltas 123 CZA, 3 Star Split AC, 1 Ton with the price up to 30k
Daikin 
The Japanese brand, Daikin, is an air conditioning manufacturer. The company was founded in 1924 by Akira Yamada. This multinational organization is a globally recognized brand for its world-class ACs and it is also establishing a strong foothold in Indian markets. The majority of the products produced by Daikin are energy efficient and are eco-friendly, which greatly influences the decision of the buyers. Better power-saving features of the air conditioners can be witnessed with a majority of 5-Star rating products. The air conditioners of Daikin are mostly one-color based with a sophisticated outlook. With around 6,400 Daikin outlets in India, it has surely experienced a major boost in its sales. The average price range of Daikin is between 35k to 65k. 
Some well-accepted AC models by Daikin in India are mentioned below:
    Daikin ETF50RRV161, Split Air Conditioner, 1.5 Ton with price up to 40k
    Daikin FTKD 71 FVM, R-22 Split Air Conditioner, 2.2 Ton Inverter with the price up to 58k
    Daikin ETF50RRV1615, Split Air Conditioner, 1.5 Ton, with price up to 42k
    Daikin FTKP60PRV16, Split Air Conditioner, 1.8 Ton Inverter with price up to 60k
We hope you have developed your insights about the various AC brands along with the understanding of the factors, which can act as a base for making the final buying decision. Now, let's look at the list of most 'Frequently Asked Questions' for the buying decision of an Air Conditioner. 
Wrap Up 
The above discussion presents you with an exhaustive insight regarding the best Air Conditioner brands for Indian markets. Indian summers desperately demand durable ACs with advanced features to satisfy youngsters' hi-tech demands. You can find a list explaining the factors that should be considered before making a final buying decision. Moreover, an Air Conditioner is a high-investment product, which requires careful consideration of priorities. After gaining knowledge about the factors, you can choose your favorite brand from the best possible list of Air Conditioner brands in Indian markets. Further, you can witness an array of possible questions which are commonly asked by Indian consumers for choosing the AC, which can be most suitable for them. We wish you a happy buying experience. 
What should be the main factors for consideration before buying an Air Conditioner?
The main factors, which can contribute to the final buying decision of an Air Conditioner are budget, customer service, type, and technological advancement of the product. 
Which Air Conditioner brands have the best durability for Indian summers?
The best brands with lasting durability in their Air Conditioners are Blue Star, Sanyo, Whirlpool, Voltas, and Blue Star. These brands have established their reputed positions in the Indian market due to their capability of withstanding Indian summers or longer durations of cooling for years.
Which brands offer the best Air Conditioner servicing?
Servicing the Air Conditioners is crucial for elongating their life or durability. Regular and quality servicing also reduces the costs associated with damages or replacements. The brands which offer an extraordinary servicing facility for Indian consumers are Whirlpool, Hitachi, and LG.
Which brands are the best for Inverter Air Conditioners in India?
Inverter Air Conditioners can be seamlessly used with just the connection of a single inverter. Invert ACs are most suitable for you if your area seems to experience numerous power cuts. The best brands suited for running with your single inverter are LG and Hitachi.
Which is the best brand targeted at lower power consumption?
You can recognize a quality power-saving brand by witnessing the star ratings, such as 3-Star, 5-Star. The brands with 5-Star ratings will be suitable for lower power consumption. You can select from the brands like Voltas, Daikin, Hitachi, and Blue Star. Amongst these brands, Daikin can be the best alternative as the brand's majority of the Air Conditioner models are of 5-Star ratings.
Which is the best Air Conditioner brand for personal usage in India?
For deciding on the home ACs, you need to consider a few deciding parameters such as cost-effective, energy-efficient, and quick cooling. Such parameters can be satisfied by brands such as Sanyo, Blue Star, Voltas, and LG.
Which brand of AC can be the best for corporate use?
Carrier can be the best brand of Air Conditioner for your corporate use as its products are highly durable, with stylish and sophisticated looks. Another best feature of Carrier's Air Conditioners is its quieter operation, people cannot even realize the presence of an AC but can enjoy the high cooling mechanism.
Which can be the best brand in offering split AC for Indian consumers?
Based on the higher price range of a split Air Conditioner, the decision needs to be carefully taken. It would be better to invest in the trusted brands with splendid customer services and advanced features such as Whirlpool, Daikin, and Hitachi. You can easily choose from these brands for your demand for a split AC. On the other hand, despite the highly durable and advanced ACs of Carrier, you can skip this brand for such a high investment because it has a drawback of lower accessibility for its parts, which can be required in case of replacement purposes.
What is the best brand for air conditioners in India? 
This question cannot have an answer of a single brand, because we have presented you with a list of best brands, which offer quality products. The decision of the best AC for your needs to be made based on the understanding of the factors and by deducing your priorities. Your priorities may include, affordable or premium, stylish, eco-friendly, office use, or home use. Everyone's priorities may differ from one another. We suggest you get a strong grip on the brands and make a list of your priorities, match every brand's features with your priorities and there you have it, the best Air Conditioner brand for you in India.