Saffron, the most expensive spice of the globe, is derived from the crocus sativus Linné flower, which is grown majorly in various regions of Europe and the Middle East. Saffron is always linked to countries like India for its Kashmiri saffron, Spain and Iran. India is also becoming an evident cultivator of India. Saffron is commonly known as Kesar in India. The saffron is the dark red stigma of the flower. The stigma is very carefully removed from the flower with delicate pull from the hands and then dried for its purpose of a spice. Saffron has multiple applications in people's lives. It is used for health conditions such as Alzheimer's, menstrual cramps, anxiety, and depression. Saffron is commonly used in food in the form of a spice, a flavoring ingredient, and also as a yellow food color. Moreover, saffron is also used in the form of perfumes due to its fragrant properties as well as a medium for dying clothes. Saffron possesses numerous health benefits and it does not cause any form of side effects, thereby can be consumed by any age group. 
Why is Saffron Expensive? 
Saffron is supremely expensive with a cost between 500 to 5,000 U.S. Dollars for 1 Pound. One of the reasons behind the saffron being expensive is that it is labor-intensive work to harvest the stigma from each flower by just the use of hands. A thread-like stigma is extracted from the flower, a single pound of saffron requires 75,000 saffron blossoms. Apart from its labor-intensive job, it is a very complicated process of preparing the consumable saffron from the crocus flower. The flower blooms for a very short period, making it an expensive affair. 
Origin of Saffron 
Saffron is believed to have originated in Greece, where it was cultivated for the first time along with the recognition of the medicinal properties. In the past, people in Greece used to consume saffron for uplifting mood and for enhancing memory. Saffron was also primarily grown in Iran, India, and Morocco. 
Uses of Saffron
From the ancient period, saffron was used for various medicinal purposes. Saffron is used for therapeutic concerns related to respiratory, genitourinary, eye, digestive, and skin problems. With its rising health applications, our nation has been extensively researching saffron for arriving at exceptional health (both physical and mental health) benefits. There are several traditional application or usage of saffron all over the world:
    Scandinavians use saffron with the intent of baking bread, specifically known as 'Lussekatter'. 
    People in the Middle East make use of saffron with the combination of another spice, cardamom for enhancing flavors in their morning coffee. 
    People in Pennsylvania use saffron for adding color and flavor to their world-renowned pot pie. 
    From ancient times, Indians have been using saffron or Kesar in Mughlai cuisine in preparing 'shahi raan' and 'biryani'.  
Saffron: List of Top Benefits 
    Saffron has medicinal properties for uplifting mood and in treating depression, which is why it is also referred to as the 'sunshine spice'. 
    Saffron can also be consumed in the form of a strong antioxidant, which helps in protecting oxidative stress and free radicals. 
    Saffron can also treat menstrual cramps and even reduce Premenstrual Syndrome symptoms. 
    Saffron is also commonly used for precaution or protection against cold, cough, and fever by boosting our immunity system. 
    Saffron is used for calming the nerves and thereby helping in solving the concerns of insomnia, which is otherwise termed as a sleeping disorder. 
    Saffron can also be used for the retention of memory, which can be an ideal ingredient for people with memory loss and old-age people. 
    Saffron can also aid the loss of weight as consuming saffron supplements can reduce the appetite for frequent snacking.
    Other health benefits can be an improvement of eyesight and also helps in reducing the risk of heart diseases. 
How is Saffron Farming done?
Saffron farming is facilitated with the consideration of climate, soil, water, and season. 
Climate: Saffron grows perfectly in warm subtropical climatic conditions. The crocus plant flourishes with a minimum of 12 hrs. of sunlight. 
Soil: The soil for growing saffron needs to be sandy, loamy, acidic to neutral, and gravelly. The pH level for growing the best quantity of crocus plants is between 6 to 8. The soil should not be clayey and heavy. 
Water: Crocus or saffron plant does not require wet soil, the flowers bloom best with little water. 
Season: The months for harvesting the stigma of saffron out of the flowers are from June to September. The flowers start blooming in October and demand heat throughout the growing process. 
How to Harvest Saffron?
Extracting saffron from the flowers of the crocus plant can be an extreme labor-intensive work, as it demands a delicate pull in extracting the stigma from each flower by using hands. The whole process is very care-sensitive with a time-consuming harvesting and drying process. Moreover, the delicate art of picking stigma for saffron needs to be conducted in the morning between sunrise and within 10 am. 
Best Quality Saffron Brands of India
With the evident health benefits of saffron in India, production has grown exponentially. Let us discuss the top-most brands for selling saffron in India.
Baby Brand Saffron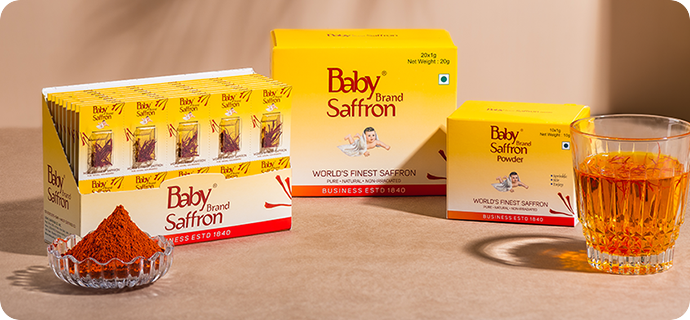 Baby Brand Saffron is one of the top-most brands for saffron consumed during pregnancy in our country. The premium quality brand is handpicked and is considered to be safe for any usage, especially used for cooking. This reputed company has been around for almost 175 years but yet hasn't reached its peak popularity. The product contains the combination of the wide presence of deeper red strands of saffron, which is mostly preferred, and yellow threads, which are present in a rare quantity. The MRP of Baby Brand Saffron is 240 rupees per gram. The company is also compliant with the ISO standards, which reflects its authentication and avoidance of zero chemical components, which can lead to food poisoning and indigestion. Only 3 to 4 strands are enough for ensuring the color, flavor, and aroma of this brand. 
House of Saffron-Kashmiri Kesar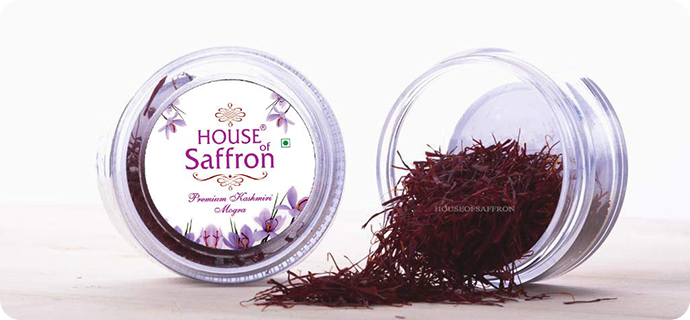 House of Saffron is one of the most renowned brands in India. This Kesar brand is popular for its deeper red color and for its purity, which makes it the best organic Saffron Brand (Kashmiri Kesar) in India. One of the reasons for its popularity can be its long-lasting quality and sophisticated packaging. This saffron brand can instantly enhance a recipe with its exceptional flavor and aroma. The MRP of the House of Saffron is 650 rupees per gram. The brand does not include any form of added preservative, color, and chemical flavoring agent, which can be harmful to human health. The container needs to be stored in a cool and dry area of the house for its complete long-term usage. The Kesar can be used for consumption or cooking by diluting a few strands in water or preferably in milk for extracting its flavor. 
Lion Saffron: 100% Pure Kashmiri Kesar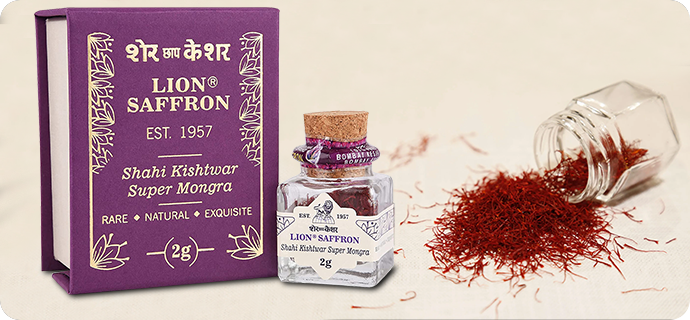 One of the best Kashmiri Kesar of India, which is recognized for its indifferent fragrance and exceptional taste. This kesar brand is safe for consumption for all age groups. With its organic nature, it can respond to various ailments or prevent its risks. Along with its medicinal properties, this brand can be easily included as an ingredient in both non-vegetarian and vegetarian recipes. The MRP of Lion Saffron is 399 per gram. Lion Saffron has a long-lasting shelf life, which is influenced by its quality and with its smart packaging, which involves the use of premium quality plastic blisters. 
Taj-Mahal Saffron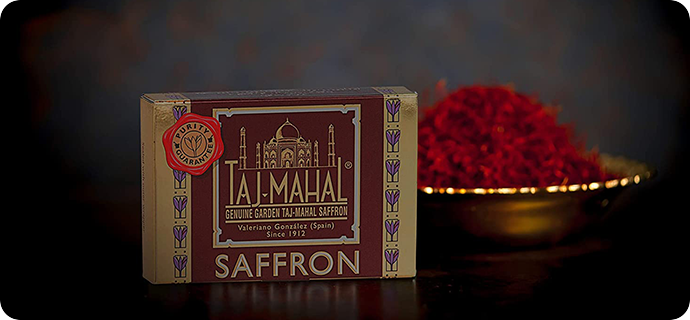 The name of the brand Taj-Mahal can directly portray the quality of the product. Taj-Mahal Saffron is a Spanish saffron variant, which offers exceptional aroma and flavor. Apart from the flavor and aroma, this brand offers a distinctive texture, which can be identified amongst various other brands. The saffron is completely safe for consumption and even can be recommended for both kids and pregnant ladies. One of the reasons for its popularity can be its finest quality. The MRP of Taj Mahal Saffron is 645 rupees per gram. 
The Gathering Spanish Saffron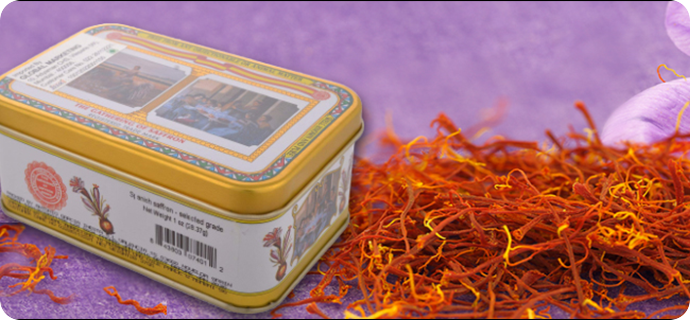 The Gathering Spanish Saffron is one of the best brands offering saffron in the entire world. The saffron quality is quite unmatchable and can be easily distinguished amongst different brands because of its thick and long threads. This is a Spanish variant of saffron, as it can be witnessed in the name itself and the saffron is extracted directly from European farms. The brand involves only a natural form of saffron with no chemicals or coloring, which makes it safe for consumption. The brand offers 100 percent organic saffron, which is healthy for all age groups, even women expecting a child can consume this brand's saffron without any risk of adverse side effects. It ensures an authentic taste with an out-of-the-world aroma, which can be experienced from across the house. The best outcome can be ensured by soaking a few strands in milk or water for around 45 minutes as preparation for your cooking. 
Noor Brand Saffron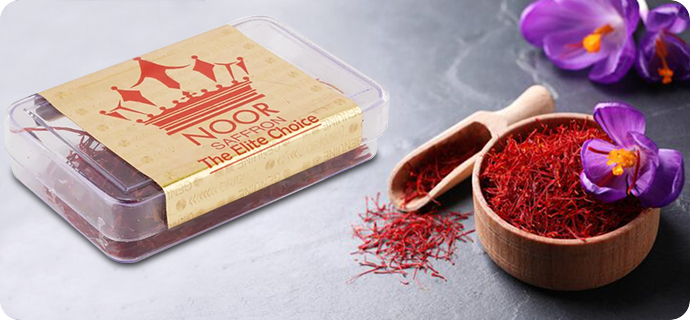 Noor Saffron is one of the oldest producers of Kashmiri Kesar in our country. The brand has been operating since 1999, with consistency in high quality and flavor. Noor Saffron is one of the most searched brands amongst its competitors. With its exceptional quality and affordable price range, the Noor Saffron brand is always in demand. Add a few strands (diluted in water or milk) in your biryani, curries, or non-vegetarian dishes and enjoy the flavor and aroma. You can find Noor Saffron at an affordable price of 200 rupees per gram on Amazon. The ideal flavor is derived from the best quality saffron plants, which can be ultimately witnessed in its texture and aroma. 
Satvikk: Pure Saffron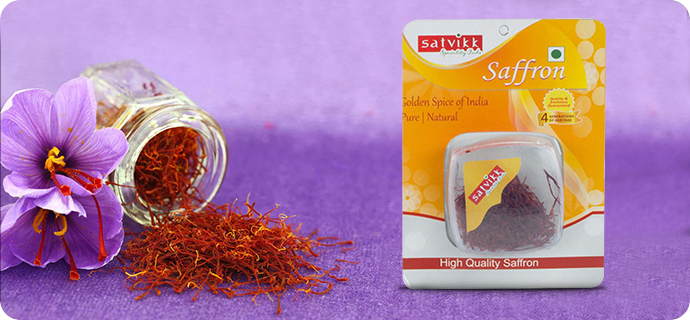 The long and thick strands of pure quality saffron will blend perfectly in any recipe, thereby creating an exceptional character for your dishes. The rich deep color distinguishes this saffron brand. Satvikk saffron can be consumed by people of all age groups as it does not involve any form of external flavoring, color, and chemicals. This brand offers 100 percent authentic Kashmiri saffron, which marks its huge customer base, demand, and reputation in India and even in the world. You can experience its impressive quality for both medicinal purposes and for extenuating your recipes at home without any risk of side effects. Satvikk Saffron can be easily accessible through both offline and online platforms, in Amazon the brand is available at 266 rupees per gram, which is quite affordable for pure Kashmiri saffron. The packaging of the brand ensures long-lasting usage and its compact portion keeps the demand consistent amongst the consumers. 
OMNA Organic Saffron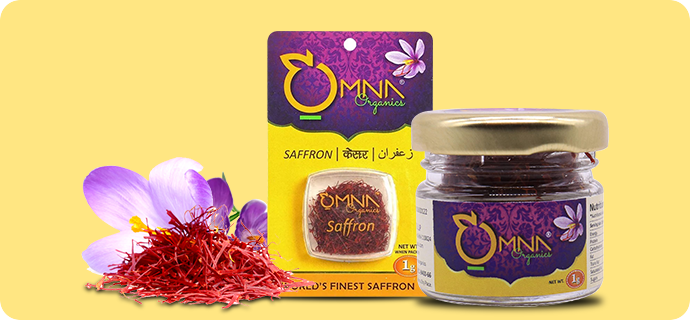 OMNA Organic Saffron is known for its pure/authentic organic composition, without any risk of preservatives and chemicals. OMNA Organic Saffron is easily accessible on all online e-commerce sites. The brand has gained exceptional popularity in the past few years because of its prominent flavor, affordable price range, and organic quality. The MRP of OMNA Organic Saffron is around 215 rupees per gram. Besides all its quality, this affordable but quality saffron can be stored for a long period, preferably in cold and dry space. 
Kashmir Online Store Saffron

Kashmir Online Store offers pure and authentic quality saffron directly from the farms of Kashmir. The brand is FSSAI approved, which ensures its authenticity and premium quality. Kashmir Online Store has a strong, prominent taste, smell, and color which can be used for medicinal purposes and various cuisines (in both savory and sweet dishes). One of the distinctive features of this brand can be its taste, which is quite honey-like, which leaves a mildly sweet taste, marking the most suitable ingredient for desserts. The price range is high in comparison to other brands, which is majorly due to its priority over quality. You can purchase 5 gm of this brand for around 1300 rupees on online platforms. However, it is expensive but is worth every penny. 
Are there any side effects of saffron? 
There can be various side effects of saffron if the brand includes chemicals and preservatives for enhancing its flavors and shelf life. The brands mentioned above are all of impressive quality and will not have any side effects. However, it is advisable to consume in a small to moderate quantity, as only a few strands can ensure a deep flavor, color, and aroma in your food. 
Why is saffron the most expensive spice?
Saffron is the most expensive spice due to its labor-intensive process required for production. Each red stigma of the crocus flower needs to be carefully plucked with hands and then dried at the right temperature, which makes it an enormously time-consuming process. Moreover, only a pound of saffron can be extracted from thousands of flowers.
Can pregnant women consume saffron?
Yes, saffron is safe for pregnant women. Best quality Saffron brands are all-natural without any preservatives, additives, and chemicals, which makes them safe for consumption for all age groups and even pregnant women. 
Does saffron have a fixed shelf life?
Yes, saffron has a fixed shelf life. Every brand has a different expiry date for its products. However, the premium quality saffron brands can be used for up to almost 10 years, due to their natural drying process. However, it is still advisable to store any brand's saffron container in a dry and cold space.
Is saffron beneficial for the skin?
Yes, saffron can be amazing for the skin because of its anti-bacterial and anti-inflammatory properties, which can treat acne concerns and resolve breakouts.
Is saffron good for health?
Yes, saffron has numerous health benefits. Saffron protects people from a common cold, fever, cough, headache, and even memory loss. Saffron can also be good for relieving menstrual cramps and even responds to insomnia.