Here's a short quiz on whether or not you should buy CCTV cameras for your property. It'll take 10 seconds to answer.
Question 1: Do I have a business location where important and expensive equipment, raw material, or products are stored?
Question 2: Do I have a home with pets and children and have frequent visitors with no external surveillance?
If your answer to either of these questions is "Yes", you not only need a CCTV system, you need it as soon as possible. But a quick search on Amazon for "CCTV cameras" reveals over 1000 results. So when I needed a CCTV system for my new home, I took it upon myself to help my fellow security-conscious people by testing the 15 best cameras I researched and providing detailed reviews on a single page.
I've started out with 12 of hands-down the best CCTV cameras you can buy in India and followed it up with 3 more products for those with a tighter budget. Finally, I have also included the detailed buying and installation process for your CCTV systems.
Note: Since I needed a CCTV camera for my new home, I ended up using one of the products in this list for my own use and returned the rest after reviewing. If you want to know which one I have in my home, keep reading and find out :)
Our Best CCTV Camera Picks

1. D3D Full HD CCTV 2MP (1920x1080) p WiFi Wireless IP Home Security Camera CCTV
The D3D Model-8810 did much more than I bought it for, and it looked good doing it. It comes in two variants: 1 MP and 2MP and a warranty of 12 months on the camera and 3 months on the adapter. I used the 2 MP version for my review.
[amazon_api pro_id=B07QCSQVXW star=3.8 reviews=2582 feature_limit=2]
Hardware
The D3D looks very different from most of the cameras I've reviewed below. But it's unusual design quickly won me over with smooth curves and clean looks. It almost looks like a mini-robot thanks to its round swivel head and the two tall antennae at the back.
The product came with a rather convenient mount bracket along with the standard USB adapter and charging cord. The installation process was easy enough and I quickly set up the app with a rather helpful online installation video from the D3D brand itself. I also discovered a very cool feature while I was setting it up — the camera comes with an AP hotspot functionality. This means, if you don't have Wi-Fi at home, you can directly connect the camera with your smartphone.
The D3D boasts a 360-degree viewing angle with its 355-degree pan and 90-degree tilt, all of which I could control from my app. Moreover, the camera uses multi-level storage with live video stored directly on the micro SD and the cloud server.
Software
I'll start with the most important thing — the picture quality. I was not disappointed with my choice to go with the 20 MP, 1080p resolution. The camera comes in HD picture grade and has a wide dynamic range that delivers some really clear feed even in the dark.
The two-way audio was also surprisingly clear. I could even hear the traffic from outside my home through the app. D3D's infrared lights worked well in combination with the camera as I could distinguish objects even at 30 meters. Finally, the camera also has multi-user support and auto-tracking and motion-detecting features.
I liked:
Good image quality and night vision
360-degree viewing angle
Easy installation and set-up
Supports multiple users and storage types
I didn't like:
Good, continuous internet connection is required for two-way chat
Camera only supports 2.5GHz Wi-Fi network.
2. TP-Link Tapo C200 Smart Cam Pan Tilt Home WiFi Camera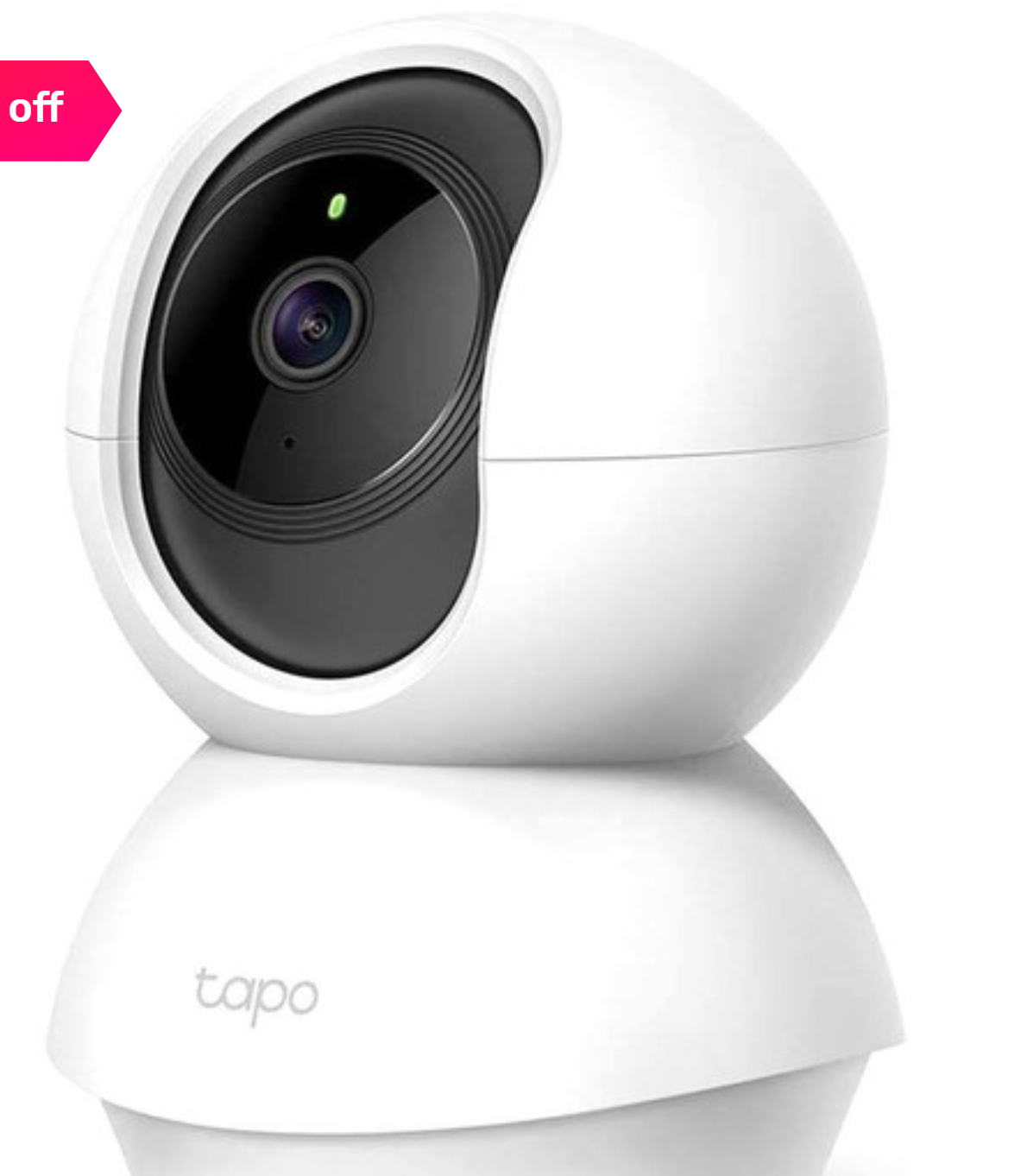 *Full Disclosure: We earn a commission if you click this link and make a purchase, at no additional cost to you.
With TP-Link's Tapo C200, we see yet another unique CCTV camera design that's near impossible to find anywhere else. But the phrase that best describes this camera is "big things come in small packages". Let's find out what else it offers other than its standard 1-year warranty.
[amazon_api pro_id=B07XLML2YS star=4.4 reviews=588 feature_limit=2]
Hardware
I found the Tapo C200 exactly as cute as it sounds (I really had to fight the urge to call it "Hey, Tapo" every time it came into sight). TP-Link has gone with a very classy design by avoiding any straight edges and basically mounting a spherical ball on top of an equally-sized hemisphere. The entire camera is clear white with a continuous, long, black lens slot and a small led light on top.
The product came with a power adapter, quick start guide, mounting screws, and a mounting plate. Thanks to the instructions in the app, I didn't even have to read the long, sleep-inducing guide. You can check out the installation process on the product's Amazon page itself.
When it comes to operation, I could easily operate the camera using my smartphone app, including the smooth panning and tilting of the lens. The smoothness really helps too, as the speed with which some cameras rotate can quickly disorientate you. But I didn't face that problem with the Tapo C200. The camera has an impressive 360-degree horizontal range and 114-degree vertical range.
Software
Getting the obvious out of the way first — the Tapo C200 has a great camera with crystal-clear 1080p definition. Its advanced night view gave me clear sight up to a decent 30 foot from the location even in the pitch dark. Additionally, live view combined with motions detection and notifications will find plenty of use in your home. I placed the camera in the kitchen while I was slithering around in the bedroom to catch my cat engaging in her usual shenanigans. As soon as my cat jumped on top of the counter and came into view, I got a notification.
When I did catch her, I had two options — either use the two-way audio to tell her to get down or use the in-built sound and light alarm to scare her away. I obviously went the second way. Two unique features that you don't usually come across in home CCTV cameras are privacy mode and sharing options. The Tapo C200 has both. You can stop the surveillance from the app and forward the recorded footage directly on social media handles.
I liked:
Smooth pan and tilt
Privacy mode and sharing options
Motion detection and notifications
Sound and light alarm
I didn't like:
No cloud storage
Doesn't support multiple users
3. Mi MJSXJ02CM 360° 1080P WiFi Home Security Camera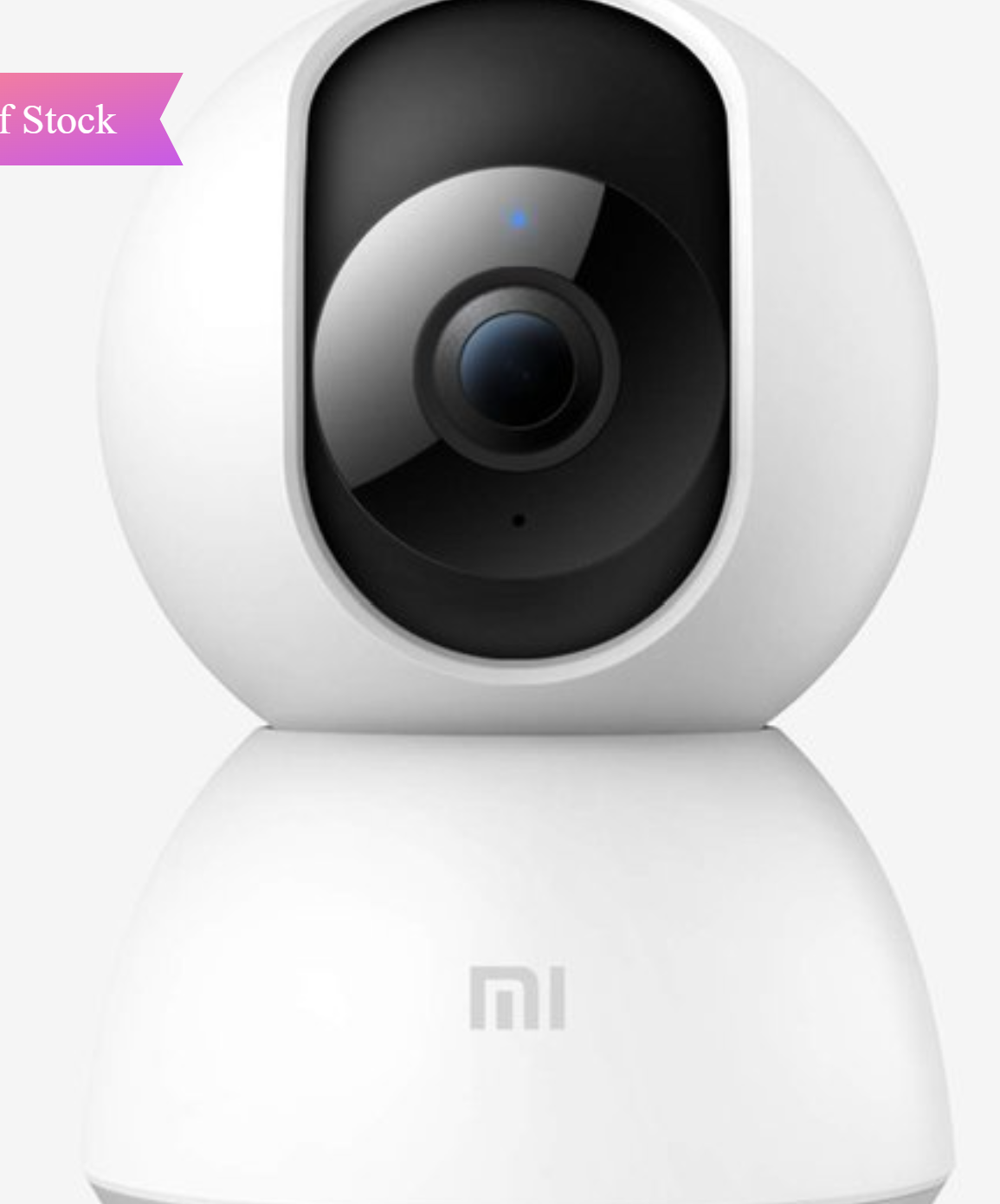 *Full Disclosure: We earn a commission if you click this link and make a purchase, at no additional cost to you.
Yes, this is Xiaomi's official home security camera and I was just as surprised to learn about it as you are. But when I did, I had some pretty high expectations from this product. Was it just as reliable and well-designed as my Redmi K20 Pro and my Mi Smart Band 4? Here's what I found out.
[amazon_api pro_id=B07HJD1KH4 star=4.3 reviews=6381 feature_limit=2]
Hardware
In passing, you probably wouldn't be able to differentiate between the Mi MJSXJ02CM and the Tapo C200. But look just a little bit closer and you'll see many differences. The MJSXJ02CM has a much more compact and cleaner overall design, with eye-catching grey highlights.
The MJSXJ02CM is also wireless, so installing and setting it up was a breeze. It may not like it at first, but this model can also be installed inverted. I didn't do it, but you could. The entire model goes no more than 12 cm in height and 8 cm in width. The camera is capable of rotating 360 degrees horizontally and 96 degrees vertically giving you the complete view of the room. Also, the rotation mechanism is smooth and surprisingly silent.
Though I couldn't test it myself, the product claims it can work at temperature ranges of -10℃ ~ 50℃. Finally, the MJSXJ02CM supports Network Attached Storage. This means you can network devices or routers with storage capabilities to store files that are backed up from SD cards and NAS storage devices.
Software
You can probably guess how the Mi CCTV's camera worked — perfect. In fact, I noticed some really vibrant colours even in low light conditions. I wouldn't be surprised if Xiaomi included some of its brilliant smartphone camera technology into its 20 MP, 1080p CCTV cameras. The icing on the top was the advanced video encoding technology that made streaming smooth but took half the storage.
Mi has also integrated deep learning technology and focused optimizations of the algorithms and network software to drastically improve motion detection and send you notifications promptly. And when you do review some recorded footage, you watch them on your smartphone or tablet with playback speeds as high as 16x. Looking at all these features, this is the camera I ended up using in my own home.
I liked:
Inverted installation option
Clean design
Great camera
Video encoding technology to reduce storage demand
I didn't like:
Only 6 months of warranty
Only 64 GB SD card storage
4. Hikvision DS-2CE1AD0T-IRP 2MP 1080P Full HD Night Vision Outdoor Bullet Camera
All the CCTV cameras we've looked until now are indoor cameras. But if you want complete protection of your property, an outdoor camera is very important. After all, there's no use spotting a burglar when he's already inside.
Yes, you can install the first three cameras outside as well, but don't be surprised if they stop after working a single rain or get damaged easily. This is why I think Hikvision's bullet camera deserves this spot on my list.
[amazon_api pro_id=B01CZ00NSG star=3.7 reviews=514 feature_limit=2]
Hardware
The Hikvision DS-2CE1AD0T-IRP is a bullet camera, which means it isn't supposed to sacrifice looks and camouflage for long-distance vision. But the Hikvision DS-2CE1AD0T-IRP looks great anyway. It has an ultra-compact build and clean design and has an impressive 360-degree pan and 180-degree tilt.
It features a 2MP CMOS image sensor which can work in illumination levels as low as 0.01 lux. The 3.6 mm lens delivers impressive, high-quality 1080p footage at both 25 and 30fps. The IP66 weatherproofing ensures high tolerance against most weather extremes. Moreover, I barely noticed a bump in my electricity bill after installing the camera and keeping it on 24/7 thanks to its minimal power consumption.
Software
For those of you who don't know, shutter speed or exposure time is the length of time during which the digital sensor inside the camera is exposed to light. Since the Hikvision DS-2CE1AD0T-IRP has a shutter time of 1/25(1/30) s to 1/50, 000 s, I could take clear pictures of fast-moving objects.
I also observed a drastic upgrade in this camera's night vision ability as compared to other standard CCTV cameras. Apparently, the device combines infrared illuminations of the spectrum with the high sensitivity of the camera to produce a well-lit monochrome image despite being in pitch dark conditions.
I liked:
Impressive rotating capabilities
Great shutter speed for capturing fast-moving objects
Monochromatic images in night mode
CMOS sensor lens
IP66 weatherproof
I didn't like:
No motion detection
No wireless option
5. CP Plus CP-USC-TA24L2 2.4MP (1080P) IR Cosmic Fiber Body Night Vision Bullet Camera
The CP Plus CP-USC-TA24L2 is another bullet camera on our list that works well in outdoor conditions. CP Plus is a fast-growing company in India that has various CCTV camera models, but the CP Plus CP-USC-TA24L2 is undoubtedly the best one. Here's why.
[amazon_api pro_id=B07FF1YYDC star=3.7 reviews=139 feature_limit=2]
Hardware
I found this model to be incredibly compact, especially when you rotate it 90 degrees to its mount. It weighs less than 300g and would easily fit inside a 10cm cube of space. Basically, you can get creative with its placement and hide it in small nook and crannies in your home's outdoors if you want to be sneaky.
Its IP67 fibre body is well-designed to be able to withstand rain and even hail in colder climates. It uses a 2.4 MP, 3.6 mm lens and requires minimum illumination of just 0.02Lux/F2.0 and 0Lux when IR is on. I was pleasantly surprised with the control over the coaxial cable and ability to switch between HD and SD.
Software
The CP Plus CP-USC-TA24L2's 1080p camera delivers crisp, clear footage for review and uses an IR lens to capture clear footage of movements and objects up to 20 meters away. The camera also supports free mobile view and is available for both Android and Windows phones. Finally, I was able to watch the live recording of the footage on my smartphone directly from the camera.
I liked:
Compact form factor
IP67 weather resistance
HD and SD switchable
IR footage clear up to 20 meters distance
I didn't like:
Free mobile view not supported on iOS
Restricted rotation of the camera
6. Sricam SP Series SP005 Wireless HD IP Wi-Fi CCTV Indoor Security Camera
The Sricam SP005 would have been higher on my list of best cameras but, unfortunately, I had to cover bullet cameras for overall home and office protection. Either way, it looks like a CCTV camera straight out of a sci-fi movie. I loved the matte black looks of the camera very much and would strongly recommend it to fellow matte black fans out there. If you can't make up your mind off of just that, of course, there are a ton of other features like night vision, multiple network options, motion detection, and back-ups.
[amazon_api pro_id=B0180MU0DQ star=3.9 reviews=1287 feature_limit=2]
I liked:
Live demo offered by Sricam brand for interested customers
Can be mounted straight up, sideways, or on the ceiling
Choice in colours — matte black and shiny white
Two-way audio
I didn't like:
Only 6 months of warranty given at sale
Doesn't support multiple users
7. YI Home Camera Wireless IP Security Surveillance System
The Yi is the smallest home camera I came across. In fact, it's so small it barely even looks like a camera and can be simply, as opposed to mounted, in many places. It comes in four variants — Black, Black with Micro SD, White, and White with Micro SD. I obviously went with the black one with Micro SD. But the small size doesn't deter the Yi from capturing high-quality, video recording. It also has other features like customized alert schedules, real-time streaming, and activity alerts.
[amazon_api pro_id=B019MMRV1M star=3.9 reviews=2488 feature_limit=2]
I liked:
No monthly subscription fees for storage
111° wide-angle lens, 940nm infrared non-invasive sensor, 4x digital zoom
Storage can be expanded using 4 32GB micro SD cards
Convenient Yi Home app
I didn't like:
Only available in 720p. Doesn't have 1080p like its competitors.
Storage limited to one 32 GB in variants without micro SD.
8. ProElite IP01A WiFi Wireless HD IP Security Camera CCTV
The ProElite Wireless security camera is indeed a pro security camera made for advanced surveillance. It offers a long list of customization options in both its setup and operation. You can rotate the camera via the app and record videos directly on SD card. Additionally, you can choose between 24x7 recording or alarm recording, which is when recording only starts upon motion detection. I can see this feature being extremely helpful for those who have storage issues in the beginning. Despite all these features, however, I was disappointed with the absence of any kind of warranty with the product.
[amazon_api pro_id=B07311PV9S star=4.0 reviews=1589 feature_limit=2]
I liked:
Live demo for new customers via the app
Remote camera rotation via the app
Various customization options
Night vision and two-way audio
Option between 720 p and 1080p versions and two colours (white and black)
I didn't like:
No warranty provided by the brand
Multiple users not supported
9. TP-Link TL-NC450 HD Wi-Fi(R) Pan Tilt Day Night Cloud Camera (TL-NC450)
The TP-Link TL-NC450 is a cute, mouse-like camera that you'll almost want to pet.  The product comes with multiple connectivity options and can be used wired or wirelessly. I also noticed a rather unique mounting system with the TP-Link TL-NC450 that truly lets it capture 360-degree footage. Combine this with the wide viewing angles in both pan and tilt and you cannot go wrong with this model.
[amazon_api pro_id=B01N5AJ24O star=4.2 reviews=99 feature_limit=2]
I liked:
Multiple connectivity options
Can be used with wires or wirelessly
Win viewing angles in pan and tilt
Night cloud camera for clear low-light footage
I didn't like:
No warranty provided with product
No self-timer feature
10. ThinkValue Wifi Wireless HD IP Security Dome Camera CCTV
The ThinkValue CCTV camera follows the ProElite IP01A when it comes to the design but brings a number of its own unique features to the table. It comes in two variants: a 2MP one and a Standard. Though it might have been the many other setups that I did before coming to this one, I did find setting the ThinkValue camera up extremely easy thanks to the quick Wi-Fi support and the supplied app.
[amazon_api pro_id=B0798LJ1FV star=3.7 reviews=611 feature_limit=2]
I liked:
Free live demo from brand for interested customers
Cloud recording and storage
Motion detection and alarm features
1-year warranty
I didn't like:
Only 720p resolution is supported as opposed to 1080p
Not suitable for outdoor usage
11. Netgear Arlo Pro 2 Add-on 1080p HD Security Camera
The Arlo Pro 2 is on the premium end of the spectrum when it comes to all the CCTV cameras I tested. A product from Netgear, you can use it both indoors and outdoors. I used it indoors for this review. It can also be connected wirelessly or with wired options; in the latter case, it's 100% wire-free. It comes with various features like Activity Zones, optional 24/7 continuous video recording, and 3-Second Look Back. The camera comes in black and white colours.
[amazon_api pro_id=B075P84FH9 star=4.1 reviews=3364 feature_limit=2]
I liked:
Battery lasts 3-6 months and is rechargeable
Wireless range of up to 300 ft
Supports Amazon Alexa, Google Assistant, and Apple Homekit
Motion detection with Activity Zones
I didn't like:
Wide viewing angle (130 degrees) reduces sharpness
Recorded video clips are not time-stamped
12. Wyze Labs Cam Pan 1080p Tilt/Zoom WiFi Indoor Smart Home Camera
Another premium camera on our list, the Wyze Labs Cam Pan is the smartest looking indoor camera. An all-white cuboidal body gives it a rather clean look, making it instantly blend in any white background. The camera has all the features you'd expect from it — 36-degree view, 1080p full HD video, motion tracking features, and two-way audio. But it's top-notch programming also allows you to set the camera in a patrol mode where it alternates between up to four waypoints. I used this feature to set up the camera in the hall such that it covered all the three entrances and exits to the room.
[amazon_api pro_id=B07DGR98VQ star=4.3 reviews=10206 feature_limit=2]
I liked:
Can distinguish between 18 steps of grey to provide clear images up to 30 feet away
Camera can follow motion within its field of view
Patrol mode allows for automated security
Compatible with Alexa
I didn't like:
Only 14-day warranty given from the brand
Does not support multiple users
The Cheapest CCTVs in India - Value for Money
1. CP PLUS 2 HD CCTV Cameras (1MP) with 4Ch. HD DVR Kit with All Accessories
This offering from CP Plus isn't exactly a CCTV camera. Instead, the brand has put together everything you'll need to set up your CCTV system at a highly competitive price. The package came with 2 CCTV cameras — one bullet and one dome for both indoor and outdoor applications — and a 4Ch. HD DVR Kit with all accessories. The cameras come with night vision and motion detection features and the whole package has an impressive 1-year warranty.
[amazon_api pro_id=B015D1FO7O star=3.8 reviews=142 feature_limit=2]
I liked:
One bullet and one dome camera covers both indoors and outdoors
All accessories included for CCTV system
Durable and easy to install
1-year warranty on package
I didn't like:
Internal HDD required for recording not included
Installation not included
2. Sricam SP018 2.0 MP Wireless Full HD 1080P IP WiFi CCTV Indoor Security Camera
Another Sricam CCTV on our list, this one comes with two colour options: white and black (again, I went for the black one). I found the SP018 to be a complete package — 2MP 1080p recording, email alert upon motion detection, mobile view, two-way audio, and day and night operation. But the feature that I absolutely loved while using this camera was the way I could rotate the camera. All you have to do is slide the camera on the screen and the view rotates smoothly. It's quite satisfying, really. Overall, the product delivers excellent value for its price.
[amazon_api pro_id=B01N0O7DO5 star=4.1 reviews=212 feature_limit=2]
I liked:
Live demo from brand for interested customers
Intuitive user interface on app
2MP 1080p video recording
Motion detection and intruder alerts
I didn't like:
Only 6-month warranty supplied by brand
No cloud storage
3. FINICKY-WORLD V380 HD CCTV Wireless IP Security Camera
I had seen all the high-end stats in my quest to find the best CCTVs in India. But searching for an inexpensive option, I discovered that if I was willing to settle for a few second-level features, I could really get my home security done for an impressively low price. I'm talking about the FINICKY-WORLD V380, a CCTV camera that gives you all the features — except 1080p and 128 GB storage — without making a hole in your pocket.
[amazon_api pro_id=B07DVND724 star=3.7 reviews=505 feature_limit=2]
I liked:
Simple and easy Wi-Fi setup
Wide viewing ability and remote pan and tile
Two-way audio and night vision
Motion detection
I didn't like:
Only 6-month warranty
Only 64 GB internal storage provided
How to Choose the Right CCTV Camera for You
You're lucky you don't have to scour through the internet like a rat rummaging through a garbage can to find a good CCTV camera. With my extensive list above, the number of options has decreased dramatically for you. Now, all you have to do is select the one from the list that fits your requirements. Here are the factors to consider.
1. Define your requirements
You'll run your wallet dry if you're thinking of monitor every square inch of your property — home or business. So you'll need to refresh your geometry skills and strategically calculate which areas to prioritize in order to efficiently monitor the most amount of area with the least number of devices. The easiest way to do this is by drawing a rough diagram of your property or printing out the blueprints and analyzing the best camera positions.
2. Selecting a camera type
By now, you must have a rough idea of how many cameras your property needs. With that knowledge, you can either go for a bundled security system with a preset number of cameras or buy cameras individually, depending on your requirement.
But security cameras come in many types. And depending on factors like lighting, indoor/outdoor placement, field of view, and ideal resolution, you'll need to juggle between various options. While I've only included dome and bullet cameras in my list ( as they're the most versatile and common), go through all the types and see what suits you best.
Dome Cameras - These cameras have an excellent field of view and blend into the environment they're installed in.
Multiple Sensor Cameras - This camera uses discrete sensors and picture channels to capture a 360-degree field of view and stitches them to provide a contiguous feed.
Bullet Cameras - These are tubular security cameras that you can mount to your wall or ceiling with a tri-axis mount. They come with night-vision and IR capabilities.
Turret Cameras - These cameras can be repositioned on the fly and work great in low-light and infrared conditions.
Fisheye Cameras - These cameras provide a focused look at a wide field of view. They're also self-contained and less susceptible to failures.
Wireless Security Cameras - These cameras are great for monitoring small to medium-sized rooms and buildings as they have easy remote access, require less wiring, and can be installed easily.
PTZ Cameras - PTZ cameras or Pan Tilt Zoom cameras are highly versatile cameras that can zoom and focus on faces or even license plates in real time, cycle through various orientations using a program, track a car or a person across a range, and respond to user inputs even from off-site network connections.
Doorbell Cameras - These cameras combine the benefits of a security camera and an intercom by using a door buzzer and a 2-way intercom in the frame.
3. Choosing the recording system
Unless you're buying the CP Plus bundle listed that's on top my "Value for Money" list above, you'll have to purchase a recording system separately. For starters, you need the recording system for recording and storing video on a hard drive, snapping images, and sending them to your mobile, computer, or any other remote device for live viewing.
There are two types of recording systems: DVR and NVR. DVRs record analogue-based video to a digital format but are cheaper and easier to set up. NVRs record video from IP cameras but are more expensive and demand some technical knowledge to set up.
4. Storage
The footage recorded by the CCTV camera will require a hard drive to be stored. To get an idea of how much storage you'll need, calculate the length of video you need to keep by using parameters like resolution and bitrate.
Step-by-Step Guide to Installing your CCTV system
Great! You've got yourself a CCTV system. Though the cameras come with an installation guide, you can follow my procedure if you don't want to google industry jargon every 5 minutes. Just make sure that all your equipment is in working condition before you begin the installation.
Step 1: Choose an angle
Wherever you place your camera, it should have a high, broad angle. When placing outdoors, go through multiple iterations until you're recording the exact angle you wish to. Also, place the camera at a height so it can't easily be knocked out. Personally, I found that 10ft is a rather safe height for an external camera.
For indoors, you can place the camera down on any flat surface or mount on a wall as long as it's able to cover all the entries and exits. When doing the latter,  the best angle is looking down from the corner where the ceiling meets the walls.
Step 2: Mount the camera
Consider yourself blessed if your camera model has sticky pads that can adhere to the wall. If not, here's how you can screw it into place: mark the holes by placing the mount in the desired location, drill holes and hammer the moulding pins, and screw the mount to the wall and position the camera at the desired angle.
Once successfully mounted, find the camera's power adapter and plug it into a normal wall socket. The round end goes into the camera while the other goes into the outlet.
Step 3: Connect the recording system
Now, connect your DVR recording system using BNC cables. One end goes into your camera's "Output" and the other goes into the DVR's "Input" port. Note that you can only hook up as many cameras as the number of DVR inputs.
For wireless cameras, you can simply follow the instructions on the supplied software disc to guide you through the steps to link your camera to your computer. I can't quite list the steps here as each the processes for different wireless cameras vary significantly. After making the wireless connection, note down the camera's IP address if available. You can use this number to access the camera's feed remotely from any browser.
Step 4: Connect the Monitor to the DVR
Most cameras, but not all, will require you to have a monitor — PC or TV — to access and watch the camera feed. You can connect the monitor to the DVR using another BNC cable, though some systems can even work with HDMI cables and coaxial cables. Connect one end to the DVR's "Output" and the other to the monitor's "Input".
Step 5: Troubleshoot connections
After the CCTV installation process is over, you should be able to watch your camera feed on your screen. If not, check that the camera, DVR, monitor, and all other components are connected to a power supply and turned on. Make sure your cables are attached securely and that you've selected the correct inputs for your monitor and DVR.
Step 6: Pat yourself on the back
You've done it! That's all there is to installing a CCTV system. I'll be honest, installing a CCTV system is not easy. I struggled a lot the first time I tried to it. But I hope that my guide helped you find a good CCTV camera and install it effortlessly. If even one person is able to do it, then I've done my job. I'll see you around in any other thing you need help with, like buying the best electric geyser or selecting the best air coolers to combat the summer. Until then, be safe and happy!
Look for an amazon sale if you wanna grab one at a real cheap price.
Disclaimer: CERTAIN CONTENT THAT APPEARS [IN THIS APPLICATION or ON THIS SITE, as applicable] COMES FROM AMAZON SELLER SERVICES PRIVATE LIMITED. THIS CONTENT IS PROVIDED 'AS IS' AND IS SUBJECT TO CHANGE OR REMOVAL AT ANY TIME.
Amazon and the Amazon logo are trademarks of Amazon.com, Inc. or its affiliates.
FAQs on CCTV Cameras
1. Can a camera work without a hard drive?
Yes, many cameras can work without a hard drive. But they'll only be able to provide you with live feed and no footage will be stored.
2. Can CCTV cameras do scheduled recording?
Yes, CCTV cameras can be scheduled to record at preset times. Just make sure that the camera you're buying has this feature. Other methods of recording include 24×7 continuous recording and motion-dependent recording.
3. Which app can I use to download to control the camera?
There is no universal app to control all CCTV cameras. When you buy your remote control-supported camera, you'll get a link to an app along with it. Go to the link and download the app to start controlling and monitoring your camera.
4. Which are the best CCTV camera brands in India?
Brands like CP Plus, Hikvision, TP-Link, Mi, and Netgear are considered the best in India.
5. Which is better: Analogue or HD?
We strongly recommend purchasing an HD CCTV camera as they deliver much better quality. HD provides a crisper and cleaner image resolution compared to analogue.